This article was first published on 7 June 2022.
Let's "dance, dance, dance" because Netflix has announced that Wednesday Season 2 is in the works!
Before Netflix released the news, fans were worried that Wednesday would move to a different streaming platform because Amazon had acquired Metro-Goldwyn-Mayer (MGM), which owned The Addams Family franchise. Rumours revolved around Season 2 being released on Amazon Prime, but all that was put to rest after Netflix reassured fans that Season 2 is coming soon.
Wednesday Season 2 teaser
In the teaser, you'll hear Lady Gaga's addictive 'Bloody Mary' track. After Season 1 aired, fans used and created a viral dance trend on TikTok that spotlighted Wednesday's iconic dance scene. It blew up and even Lady Gaga joined in the fun.
The teaser also features clips of fans from all around the world showing their love and support for the show. The show broke records and crossed the one billion-hour view mark within its first 28 days. It's the third show to achieve this milestone alongside Stranger Things Season 4 and Squid Game.
The show has also made waves in the beauty world as Wednesday's viral makeup look has been searched for and viewed over 100 Million times by fans on TikTok.
Stay tuned for more details about Season 2's plot and cast. While waiting, you can watch or re-watch Wednesday Season 1 here.
Jenna Ortega as Wednesday Addams announcement
Jenna Ortega is Wednesday Addams! The 19-year-old actress and former Disney star is set to take on the role of the Addams Family's only daughter in the upcoming Netflix series Wednesday.
The first trailer showcases You and Jane The Virgin actress Jenna Ortega dressed in the iconic Wednesday Addams look, complete with the character's signature braided hair and black puff-sleeved dress. However, Jenna's Wednesday has blunt bangs which add edginess to her enigmatic look. Thing, the Addams Family's "hand servant" voiced by Victor Dorobantu, also makes an appearance in the trailer. The character is poised to be the show's deuteragonist.
Netflix series Wednesday cast, plot
Jenna Ortega will be joined by Catherine Zeta-Jones (Chicago, Legend of Zorro) as the Addams Family's elegant matriarch Morticia, Luis Guzmán (Magnolia) as the larger-than-life patriarch Gomez Addams, and Isaac Ordonez (A Wrinkle In Time) as Wednesday's brother, Pugsley.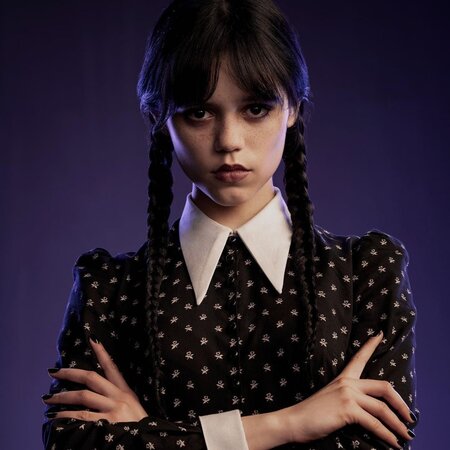 A fun surprise awaits fans of The Addams Family (1991) movie as Christina Ricci, who played Wednesday Addams in the film, is confirmed to make an appearance in a mystery role.
Wednesday, directed by Tim Burton, is a coming-of-age horror-comedy series that will see the titular character as a high school student navigating adolescence and attempting to master her supernatural abilities.
(Cover photo from: Netflix)
Next, check out the first trailer of The Hunger Games' prequel.

Comments, questions or feedback? Email us at [email protected].