Han So-Hee is undeniably one of the K-entertainment industry's current 'it' girls. Since her breakout role as Yeo Da-Kyung in the mega-hit The World Of The Married, she has been in a number of leading roles that show off her versatility and range as an actress. She also has several dramas lined up and has been named brand ambassador for several beauty and fashion brands. And (in case you missed it!) she even joins BTS' Jungkook in the upcoming music video for his solo song Seven.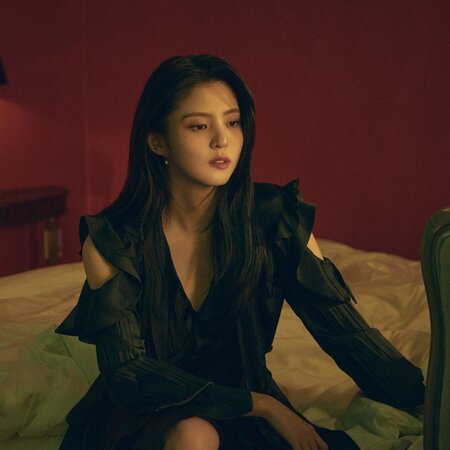 Whether you're just discovering her now or are already a massive fan we're sure you'll love to watch (or rewatch) these Han So-Hee TV shows that prove why she's one of today's most sought-after actresses.
1. The World Of The Married (TWOTM)
Starting with Han So-Hee's most explosive TV show to date,
The World Of The Married
put her on everyone's radar as the bold and aggressive mistress Yeo Da-Kyung. So-Hee constantly went head-to-head with veteran actress
Kim Hee-Ae
who played Ji Sun-Woo in this drama; both of their characters dealt with infidelity and revenge to fight for their relationship with the same man. Despite being her first major supporting acting credit, Han So-Hee didn't pale in comparison to her veteran co-stars. She also provided the role with equal amounts of feistiness and vulnerability, allowing the audience to feel for her character despite its livid nature.
Han So-Hee's best moment on this TV show: Han So-Hee gave us a lot of highlights as Yeo Da-Kyung, but if we're picking just one, it's the confrontation scene between Da-Kyung and Sun-Woo in the Yeo family home. It was when Sun-Woo decided to reveal Da-Kyung and Tae-Oh's relationship, as well as Da-Kyung's pregnancy, to Da-Kyung's parents. Han So-Hee's expression truly showed the hate Da-Kyung felt towards Sun-Woo and the hysterics that followed in the scene were one of her best.
Watch The World Of The Married here.


2. Nevertheless,
After her work in
The World Of The Married
(
TWOTM
), Han So-Hee immediately took on a romance role as Yu Na-Bi in
Nevertheless,
in which she co-starred with
Song Kang
. This drama had a lot of intimate scenes, but Han So-Hee delivered a mature and tasteful take on the role. She was also able to separate Da-Kyung from Na-Bi by portraying the latter with a sweet, girl-next-door vibe.
Han So-Hee's best moment on this TV show: Nevertheless,' opening sequence, where Na-Bi looks so hurt, lost, and distraught over her former lover's embarrassing actions at his exhibit, immediately pulls you into her character's story.
Watch Nevertheless, here.

3. My Name
My Name
is a noir action TV show about Yoon Ji-Woo (Han So-Hee), a woman trying to uncover the truth about her father's death. She's a drug crime organisation member who decides to enter the police force to be a mole. Han So-Hee transforms into a rugged double-agent in this drama, showcasing that she has more cards up her sleeve than what she's already shown so far.
Han So-Hee's best moment on this TV show: Every fight sequence in this drama. The actress insisted on doing the stunts herself, going on intensive training to make sure she gives her role justice and it really paid off.
Watch My Name here.


4. Soundtrack #1
Soundtrack #1
is a slice-of-life romance drama that revolves around two friends, Han Sun-Woo (Park Hyung-Sik), who is into photography, and Lee Eun-Soo (Han So-Hee), who is a lyricist. Sun-Woo and Eun-Soo have known each other for almost two decades. Due to unavoidable circumstances, the two end up living together for two weeks, allowing them to see each other in a new light. Han So-Hee's bright portrayal of Eun-Soo serves as a nice break from her past emotion-heavy roles.
Han So-Hee's best moment on this TV show: When Sun-Woo finds Eun-Soo crying for him at a cafe. Han So-Hee portrayed Eun-Soo in this scene so adorably, making us want to comfort her for throwing a mini-tantrum at the thought of not seeing her best friend for a long time. It was such a sweet moment which highlighted Han So-Hee's ability to make us cry-laugh.
Watch Soundtrack #1 here.

(Cover photo from: Netflix)
Comments, questions or feedback? Email us at [email protected].