Ever experienced days where you felt exhausted and would rather catch a few extra minutes of sleep than work on your morning skincare routine? I know I have, especially if I've pulled an all-nighter the evening before and have a 9AM video meeting to dress up for the very next day.

Having struggled with this for a while now, I was pretty excited to hear about the new
Za Wake Up Morning Primer sheet masks
as they seemed like a quick yet effective way to give my skin the TLC it needs before makeup. Furthermore, it's also been a hot minute since I last pampered my skin with a sheet mask, so I was looking forward to seeing how they would fare on my sensitive skin. Read on as I share my honest thoughts below.
First impressions, claims, packaging
Speaking of hot minutes, the brand claims that applying their primer sheet mask for a mere sixty seconds is more than sufficient for you to enjoy its moisturising, brightening and priming benefits. It's formulated to strengthen the skin barrier while ensuring that your skin is well-prepped for makeup. What seemed the most impressive to me, though, was how it's designed to substitute your tedious skincare routine.

The Za Wake Up Morning Primer sheet mask range features three variants: Brightening (relieves skin fatigue and restores skin elasticity), Pore Care (tightens pore and smoothes skin) and Repairing (restores skin's translucency and brightens skin). Each sheet mask is made of Tencel fabric so that it feels soft and lightweight on the skin.
Packaging-wise, I love how brightly coloured the sheet masks are. The idea of applying one of these masks as soon as I got out of bed had seemed like a vibrant and cheery way for me to start my mornings. On the scent front, the masks contain fragrances, hence they smell quite pleasant. (Fellow users with sensitive skin, don't forget to conduct a patch test to ensure that your skin isn't allergic to the masks' fragrances!)
Usage and application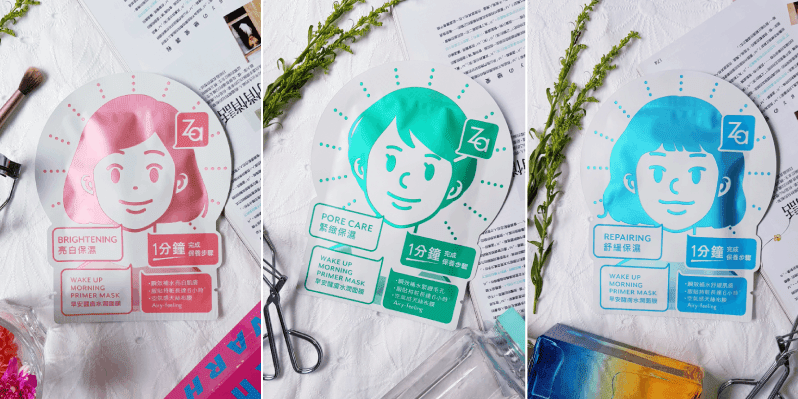 I decided to give the 'Pore Care' sheet mask a go on a weekend morning as I had planned to doll up for my brunch date with my family. After showering, I skipped my usual skincare routine (cleanse, tone, and moisturise) and went straight to applying the sheet mask onto my face. I also made sure to apply the excess product from the mask onto my neck so as to not waste any of its goodness. No troubles here.
Just before I reached for my brow pencil, I decided to apply my usual sunscreen lotion on my face as I simply couldn't get past the idea of exposing my skin to harmful UV rays. Then, I went with a minimal, mask-friendly makeup routine. After an afternoon of cafe hopping and window shopping, I was pleasantly surprised to learn that my makeup had stayed on nicely throughout the day without any creases.
I was also able to try out the other two sheet masks, 'Brightening' and 'Repairing', on two separate occasions. After giving all of them a go, I must confess that I couldn't quite spot the different effects that each of them were meant to have on my skin. That being said, all of them did leave my skin feeling softer, moisturised and ready for makeup.
Final thoughts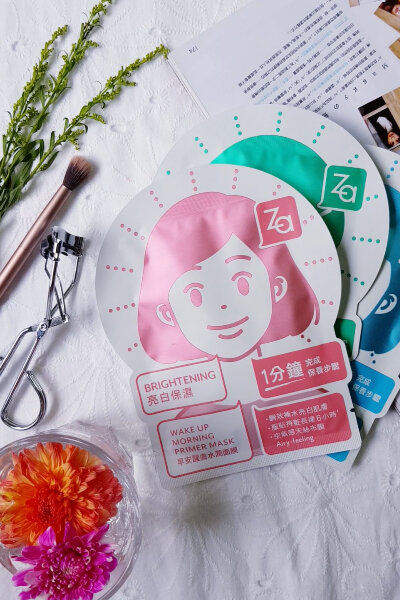 The Za Wake Up Morning Primer Masks have been such a fun and easy way for me to prep my skin for makeup and I loved how my skin looked much more supple and moisturised with every application. That being said, I still prefer sticking to my usual skincare routine as I believe my skin ought to receive the proper care it needs. With this consideration in mind, I view these sheet masks as more of a bonus, 'add-on' skincare step for me. I would rather reserve them for days when I need to look extra polished for special occasions.
The Za Wake Up Morning Primer Masks are priced at SGD14.90/~USD10 for five sheets and are now available in major outlets including Lazada and Watsons Singapore.
*The product was sent as a press gift. The views and opinion of the reviewer are independent and purely editorial.
Now, check out our verdict on the Kiehl's Vital Skin Strengthening Serum by clicking here.

Comments, questions or feedback? Email us at [email protected].