Want to try exfoliating your skin but worried about stripping it of moisture? Consider picking up a gentle physical exfoliating product like the Tatcha The Rice Polish Foaming Enzyme Powder, which comes in powdered form and transforms into a creamy lather with water. #TBLBureau Campaigns Manager Rebecca tried it on her combination skin to see if it would refine her skin texture without leaving it dry.
*The product was sent as a press gift. The views and opinions of the reviewer are independent and purely editorial.
Tatcha The Rice Polish packaging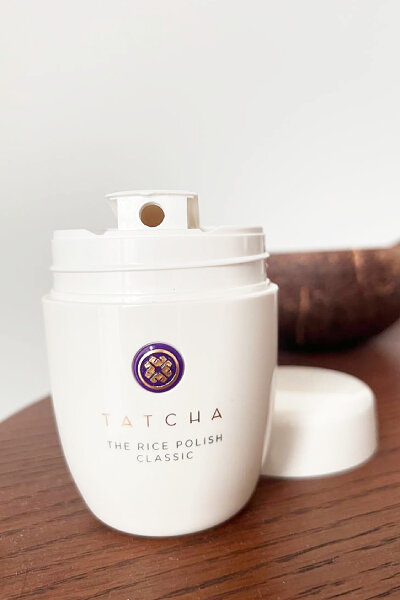 "I love the packaging of the product," Rebecca shared. "Overall, the jar looks very sleek and the best part is that it has a push-to-open spout which makes the product easy to open and also prevents water from getting into the jar."
However, she wishes that it can come in a smaller, travel-sized version too. "It would be great if the product comes in a travel-sized or single-use format so that I can bring it for staycations and travels more easily."
Tatcha The Rice Polish first impressions and claims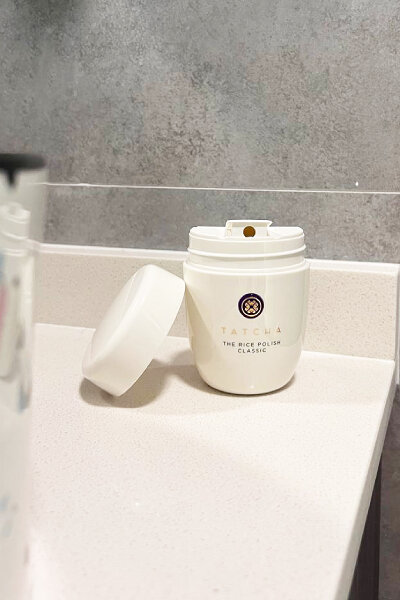 Rebecca was most interested in the product's ingredients. "The product contains a few Japanese superfoods such as green tea, rice and algae in its Hadasei-3™ complex that help restore healthy-looking radiance to the skin."
Aside from these superfoods, the Tatcha The Rice Polish Foaming Enzyme Powder is formulated with Japanese rice bran — a non-abrasive, daily physical exfoliant that's rich in vitamins and proteins. Silk helps keep moisture locked into the skin, while papaya enzymes gently remove dead skin cells.
The product has four variants: Classic (which Rebecca tried, for combination to dry skin), Calming (for dull, sensitive skin), Gentle (for dry to mature skin), and Deep (for combination to oily skin). According to the brand, you can use it before cleansing your face with a gentle cleanser such as its The Rice Wash Soft Cream Cleanser.
Applying the Tatcha The Rice Polish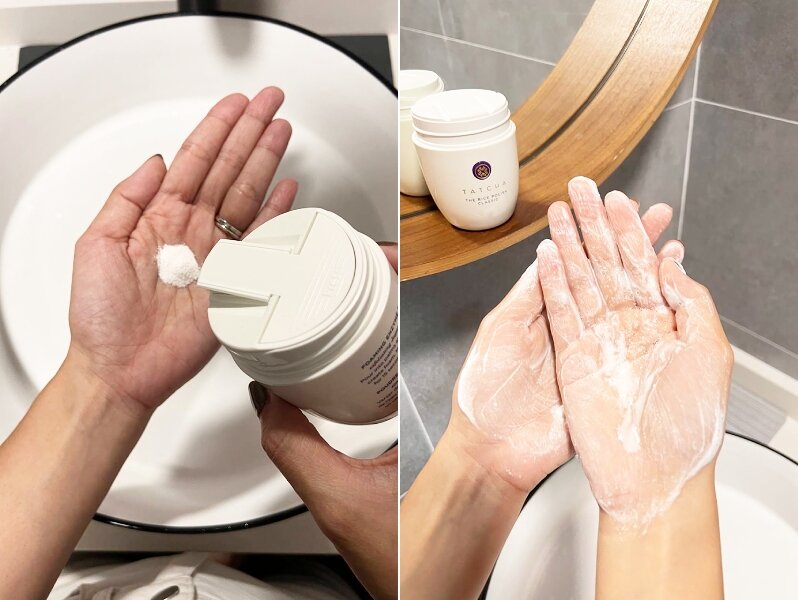 Since this is a water-activated product, Tatcha recommends first wetting your hands and face. Pour out ½ teaspoon of powder into your hands and rub them together to create a creamy foam. Massage the foam into your skin for 15 minutes before rinsing with warm water.
"The powder is very fine and it has no scent," Rebecca observed. "Once activated, it feels very smooth and glides on my skin very easily."
Rebecca used it three times a week for a month and noticed a significant improvement in her skin condition. "I love that my skin feels soft, supple and refreshed even after using it thrice a week," she shared. "I was surprised that my skin feels hydrated and not tight. I think this is a great gentle exfoliator."
She added that her pores are less visible and her skin now has a healthy glow. Her makeup lasts longer compared to before using the Tatcha The Rice Polish Foaming Enzyme Powder.
Have you tried a powder exfoliator before?
Final verdict on the Tatcha The Rice Polish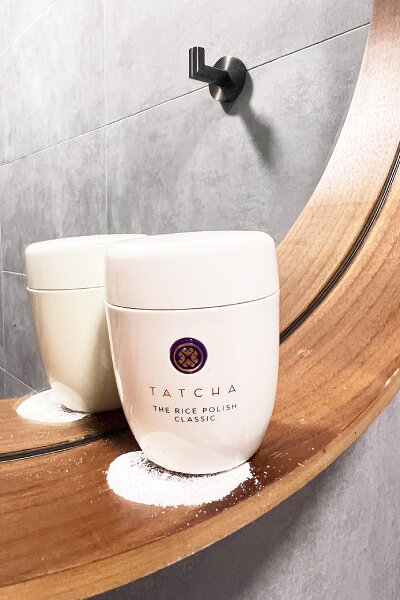 So is this luxury exfoliator combination skin-friendly? "Yes! I love the product and would definitely recommend this to people who are looking for a product that can gently exfoliate their skin without stripping moisture," Rebecca said.
At SGD108 per 60 grams, it's certainly a little bit pricier than other exfoliating skincare products but Rebecca thinks it's worth getting if you're willing to splurge. "I will repurchase this product if I would like to "treat myself" or as a gift to my loved ones."
The Tatcha The Rice Polish is available in Singapore, in all four variants, at Sephora stores, its app, and its website.
If your skin feels tight and red, this affordable and popular soothing balm from La Roche-Posay will be your skin's best friend.
Comments, questions or feedback? Email us at [email protected].