Have you ever tried massaging your face with an ice cube on a hot day? Or were you ever told that icing your face will help reduce pores? Same! It's quite common in our region because we face lots of skin woes such as irritation, redness and inflammation here no thanks to the humidity. You can definitely place ice cubes in the freezer to try this hack or you can also invest in a tool like the Skin Inc Cryo-Ice Sake Roller. But you might be thinking: 'What does it actually do and does it work?'
#TBLBureau Program Manager Roanna gave the face tool a whirl to see if it will be a new addition to her beauty regimen for sensitive skin. Read on for her review.
*The product was sent as a press gift. The views and opinions of the reviewer are independent and purely editorial.
But first, what is cryotherapy?
Cryotherapy refers to any treatment that involves using freezing or near-freezing temperatures to treat different forms of inflammation. It's been used to help relieve joint and muscle pain, specifically for those who suffer from arthritis. Cosmetically, cryotherapy has been used to freeze off warts and even reduce symptoms of skin eczema. The benefits of cryotherapy require more in-depth research, according to health professionals, but so far it's showing to be a good supplement to more proven treatments.
Skin Inc Cryo-Ice Sake Roller packaging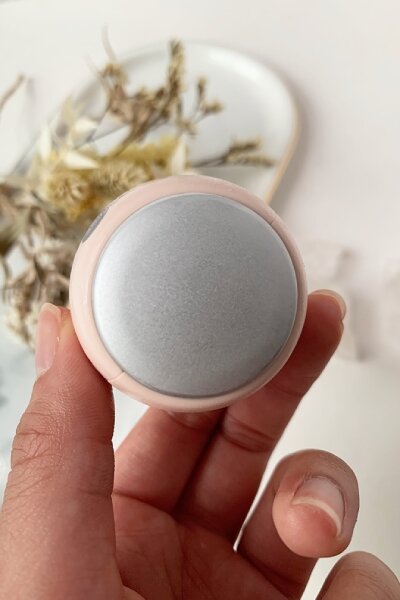 Roanna tried the Skin Inc Cryo-Ice Sake Roller in the Blush Edition, which features a temperature-activated colour-changing technology. It turns to blush pink when it's in a cool place, like the refrigerator while you chill it, and returns to its original white colour upon touching warm skin. It has a metal applicator at the bottom that delivers cryotherapy to your skin.
"I thought the product looks cute, especially in that sake carafe shape," Roanna said. "I also appreciate that the roller is crafted from professional-grade aluminium alloy for an 'even, sustained delivery of cold therapy' which is suitable for sensitive skin users like myself."
Skin Inc Cryo-Ice Sake Roller claims and first impressions
Skin Inc claims that this cold therapy beauty tool will help increase circulation, minimise pores, slow down sebum production, depuff the undereye area, lift your features, soothe irritation, and reduce redness.
Roanna, who has sensitive skin, is more interested in the last two benefits. "My skin is sensitive and gets red easily, so I like that the beauty tool utilises cryo-therapy to help calm and soothe my skin. It also helps reduce puffiness around my eye area in the morning." However, she did say that it seems the tool works in a similar fashion to a jade roller.
Using the Skin Inc Cryo-Ice Sake Roller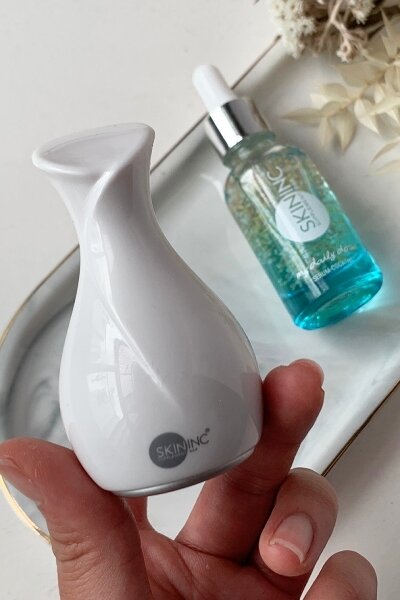 The brand recommends putting the Skin Inc Cryo-Ice Sake Roller in the freezer for 30 minutes and then letting it sit for five minutes before using it.
Then, you can apply your serum or eye cream and use a gentle pressing motion for a maximum of 30 minutes or until the device is no longer cold. You're supposed to know that you're done when the tool returns to its original white shade, however, Roanna said it's not a good benchmark as the tool turns white almost immediately after touching the skin. Your hands' warmth can also play a factor in the quick temperature change.
The metal applicator stays cool for eight to 10 minutes, which Roanna thinks is enough time to kickstart the skin-soothing and depuffing.
The face roller definitely delivers on its soothing and depuffing claims. "I use it every night before I sleep to help me soothe my skin during skincare application, and in the mornings when I feel that my eye area looks puffy," Roanna said. "The results are usually instantaneous. The cooling effect helps to calm the skin immediately." She added that there was visibly less redness after using the beauty tool.
Will you try this cryotherapy beauty tool?
Final verdict on the Skin Inc Cryo-Ice Sake Roller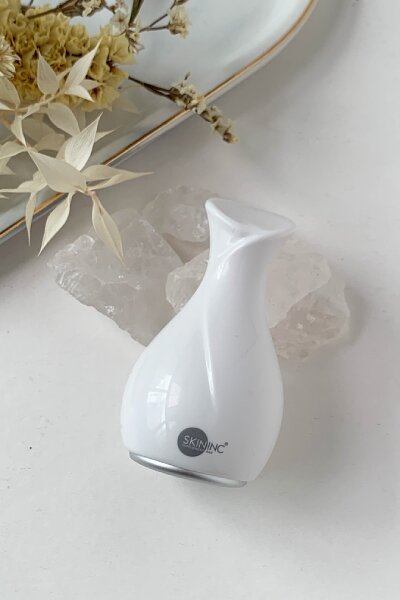 The Skin Inc Cryo-Ice Sake Roller is definitely a skincare treat for people looking for a quick way to calm and cool their skin after being exposed to heat and humidity. Its soothing and depuffing benefits can be instantly observed, but more time is needed to observe any sculpting effect.
Roanna thinks if you don't mind splurging on a manual beauty tool, then you can't go wrong with this cryotherapy beauty tool.
Sounds like a shoe-in for your skincare needs? It's available at the Skin Inc stores, website, and retailers for SGD48 (Original) and SGD58 (Blush Edition).
Would you try a heated cleansing device? Read our review on the FOREO LUNA 3 Plus.
Comments, questions or feedback? Email us at [email protected].