Cleansing is the first step in our daily beauty routine, hence it's important that we get it right to set the best foundation for the rest of our skincare products. And when it comes to cleansing, one leading beauty tech brand comes to mind: FOREO! The brand has welcomed the LUNA 3 plus, its latest thermal-facial cleansing device that aims to take our cleansing routine to the next level by also treating fine lines and wrinkles. How does this device work? Did this help us to achieve clean and plump-looking skin?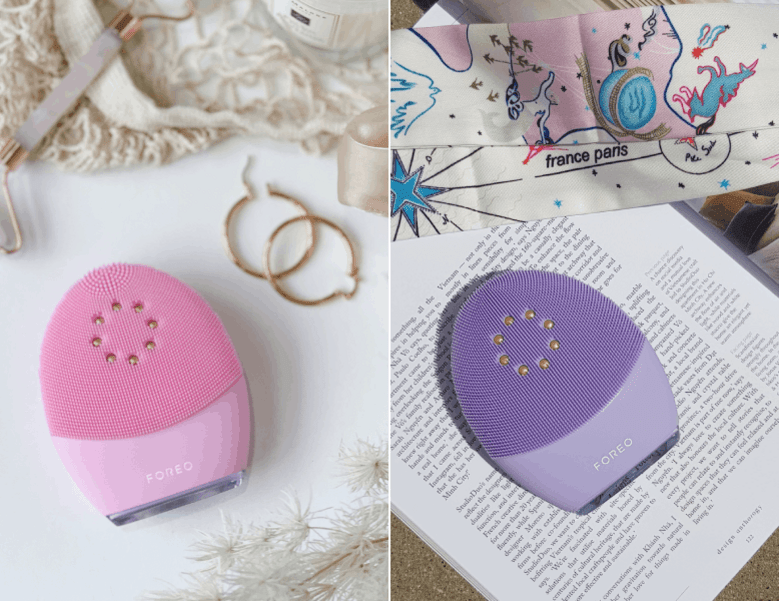 With these questions in mind, Program Manager Roanna Tan and Features Writer Sheryl Tng decided to give the LUNA 3 plus a go, with Roanna opting for the LUNA 3 plus for normal skin (pink) and Sheryl trying out the LUNA 3 plus for sensitive skin (lilac). Read on for their review.
*The products were sent as a press gift. The views and opinions of the reviewers are independent and purely editorial.
Review: FOREO LUNA 3 plus for normal skin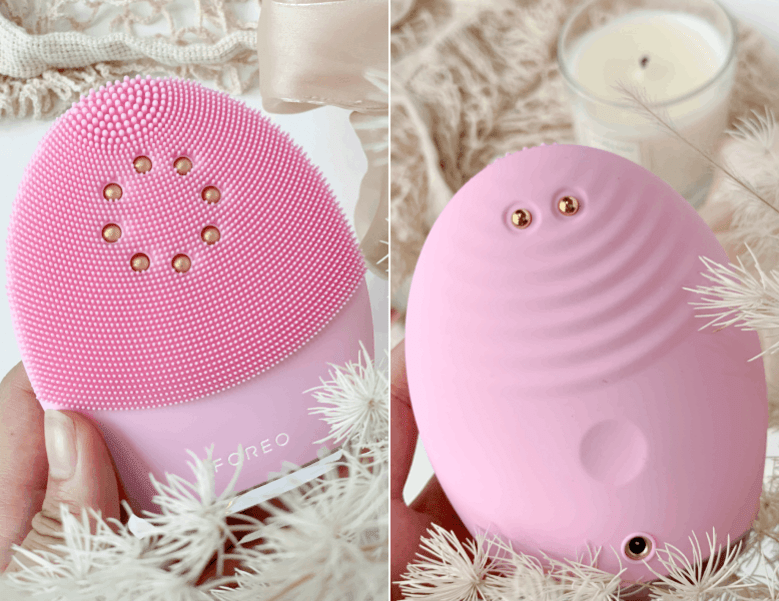 "Reducing the visibility of pores has always been my biggest skin goal," revealed Roanna, who has sensitive and combination skin. As a fan of FOREO and other skincare devices, she prefers silicone bristles compared to regular, brush-like bristles as the former feels "less harsh" and are less likely to trigger her sensitive skin. Indeed, the FOREO LUNA 3 plus boasts gentle bristles that are not only effective in giving skin a deep, thorough cleanse but are also easy to clean and maintain as well.
But aside from that, Roanna was most excited to try out the device's thermo-tech and T-sonic pulsations features. "I think they'll help with removing the gunk and keratotic plugs from my skin," she explained. She also hoped that its target microcurrent function will help to firm and plump up her skin.
"I use the FOREO LUNA 3 plus every other day for a deep, thorough cleanse. For anti-ageing, I use the back part of the tool with the targeted microcurrent function with my serum every night before bed," said Roanna, who observed that her skin had become "softer and smoother" after using it for two weeks. "I felt that my skin texture has improved too. I get fewer breakouts as my pores are constantly given a deep thorough cleanse and my skin feels smoother to the touch as well," she added.
Roanna also revealed that she had experienced a "tingling sensation" when using the device's target microcurrent function. That said, she found it "bearable" and thought it felt similar to the FOREO Bear, the brand's facial toning device. While this is part of the device's functions in helping its user attain a firmer and more contoured appearance, the brand has also advised its users to ensure their device is "completely dry for safe and effective use" before activating its microcurrent mode. Don't miss out on this step!
As for her favourite aspect about the device, Roanna shared that she's a fan of its thermo-tech function: "It's by far the only heated cleansing device that I've seen and tried and I truly enjoyed the relaxing cleansing experience."
However, Roanna believes the FOREO LUNA 3 plus could use more thermal touchpoints for a more comprehensive cleansing experience. "On a few instances, I noticed that several parts of my face did not get to experience the heated cleansing sensation as the touchpoints were concentrated in the centre of the device."
In all, Roanna still finds the FOREO LUNA 3 plus to be a "skincare treat" and believes that it's a worthy 'skinvestment'. "I would recommend this to anyone who enjoys a deep, thorough cleanse and exfoliation! It's like having a mini facial spa in the comfort of our own home or anywhere else, anytime," she shared.
Review: FOREO LUNA 3 Plus for sensitive skin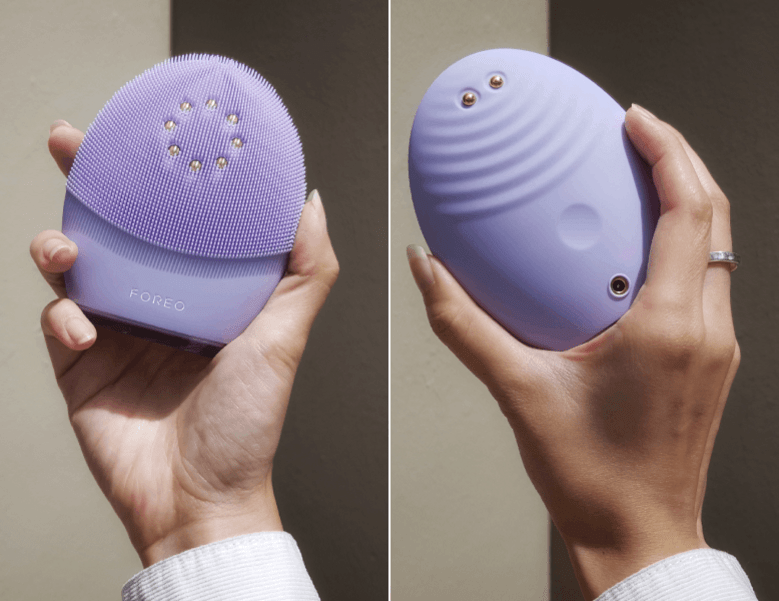 "I've been keeping my skincare routine pretty minimal these days in order to reduce any chances of flare-ups or breakouts," shared Sheryl, who has sensitive skin. When it comes to beauty tech devices, she's open to adding one to her routine — on the condition that it bodes well with her skin. "Thankfully, the FOREO LUNA 3 plus has a lilac sensitive skin variant that has softer, finer touchpoints," she added.
Just like Roanna, Sheryl was keen to experience the device's thermo-tech function too. She was also intrigued by the device's targeted microcurrent feature and wanted to know if it would help to reduce the appearance of her laugh lines: "This feature sounds really promising and interesting!"
Sheryl started using the device's cleansing function twice a week, something she observes with any new product she introduces into her routine. Then, she progressed to using it every other day; she also tried its targeted microcurrent on alternate evenings. "The heat I experienced from using the thermo-tech function felt warm and really comfortable on my skin. My skin also felt much more 'relaxed' and ready to absorb my serum and moisturiser," revealed Sheryl.
In terms of the device's targeted microcurrent function, Sheryl also experienced a tingling sensation. However, she quickly became accustomed to it and is convinced to continue utilising this feature to achieve a more lifted and firmer appearance. "I've been having a fun time trying out the various microcurrent treatments available on the FOREO app. Each treatment takes around three to seven minutes and comes with a step-by-step video tutorial for users to follow," she enthused.
"I'm a fan of the device's thermo-tech function, however, its targeted microcurrent truly takes the cake," shared Sheryl. She finds this anti-ageing feature to be "innovative" and "effective" and appreciates how it gives her the opportunity to enjoy a spa-like service at her own pace and own time. "I'm convinced to use this consistently for as long as I can. I'm hoping that this will help me to achieve a more defined and sculpted-looking appearance in the long run!" she added.
The FOREO LUNA 3 plus is priced at SGD469 and is sold at Sephora, Zalora, Tangs, Takashimaya and Lazada Singapore.
Have you heard of ceramide serums? Well, we decided to give the Elizabeth Arden Ceramide Serum Capsules a go. Click here for our review.

Comments, questions or feedback? Email us at [email protected].