Remember that Cardcaptor Sakura-inspired makeup collection that went viral? If you didn't know, that was a Perfect Diary Eyeshadow Palette. You may have already caught a glimpse of the Perfect Diary Discovery Explorer Eyeshadow Palettes (PHP1,128/USD19.99 each) unknowingly on Facebook, too. The definition of "eye-catching packaging", these eyeshadow palettes, made in collaboration with the Discovery Channel, come from Chinese makeup brand Perfect Diary. Browsing through the assortment of products the brand offers, we can say they really nailed it in the packaging department.
But as makeup lovers, we all know that what's inside — that is, the product itself — is what matters. We're scratching the surface of the Perfect Diary palettes' functionality to see if they're worth the hype. Read on to know our thoughts.
Are the eyeshadows pigmented?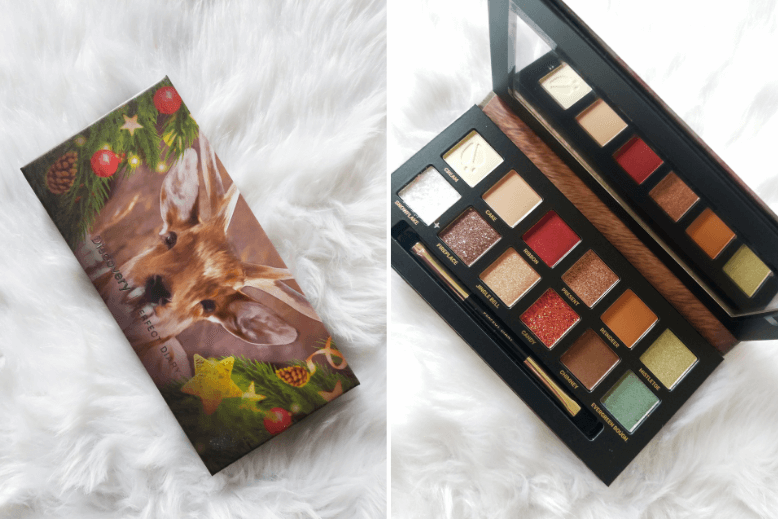 "I've been seeing Perfect Diary a lot through Facebook ads. They made me curious about the brand because all their releases look so eye-catching. Zooming in on the Discovery Explorer Deer Palette, which was part of their limited-edition Christmas 2020 set, I'm glad to say that the palette's packaging feels high quality and did not disappoint in person. It also comes with a nice dual-ended brush and a large-sized mirror.
I used Ribbon (foil-metallic blue-red) as the star of the look I made since it's the first colour that jumps at you when you look at this palette. I used Reindeer (warm orange-brown matte) as my base colour and blended it with Ribbon. I mixed Chimney (deep cool-toned brown with small gold specks) with Fireplace (a cool-toned foil-metallic brown with silver specks) to give the outer V some dimension and finished the look with Candy (red glitter) on the centre of the lids.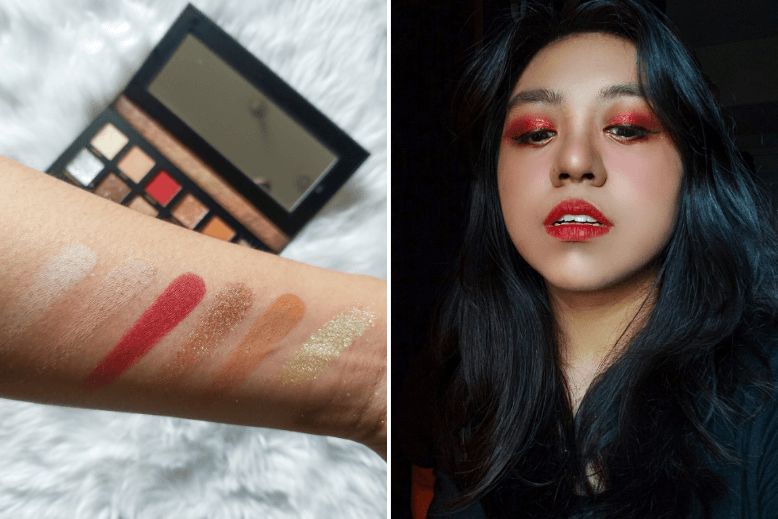 Despite the varying textures of the shades I used for this look, everything blended well and popped out nicely with the use of a brush. But I'd have to say the colours apply even more intensely when you use your finger. The powdery matte shades have some fallout on the pan, but it's not the first palette I've tried to have that and I don't mind it as long as the shade performs well when applied.
I think this palette suits people with deeper skin tones (such as myself) because the shades complement our skin colour more. It's also good for people who like a palette that can help them create neutral and everyday-friendly looks but also amp things up a bit when needed. It's not the perfect palette since some shades tend to be chunky, but the performance of most of the shades absolutely make up for it."
How does it look on hooded eyelids?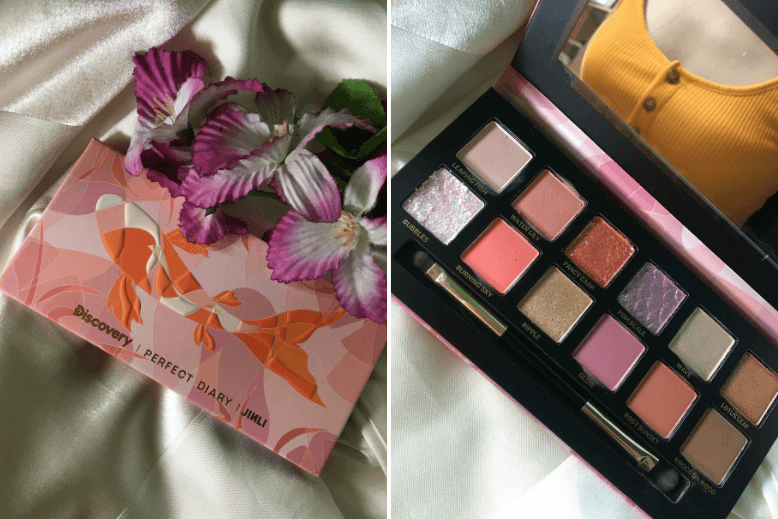 "I love how the Perfect Diary Discovery Explorer Fancy Carp Eyeshadow Palette features an assortment of shades and textures that go well together because I've encountered a lot of eyeshadow palettes that don't. It hits the perfect balance when it comes to the colour story.
As far as application goes, I have hooded eyelids that tend to get oily towards the end of the day so I make sure to use a primer before I put on any eyeshadow. In this case, I used the Boscia Porefecting White Charcoal Mattifying Treatment Primer. I used the shimmery shade Fish Scale (pale lavender) and matte shade Glow (cool light pink) together for this glam look.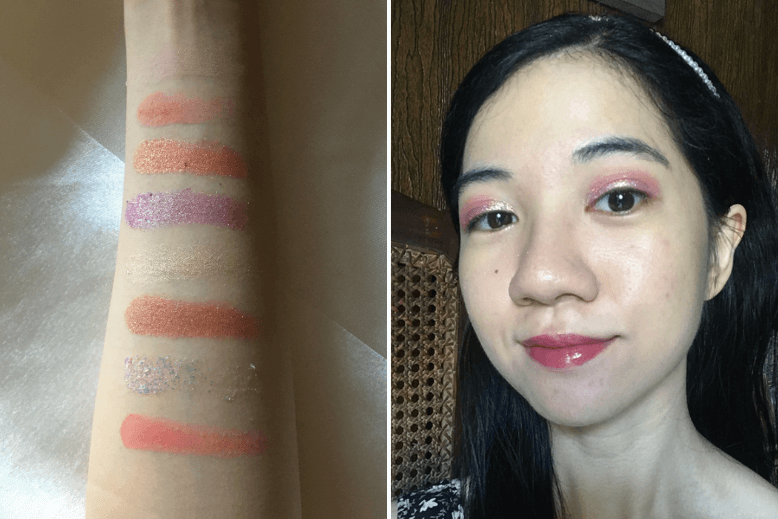 The problem I encounter with having hooded lids is that no matter if I apply primer, the eyeshadows will eventually move around and result in a mess. But since these shades go well together, even if they move around, they are still cohesive. This is a good option for those who love playing with lighter shades like peaches and pinks. It's also affordable and comes with a good eyeshadow brush so it's great as a starter eyeshadow kit."
Is there enough shade variety for creating multiple looks?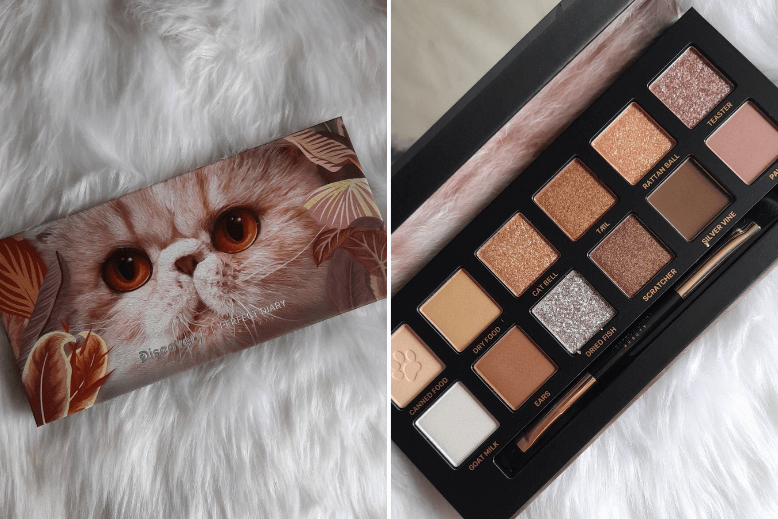 "There are a lot of positive aspects to the Perfect Diary Discovery Explorer Cat Eyeshadow Palette. Packaging-wise, the matte finish and cute artwork hook your attention within the first few minutes of seeing it. The first swatches alluded to good colour pay-off — the shades Teaster (pink with flecks of silver glitter) and Dried Fish (silver-white glitter) were chunkier glitters — so I had high hopes for this palette. Also, can we talk about the fun shade names?
The Cat palette has one of the 'tamer' colour stories among the palettes we tried; it contains nice brown and gold shades. Because of the colour selection, it's easy to transition from an everyday eye look to something that's more glam for the evening. I used all of the matte colours and some satin finishes for an everyday eye look: Dry Food (satin light peachy brown) and Paws (light mauve pink matte) all over the lid, Ears (light peach brown matte) on the crease, and Silver Vine (neutral dark brown matte) as an eyeliner. I found the matte and satin shades needed to be packed on to show up on my skin tone. On the plus side, I didn't use any eyeshadow primer yet the eyeshadow was still intact by the end of the day.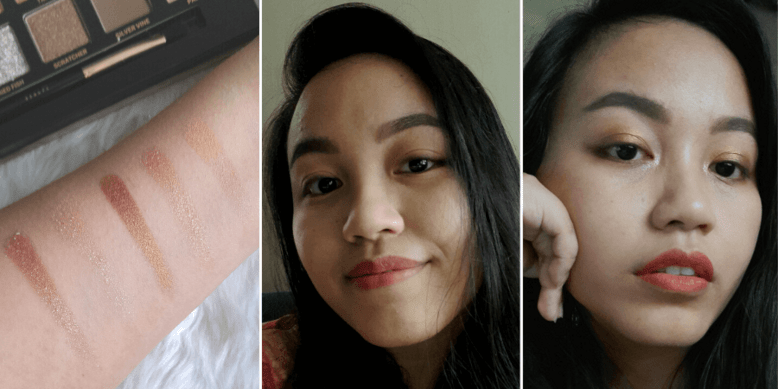 To make it more glamourous, I added more Silver Vine and smudged it, before applying the shades Tail (foil-metallic yellow gold) to the inner half of my eyelid and Scratcher (foil-metallic green-bronze) on the outer half. I then put some of Teaster on the very inner corner of my eye and some Canned Food (satin peachy yellow) on my brow bone. The shimmer and glitter shades were pretty opaque when I applied using a brush. To really make these shades pop, using your ring finger creates a more noticeable finish.
Out of all the palettes, this is the 'safest' option if you like easy and natural eye looks but you'll need some darker shades to jazz it up when needed. Most of the shades appear beautifully on medium skin tones like mine, though Goat Milk (satin white) and Canned Food are a little too light for our skin tone. Still, it's a good option for beginners and people prefer more of the '90s brown eyeshadow look. It's also conveniently available in the Philippines, Singapore, and Malaysia through the Perfect Diary website and Shopee."
*The products were sent as a press gift. The views and the opinions of the reviewers are independent and purely editorial.
Discover more hype-worthy makeup and skincare here.
Comments, questions or feedback? Email us at [email protected].