There are a lot of slimming aesthetic treatments that promise to help aid your workout regimen in achieving the toned physique you've been working hard for. One such treatment is the ONLISculpt treatment, which you can get in Singapore at ONLY Aesthetics' Eon Shelton outlet. Touted as the "best body toning and face slimming treatment in Singapore", the treatment promises to lift, firm, and tone your face and body in a non-invasive manner and without any downtime.
#TeamClozette Community Manager Sabrina Wong was eager to try ONLISculpt in the weeks leading up to her wedding because of its claims. Read on to see what she thinks about this sculpting treatment.
First impressions and claims
"I want to look my best in my wedding dress. However, I am insecure about my belly and I am very interested to see the results of the treatment when I put on my gown," Sabrina shared.
"I thought it would be a complicated and long process," Sabrina shared. Since the treatment uses "448 kHz monopolar radiofrequency energy" to trigger the body's natural healing response, according to the clinic's website, it does seem a little intimidating. But Sabrina's worries were quickly alleviated. "Unlike my assumption, the treatment was easy, comfortable and took only 30 minutes," she observed.
Another aspect of the treatment that caught her attention was the claim that it "destroys fat cells" while "simultaneously tightening loose skin". It does so by delivering the radiofrequency energy deep into the skin's layers to shrink fat cells and treat cellulite. The same energy stimulates the skin's natural collagen production to help it firm up and look younger.
ONLISculpt auto-detects and delivers the right amount of heat to destroy the visceral fat (the type that can increase the risk of health issues such as heart disease, stroke, and high cholesterol) in a completely painless experience.
Procedure highlights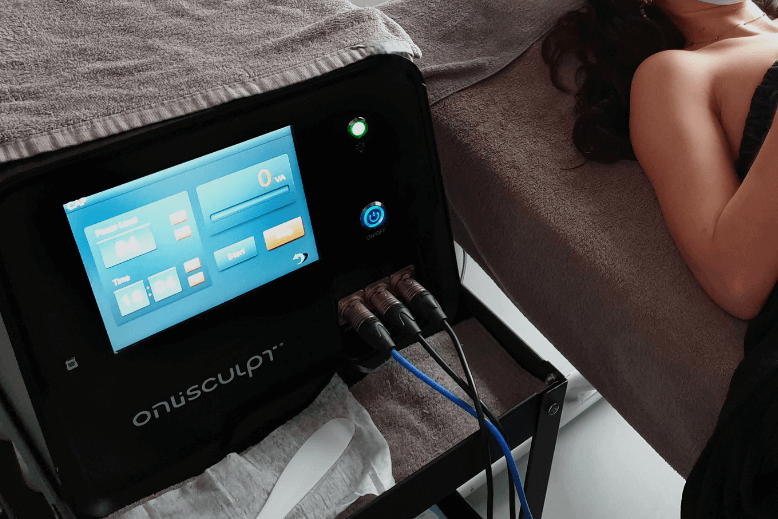 One of the things you can expect during an ONLISculpt session is a thorough consultation with the aesthetician so they can recommend the ideal number of sessions for you and go through your concerns beforehand. "Based on my body type, I was recommended four to six sessions to achieve the best results," Sabrina shared.
During the session, the wand will be continuously moving along the treatment area. This device will be used in the targeted area — which can be used on your chin, abdomen, arms, and thighs — in just one step. The constant movement and gentle heat made the entire 30-minute experience "painless and comfortable" for Sabrina.
Afterwards, ONLY Aesthetics' clinic director recommended that she maintain a healthy and balanced diet and regular exercise to help speed up the treatment's visible results.
She also felt it to be quite convenient to have the sessions once every fortnight, but the intervals differ from patient to patient. She then added that she felt that her belly area felt tighter and firmer just a day after her session. The effects lasted for about two weeks after her first ONLISculpt session, and she noticed that her belly felt less bloated compared to before.
However, she also noted that the balanced diet and regular exercise she mindfully followed post-treatment greatly helped in making her feel good physically. "I think the point is that a person should have a mindset towards having a healthy diet and an active lifestyle. If you change your thinking, your body will follow. The ONLISculpt sessions are there to aid with the process."
Final thoughts
"I certainly feel more confident now after the treatment," Sabrina shared. Her waist felt slightly tauter after her first ONLISculpt session and she's eager to see if the results will improve after every session.
Sabrina recommends this toning treatment for anyone who is constantly "facing environmental stress" which can make the skin look "tired, aged, and saggy" since ONLISculpt can help tone your skin's appearance.
If you're in Singapore and want to give it a whirl, you can avail of the ONLISculpt treatment trial at the ONLY Aesthetics Eon Shenton branch for ~USD439.22.
Need something to help you keep track of your fitness levels? Read our review of the Fitbit Sense smartwatch.

Comments, questions or feedback? Email us at [email protected].