I've been having a really hectic few weeks packed with travelling and work, so I was really looking forward to taking some time off to unwind at The Spa at Mandarin Oriental Singapore by trying the recently launched Himalayan Crystal Glow treatment.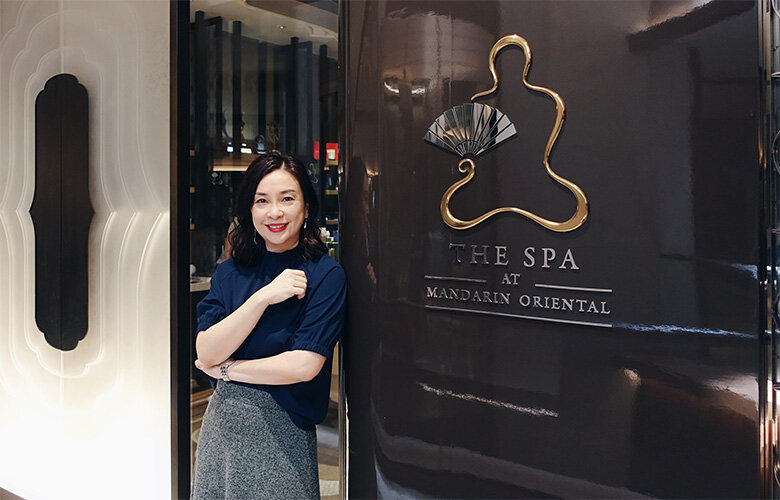 Creative Director Kersie at the entrance of The Spa at Mandarin Oriental Singapore
As soon as I arrived at the fifth floor of the Mandarin Oriental, I was greeted by the spa's magnificent entrance — a pair of large, opaque sliding doors concealing a quiet pathway leading to the reception, giving me a sense of security, like I'm entering a hideaway where I can hole up and relax.

The changing room at The Spa at Mandarin Oriental Singapore
After a quick registration, I changed into slippers and enjoyed a warm cup of tea before being led to a very luxurious, cosy changing room where I was shown around the bath and sauna areas and taught to use their modern locker system. As soon as I changed into my robe, I was ready to settle in for my treatment.


Left: Himalayan salt for the scrub, Himalayan salt stones for the massage, and triphala oil; Right: A closer look at the Himalayan salt stone
My therapist began the two-hour session with an introduction and a soothing foot bath, followed by an invigorating 20-minute Himalayan salt scrub. Dubbed the purest salt on Earth, this detoxifying exfoliant was mixed with almond oil prior to application to exfoliate and nourish my skin and prepare my body for the massage. I personally love getting scrubbed because it feels like rolling on sand at the beach, but with the added benefit of having extra smooth skin after. No more dead skin cells!


The en-suite bath & shower area in the treatment room
After rinsing the salt scrub off in the shower, I laid back down on the massage bed for my massage. Triphala oil, infused with an ancient Ayurvedic herbal blend of three antioxidant-rich fruits known for cleansing and nourishing properties, was drizzled and then massaged onto my back and legs with long, firm strokes using heated Himalayan salt stones to release knots and tension.
The salt stones, which are anti-microbial and anti-bacterial in nature, felt pleasantly warm and smooth, and glided along my muscles and rested on acupressure points to relieve my body of aches and fatigue. This three-step ritual was designed to provide deep relaxation, and it lived to its promise indeed. I drifted into slumberland midway and woke up feeling well and truly rejuvenated at the end of the massage. My head and shoulders felt light, like a huge weight was taken off them.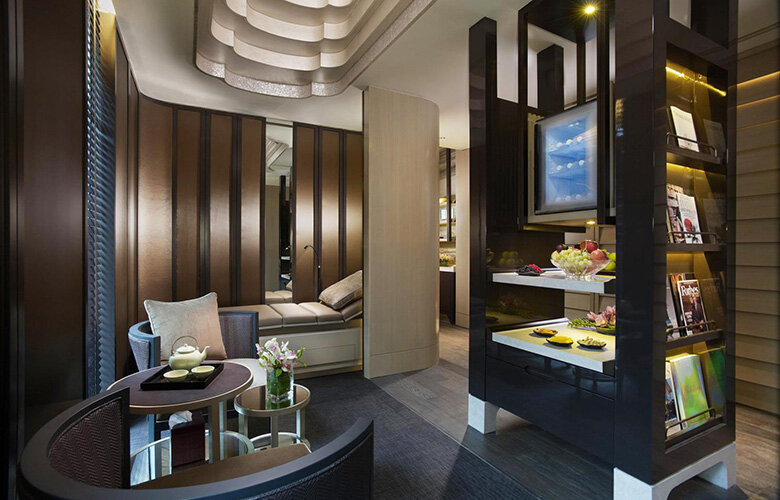 The Tea Lounge at The Spa
Feeling peckish after the two-hour experience, I adjourned to the spa's tea lounge, where I rested and helped myself to an array of treats that included nuts, cookies, and red date tea with ginger and brown sugar, which aids in boosting blood circulation. It made for a very pleasant end to a relaxing time out from daily life, and I definitely enjoyed every second of it.
Based on how energetic and thoroughly rested I felt afterwards, I can definitely see the Himalayan Crystal Glow treatment being a great occasional self-care treat; a respite from the everyday hustle and bustle of city life, even. It would also make a wonderful birthday treat for a loved one.
Priced at SGD400 before taxes, the Himalayan Crystal Glow treatment by The Spa at Mandarin Oriental Singapore comprises a foot bath, Himalayan salt scrub, and a Himalayan Salt Stone massage. To find out more, click
here
.
Comments, questions or feedback? Email us at [email protected].