Want to know what keeps Posh Spice a.k.a. fashion designer Victoria Beckham's complexion clear and bright? What if we tell you it includes putting bird poop on your face? Yes, you read that right — a bird poop facial.
But it's not straight-up bird poop, don't worry. Plus, it has a lot of skin-caring benefits too. Intrigued? We were too, so we're glad to have learnt that it's available in Singapore through Ikeda Spa's Geisha Organic Facial.
We tapped #TBLBureau Program Manager Roanna to give this unusual beauty treatment a whirl. She has dull, sensitive, and acne-prone skin, so she was curious to see if the luxurious geisha-inspired and celebrity-approved beauty service will be the answer to her skin woes. Read on to discover her thoughts on the whole experience.
*The service was arranged as a press gift. The views and opinions of the reviewer are independent and purely editorial.
First impressions and claims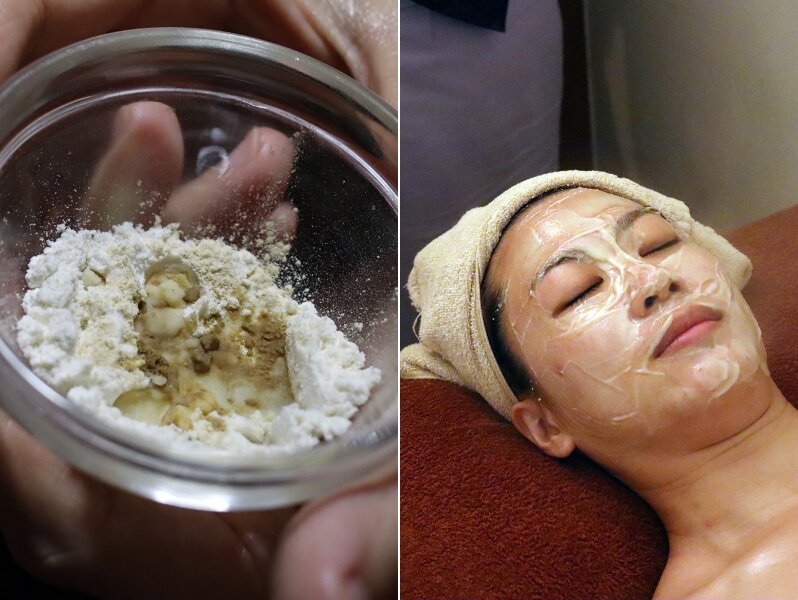 Ikeda Spa whisks you away to Japan in their luxuriously designed spa. The calming vibes of their establishment welcome you from the very moment you step inside. The spa's therapists are also all dressed in yukatas, a nod to the Japanese beauty rituals they offer in the spa's menu of treatments, including the Geisha Organic Facial.
The Geisha Organic Facial is an exfoliating and brightening facial that involves applying an oat-coloured paste containing traditional Japanese beauty ingredients such as powdered nightingale droppings, exfoliating Azuki red beans, rice bran, camellia oil, and peach moon water. The nightingale droppings, which are traditionally referred to as uguisu no fun in Japanese, were traditionally used by kabuki actors and geishas in Japan to whiten and brighten up their skin. Aside from the droppings, the Azuki read beans and rice bran help exfoliate away dull, dead skin which further help brighten up your complexion.
Ikeda Spa recommends getting the facial treatment every three to four weeks to maintain its skin-brightening effects.
Application
When it comes to skincare treatments, it's important to communicate with your beauty therapist so they can recommend or explain how the treatment can help with your skin woes. Ikeda Spa delivers on this: "The facial therapist described every step in detail, from what the product is and what it does all while communicating with me to understand my skin concerns and skincare regime," Roanna said.
"It was a multi-sensorial experience that I've never experienced before," she added. She shared that the Geisha Organic Facial started with the typical skin cleansing and extraction before the paste was applied. The paste was massaged into her skin using a 300-stroke Japanese meridian massage technique, which lifts and gathers all the dirt and dead skin. Afterwards, the paste is reapplied in a thicker coat to act as a mask for 20 minutes. While letting the mask do its work, the therapist will do a relaxing shoulder massage to alleviate any tension or pain in that area. In total, one session will last for one and a half hours — more than enough time to enjoy the whole experience.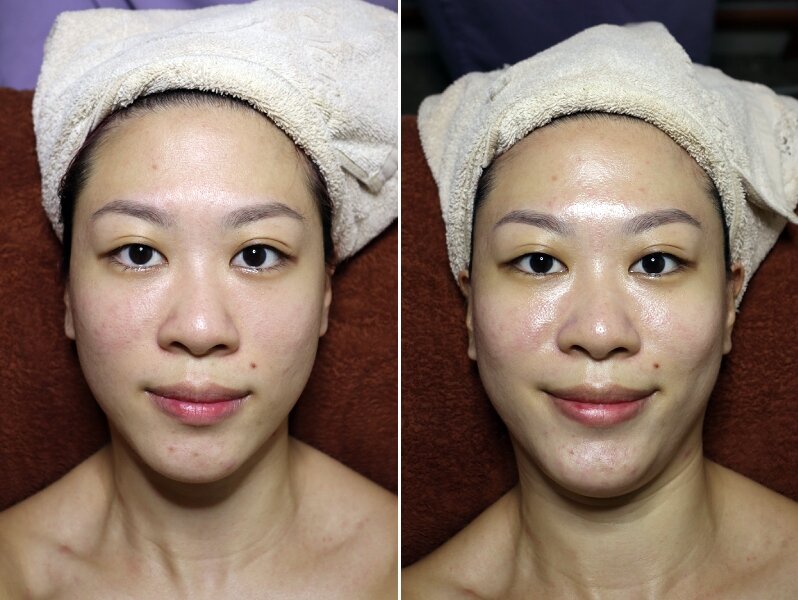 In case you're wondering, the paste had a very pleasant nutty fragrance. "Like peanut butter," Roanna shared. It also felt cleansing and gentle. After just one session, Roanna observed that her complexion was visibly brighter, smoother and cleaner-looking. Her skin's redness was also reduced.
Final thoughts
Roanna will definitely take up the chance to try the Geisha Organic Facial again. "I would love to be back every month if I could," she said. The luxurious facial treatment is a great way to pamper yourself every now and then. She particularly recommends it for folks who have dull and pigmented complexions and want to brighten up their skin. Word of warning, though, Ikeda Spa's slots are frequently sold out even one to two months in advance.
Each session of the Geisha Organic Facial at Ikeda Spa costs SGD260+. The spa also has the Maiko (apprentice geisha) Organic Facial (the same facial minus the nightingale droppings) that costs SGD180+ if you want a slightly more affordable skincare treat. Plus, we're giving away a free additional onsen experience worth SGD80+ — exclusively for TheBeauLife readers — if you book the facial (or any 90-minute facial on their menu) through here. You can also win a free session by watching and commenting on our video (valid until 21 February, 11.59PM).
You can find Ikeda Spa at 787 Bukit Timah Road, Singapore 269762.
Aside from the bird poop facial, discover more unconventional beauty treatments here.
Comments, questions or feedback? Email us at [email protected].