With our busy schedules and jam-packed days, we don't always have the time to really sit down and play with makeup. For those who are always on the go, multipurpose makeup products that are easy to apply are super convenient. You can do your makeup for the day during your commute or be done in 10 minutes at home.
One of the cult-fave brands that specialise in making these multitasking makeup is NUDESTIX, founded by a mum and her two daughters, who create makeup crayons infused with skin-enhancing vitamins, antioxidants, and moisturisers for your eyes, lips, and cheeks. Their latest curated kit containing multipurpose makeup, the NUDESTIX Heaven and Earth Makeup Kit, features soft pastel and rosy hues inspired by nature's plethora of colours.
To test out its wearability, we tapped #TeamClozette makeup lover and Creative Manager Laura Lim to share her thoughts.
First impressions and packaging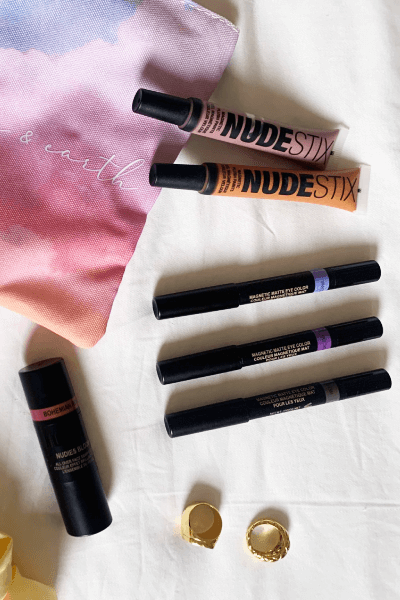 "The colours intrigued me since they're fun and something out of the ordinary," Laura shared. The NUDESTIX Heaven and Earth Makeup Kit features seven multitasking makeup products in colours reminiscent of "rainbows after threatening storms, golden sunrises after dark sunsets, and wild weeds flourishing into fields of flowers." Sounds romantic, doesn't it?
Aside from the unusual colour palette, the kit features three of NUDESTIX's best-selling products: the soft velvety matte eye and cheek colour Magnetic Plush Paints in Sunset Peach and Love Cloud; the creamy matte Magnetic Matte Eye Colour in Lilac Sky, Weed and Oceania; and the balm-like NUDIES Bloom All Over Face Dewy Colour in Bohemian Rose. These formulas are vegan, gluten-, cruelty-, synthetic fragrance-, paraben-, sulfate-, and phthalate-free.
All of the products are limited-edition, except for the NUDIES Bloom, and won't be available once the kits are sold out.
"The products seem convenient to bring along on trips too. I hate bringing eyeshadow palettes when I travel because they are so bulky," Laura shared. She added that the packaging was easy to open and fool-proof yet securely compact. Travel bugs, take note!
The kit comes in a dreamy fabric pouch decorated with soft pink skies and made of 100% post-recycled plastic bottles.
Now how do these items work once applied?
Application and usage
One thing Laura liked about the kit, in general, is its fool-proof usability. "The products can be used in different ways which is great — I love multi-functional products because they're just so easy and convenient."
In terms of blendability and longevity, it varies because there are different formulas included in the kit. The Magnetic Matte Eye Colours was easy to blend, with a finger or a brush. Meanwhile, the sticky texture of the Magnetic Plush Paints requires more effort to blend out and you need to layer it over primed eyelids or skin and under some form of powder to set it to make it last longer. As for the blush stick, it's Laura's favourite out of the entire kit.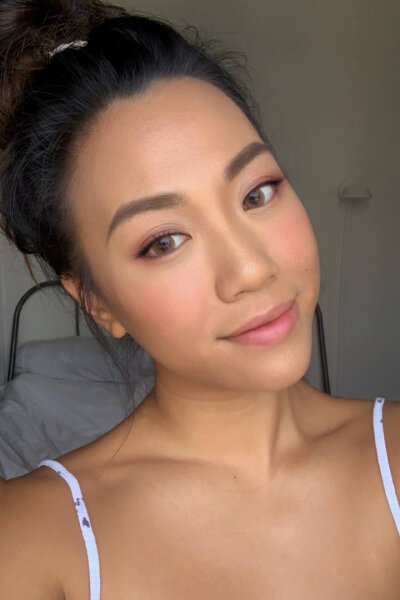 "I swiped the NUDIES Bloom All Over Face Dewy Colour in Bohemian Rose on my eyelids, cheeks and lips for a simple romantic look," Laura explained. "I have been pretty lazy when it comes to makeup lately so the NUDIES Bloom is great as I can use one product in so many areas. I will use it daily when I want to look fresh and glowy." She added that the products are "easy to use" — you can use your fingers or the built-in brush to blend it out — and you don't necessarily have to be a pro to know how to use them.
The other shades are more for special occasions in terms of Laura's taste in makeup. "I wish I could purchase the products individually because I don't see myself using the other products frequently. I will definitely use the Magnetic Matte Eye Colour sticks for special occasions when I want to spice things up especially when I attend a party or go to a music festival."
Final thoughts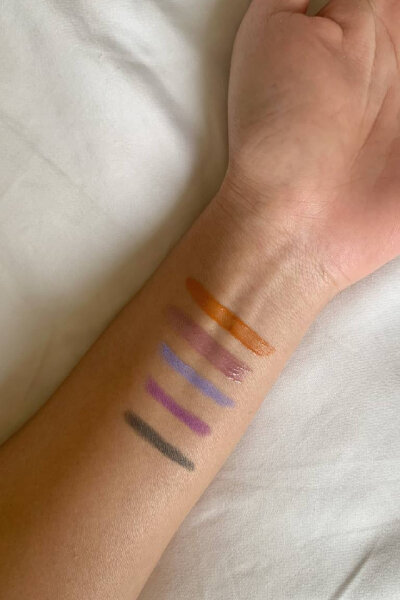 While easy-to-use and ideal for dewy makeup looks, Laura deems the NUDESTIX Heaven And Earth Makeup Kit is for a specific group of makeup lovers. "I feel it is for people who love to always play with bold colours," Laura said.
In particular, Laura thinks adventurous makeup enthusiasts and professionals will greatly appreciate the unique hues this makeup kit offers. The soft pastels aren't exactly for everyday makeup looks but are fun to play with in the right setting.
If there's one thing she'll be buying from the kit, it's the blush stick. "My favourite is the NUDIES Bloom because it's very versatile and easy to use." If you're curious to try the same formula in other shades, the NUDIES Bloom is also available in six other shades.
If you like beginner-friendly makeup, you can also check out the rest of NUDESTIX's multitasking makeup sticks in other hues.
The limited-edition kit is available in Singapore, Malaysia, and the Philippines through the Sephora website and app for SGD120/MYR340/PHP4,500/USD80.
*The product was sent as a press gift. The views and opinions of the reviewer are independent and purely editorial.
(Cover photo from: @nudestix)
If you're picking this up, also consider this lightweight and hydrating skin tint.
Comments, questions or feedback? Email us at [email protected].