There are a lot of brightening and skin tone-enhancing ingredients that can help address the dull skin, redness, and breakouts that come with having sensitive skin. But more often than not, our delicate, sensitive skin won't agree with these ingredients. Cue the itchiness, redness, and other set of problems. Quite a pickle, isn't it?
The good news is that sensitive skin expert La Roche-Posay has formulated the Pure Vitamin C10 Serum, which it claims to be the skin-brightening hero for sensitive skin. It contains pure L-ascorbic acid as its main brightening ingredient.
To see if it lives up to its promises, #TBLBureau's Chloe tried it for three weeks on her dry and mildly sensitive skin. Read on for her review.
*The product was sent as a press gift. The views and opinions expressed by the reviewer are independent and purely editorial.
La Roche-Posay Pure Vitamin C10 Serum packaging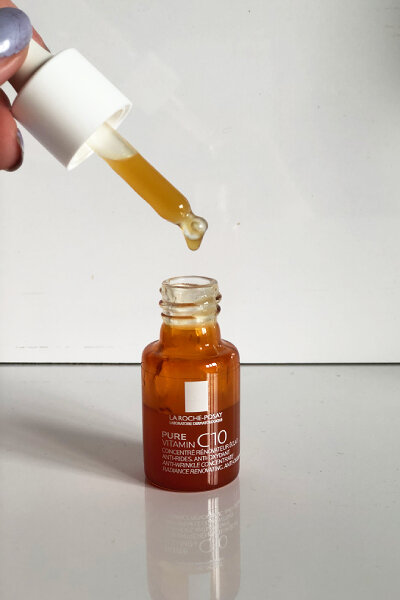 "It comes in a tinted glass bottle with a dropper that's easy and convenient to use," Chloe shared. It's recommended that vitamin C formulas are stored in dark-tinted and airtight containers to preserve vitamin C's potency, which this serum seems to meet. However, Chloe says it's better to store it in a drawer rather than left on the vanity or table to preserve the serum's effectiveness.
Claims
La Roche-Posay claims that since the serum contains pure L-ascorbic acid, a.k.a the most "biologically active" or potent form of vitamin C, you'll get the best brightening results for your skin. This is because vitamin C is an antioxidant which helps reduce the damaging effects of impurities and free radicals on our skin cells. This makes it especially good for addressing dark spots and hyperpigmentation.
It's also known for its ability to stimulate collagen and elastin production which helps improve skin texture.
However, vitamin C can sometimes be hit or miss when applied to sensitive skin. "Most vitamin C serums can be irritating to sensitive skin so I decided to use this with care, despite knowing its benefits," Chloe said.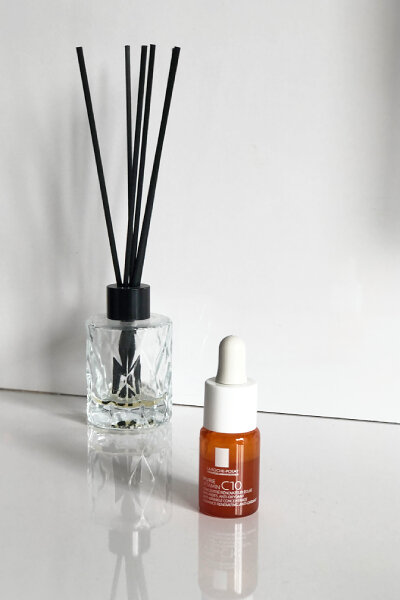 To counter this possible side effect, the serum is also formulated with soothing ingredients like thermal spring water (a staple in La Roche-Posay products) and neurosensine (which is used to regulate pain in other formulas).
Aside from vitamin C, the serum is also formulated with salicylic acid to unclog pores and hyaluronic acid to keep the skin hydrated. Glowing, smooth complexions, here we come?
Applying the serum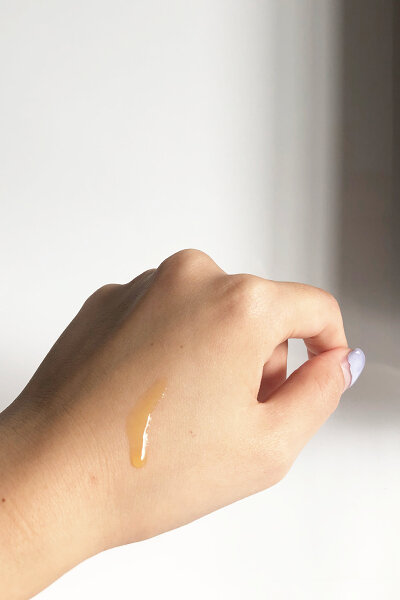 So how did it feel to apply the serum to sensitive skin, you ask? "While I've experienced a light stinging sensation with other vitamin C serums, I'm glad this didn't irritate my skin at all. So far, I haven't experienced any discomfort with this serum yet."
Another plus? It's not greasy at all. "It's a lightweight serum and not a sticky texture after application," she added.
She also noticed that it has a light citrus scent. If you're sensitised to fragrances, it's better to do a patch test before applying.
Will you try this vitamin C serum for sensitive skin?
Final verdict on the La Roche-Posay Pure Vitamin C10 Serum
After several weeks of using the serum every morning, Chloe's very happy to see that her skin looks more radiant even without any makeup on. "My skin definitely looks more radiant and hydrated," she said. "I received comments that my skin seems to be glowing too."
So is the serum truly sensitive skin-friendly? In Chloe's case, it definitely is. Different people have different levels of skin sensitivity, so we think you should go into a store to patch-test the serum before actually purchasing it for daily use.
Fun fact: Chloe is seriously considering swapping her current vitamin C serum for this one. Sounds good to us!
Want to try this vitamin C serum too? The La Roche-Posay Pure Vitamin C10 Serum is priced at SGD80.65 per 30ML at Watsons, Guardian, and Shopee.
Looking for other sensitive skin-friendly products? Check out this soothing balm.
Comments, questions or feedback? Email us at [email protected].