Looking for a powder that can help me manage my combination skin has always been a struggle. It has to have great oil control to keep my T-zone shine-free while making sure that the dryness in some parts of my face is not emphasised. Trust me, I have tried a bunch of powders from drugstore to high-end but have found nothing to satisfy my need. I've heard a lot about the Rimmel London Stay Matte Powder from many European YouTubers like Zoella and Marzia Bisognin (before her YouTube retirement), though, so I had to give it a try as soon as I got my hands on it.
According to its claims, it has a lightweight formula with natural minerals that help last up to 9 hours of matte finish wear, helps minimise the appearance of pores and delivers a flawless finish. Now, we've heard all of that before but haven't really found anything that follows through the promise. Will this one break that cycle?
Packaging, texture, and scent
The Rimmel London Stay Matte Powder's packaging is as straightforward as it gets. The product is sandwiched in plastic packaging, both base and cover, the latter feeling a bit flimsy and can easily crack on the sides. This is an issue I've experienced early on while using this and has been the top comment of beauty gurus who use this product. Still, retailing for less than USD5, I guess we can be quite forgiving. I did wish it comes with its own puff and mirror, too, but considering its claims of having nine hours of wear, it's made to be a leave-on-your-vanity than a carry-in-your-purse type of product.
The texture is just like your typical pressed powder, not too silky or chalky. The only thing curious to me is that for a matte powder, it has a bit of sheen to it when swatched. That easily goes away when blended so I'm assuming that's from the minerals this powder claims to have. The shade 001 Transparent looks a bit light beige on the pan but doesn't leave a trace once applied to the skin. As for the scent, it doesn't have any strong or distinct fragrances other than a typical soft pressed powder smell.
Application, buildability, longtime wear
I've had months to test this product out using various bases, from foundations to BB creams, with or without primers, or just by itself, and have come to a verdict. Best applied with a dense brush if you want to add more coverage to your base or with a loose powder brush if you want a soft veil of product for basic oil control and setting, this powder is actually really good to keep your makeup look flawless without looking cakey or patchy. No emphasis on pores, dry patches or lines either so that's great. The real magic for me is when you start using a setting spray or mist at the end of your makeup routine to really have the powder melt onto your skin and unravel a nice soft matte finish that doesn't look flat and definitely still looks like skin. At the first stages of application, it really did well.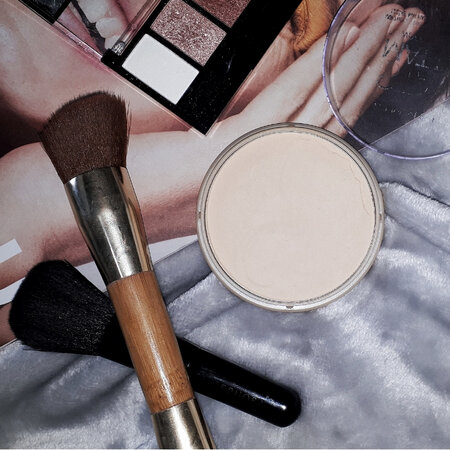 Still, I wouldn't attest to its claim of a 9-hour wear. After four hours or so in normal and airconditioned room temperatures, my T-zone starts to oil up again and by the time I reach the six-hour mark, I have to blot and retouch with some powder already. My base goes back to looking fresh. But as I mentioned, since the packaging of this powder isn't exactly travel-friendly, it's not ideal to be caught needing to retouch in the middle of the day. Not to mention that when I tested it out in the heat, it lasted even shorter, maybe just around two to three hours before needing to blot. It didn't help that when I looked it up on their website, it says that a 5-hour wear is normal but in the back of their packaging, it claims for nine hours. One good thing to note despite this though is that for areas in the skin that are already dry or normal, no patchiness or fading was in sight throughout the entire wear, even in the undereye area. So there are definitely highs and lows for this one.
Overall thoughts
I was really excited to try this product out but ended up with a lukewarm verdict. It's not the worst powder I've tried because I still find myself reaching for it every now and then. And so the question lies: is it worth the hype? I'd say at USD5, its quirks can be easily forgiven. If you don't have an oily T-zone or are good with your makeup turning dewier after four to six hours of wear, you might even fall in love completely with this because it does hold your makeup quite well.
P.S. Have you caught our review of the much-hyped GlamGlow masks?
Comments, questions or feedback? Email us at [email protected].