Ah, the holiday parties and end-of-year gatherings beckon. Other than updating our holiday wardrobe, it's also the time of the year to find the perfect festive beauty look to help you stand out in the party crowd. And so, when I got my hands on
Fenty Beauty's Stunna Lip Paint in Uncensored
— a true (and very luscious), matte red shade hand-picked by Rihanna herself — I knew I had to give the colour a whirl and review.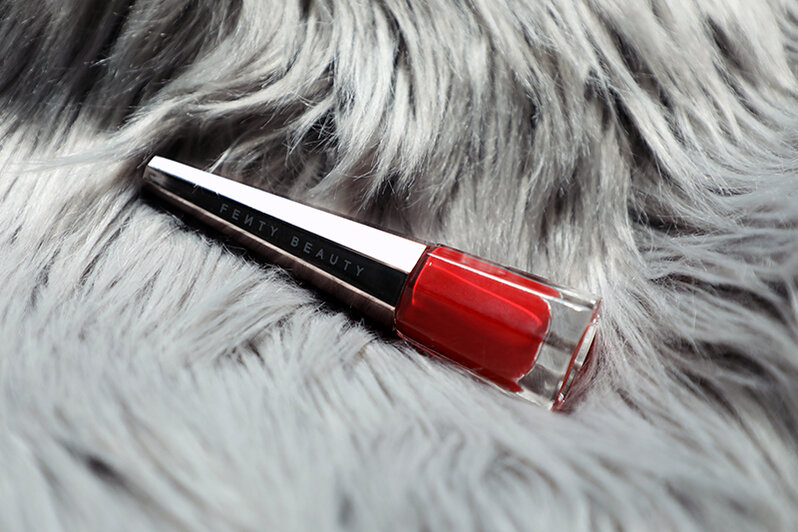 Fenty Beauty Stunna Lip Paint review


Just like the rest of her makeup line, the Stunna Lip Paint is said to be an ideal red that flatters any skin tone. It promises a "one-stroke intensity" matte lip colour coupled with major staying power — 12 hours to be exact. Is it really that versatile? Will different skin tones actually like it? Well, there's only one way to find out. Over lunch, I casually asked two of my co-workers with varying skin tones if they'd be game enough to do a little lippie test with me. I did a little dance inside when they agreed. Here's their Fenty Beauty Stunna Lip Paint review.


(From left to right) Becks, Dhivya & Azleena


For fair skin tones
"I already knew that my lips were going to be a conversation-starter — in every sense of the word — the moment I glided the Stunna Lip Paint across my lips. The red! The pigment! The velvety smoothness and lightness of its formula! One coat is really all you need to achieve a full, vibrant pout. Man, that is some statement red Riri's got there. Just in time for the holidays to bring that something extra to your holiday look.
What I find impressive is that it doesn't have the sticky feel of a liquid lipstick. It goes on wet and gives just the right amount of time before it settles into a matte finish. The colour does transfer a little, but it definitely stayed on after some drinks and a bowl of noodles."
— Clozette Ed, Becks
For olive skin tones
"At first glance, its packaging reminds me of a nail polish. It is definitely something different from Fenty Beauty's previous launches. The Stunna Lip Paint features a short, hourglass-shaped applicator. It's surprisingly easy to apply and spreads the product evenly with its round tip. The colour did appear darker on my lips than in the bottle when it turned matte, but it's so pigmented and intense – I love it! Although it does transfer, my lip colour survived my dinner feast of satay, stingray and rojak without bleeding. I can't wait to see if there will be more lip colours from Fenty! Oh, and did I mention that one dip is more than enough to cover your entire lips?"
— Resident Lippie Addict, Azleena
For brown skin tones
"There has been quite the buzz around Fenty Beauty's new Stunna Lip Paint that claims to be stunning on every colour complexion. After putting it to the test, I have to say that while the hue isn't really for me (it looked more orange-y than red), everything else was amazing. I only needed one dip for my entire lips and it isn't as drying as other matte liquid lipsticks. I'm hoping that the brand will launch another shade soon!"
— #ClozetteSHOTS Shutterbug, Dhivya
The Fenty Beauty Stunna Lip Paint in Uncensored will be available online starting 23 November at Fentybeauty.com, 26 November (12PM) at Sephora.sg, and in-store at Sephora Singapore from 27 November onwards.
Comments, questions or feedback? Email us at [email protected].