CoverFX is well known for their makeup mixers that come in enticing glass droppers. But aside from the popular Custom Drops that have taken the beauty community by storm, another line that earned a cult following are the Glitter Drops that fit right into the iridescent highlighter trend. Described to be high-impact and customisable, the drops claim to be a nice addition to your makeup routine for a luxe and glittery finish.
Now, I love my highlighters no matter how soft or blinding they can be and I have tried every possible finish there is so this intrigued me a lot. Keep on reading to find out if the CoverFX Glitter Drops is truly worth the hype.
Packaging and formula
Sleek and definitely classy, I love the luxe feel of the product's packaging which is what one would expect from its price of USD44. You can definitely see how much product is in the bottle and the dropper is also pretty easy to use. I got the shade Mirage, which is a golden champagne shade that really looks like a whimsical concoction in the bottle. According to the product details, you can use it for your base, eyeshadow, highlight or even lips with or without mixing with another product.
The consistency is initially like any other liquid highlight, but once you start gliding it onto the skin, it becomes a bit slippery and sets quite fast. The payoff is really strong and so a little goes a long way, but it also made it hard to manage considering that it has glitter.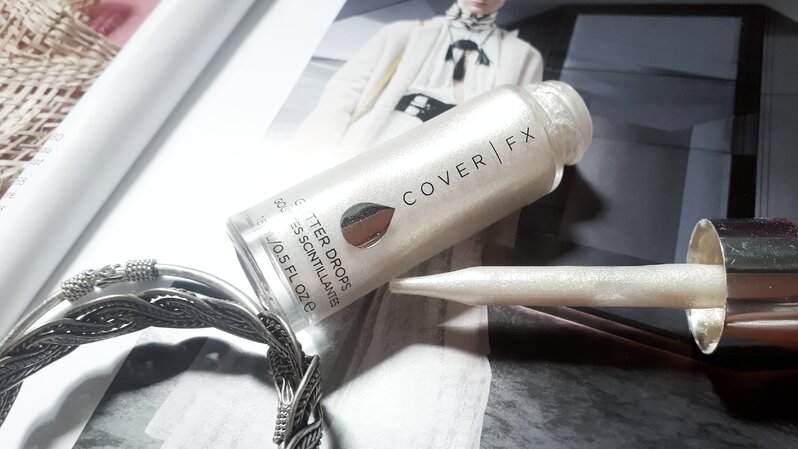 Usage
I first tried it as an eyeshadow, both with and without primer, and found it really hard to blend either way. Using a brush, it just goes to all different directions and sets quickly while using my fingers just packed on too much product in one area and really made it patchy. It really took a while for me to come up with a decent enough look, and by then I can say that if you're going for a subtle MOTD or you're simply in a hurry, this is definitely not something you would want to reach for. Still, this would really make your eye look stand out during more glamorous occasions.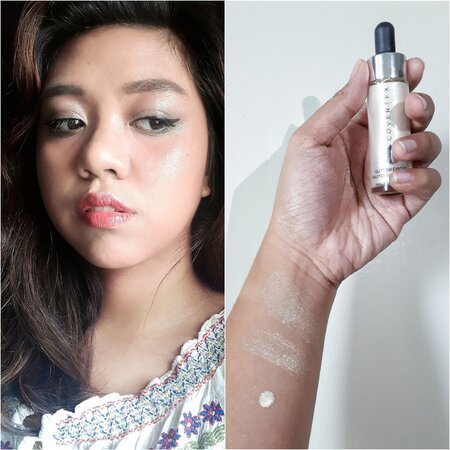 Left to right: Makeup try-on versus texture when swatched
Next, I used it as a highlight to see if it can help me achieve #GlassSkinGoals. Again, it took a while to blend. I used a sponge to tone it down a bit but while it looked amazing and blinding on camera, it's really chunky and just too much in real life — think 2009 Edward Cullen from Twilight vibes and that's with only one drop!
On the next few tries, I mixed it with foundation and my cream blush to see if it will help achieve a glowy and more wearable look but it made the formula of the other products really streaky and again, too much for day — and even night — makeup.
To make things worse, it left my face and skin itchy and red whenever I used it. But I decided to give it one last shot. I used it as body glitter.
I was supposed to attend a cocktail event so I decided to pop some on my collarbone and shoulders and because of the product-amount-to-skin-landscape ratio, it gave me a nice, soft glow. The glitters also don't look as intimidating considering that they're on my body and not my face. Still, it became itchy after a while. (But do note that I have sensitive skin.)
Is it worthy of its cult following?
While this is an exciting product to add to your beauty stash, I personally would give it a miss. Sure, it delivers its promise of high-impact shine and pigment and might be fun to use on really extravagant events, festivals and even photo shoots. But if you're looking for a product that you can use on the daily, there are other highlighters or mixers that you can get for a more affordable price that would give you a luminous and even blinding glow, minus the streakiness and the hassle when it comes to blending. There are also glitter eyeshadows that would probably blend better than this one.
Also, because of how chunky the glitter can be, it's worth noting that it can cause mild irritation or itchiness like I experienced. Best to do a patch test before you take this product on full-swing.
Next, check out what we have to say about Urban Decay's bestselling products.
Comments, questions or feedback? Email us at [email protected].