You may have noticed that dark spots and dull, uneven skin tone tend to stay visible long after a pimple breakout has come and gone. Quite irritating, isn't it? Chemical peels and in-clinic exfoliating procedures can help address this. But if you don't want to go this route, add a brightening skincare product to your daily skincare routine to help lighten these post-acne marks faster instead.
The Herbivore Botanicals NOVA 15% Vitamin C + Turmeric Brightening Serum, which combines two antioxidant ingredients to significantly brighten the skin without causing further irritation promises to help you with your hyperpigmentation problems.
Curious to know if it lives up to its claims? #TBLBureau Integrated Solutions Manager Sarah tried it for three weeks to see how it can improve her skin after hormonal breakouts. Read to see how it went.
*The product was sent as a press gift. The views and opinions of the reviewer are independent and purely editorial.
Herbivore NOVA Serum packaging and first impressions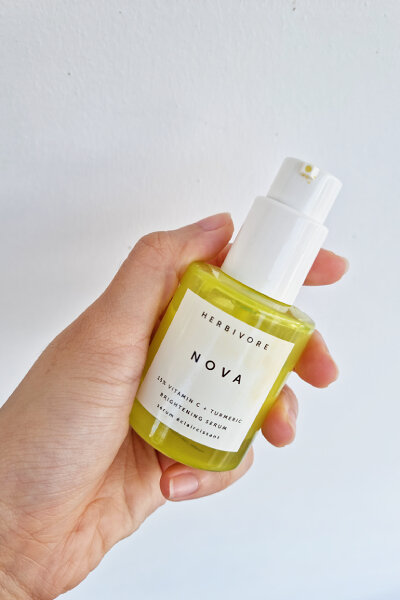 "Sleek," is the word Sarah used to describe the packaging, which is a bright yellow bottle with a white pump that distributes the perfect amount of product. However, it can become a bit slippery after handling other skincare products. So be careful if you have butter fingers!
The serum also has a gel-like texture and a greenish-yellow colour, which is due to its blend of natural ingredients.
Product claims
But what does the Herbivore NOVA Serum have to offer?
If you're here because you want to even out your skin tone, its two key ingredients — vitamin C and turmeric — will pique your interest the most.
The serum contains a high concentration of Tetrahexyldecyl Ascorbate (THD) vitamin C, a stable and oil-soluble version of the popular skin-brightening ingredient. Despite its high concentration, the NOVA Serum promises to be gentle and safe even for sensitive skin.
Turmeric, on the other hand, is an antioxidant-rich super root plant that reduces any visible redness and uneven skin tone. It's also the reason why the serum has a ginger-like scent. "I loved the subtle turmeric-ginger smell. It made me feel very relaxed!" Sarah shares.
Bearberry-derived arbutin — which, by the way, also has pore-tightening properties — and Kakadum plum round out the serum's list of brightening ingredients.
According to the brand's clinical tests, you'll be able to see results in as fast as seven days of consistently using the product. Does it?
Applying the serum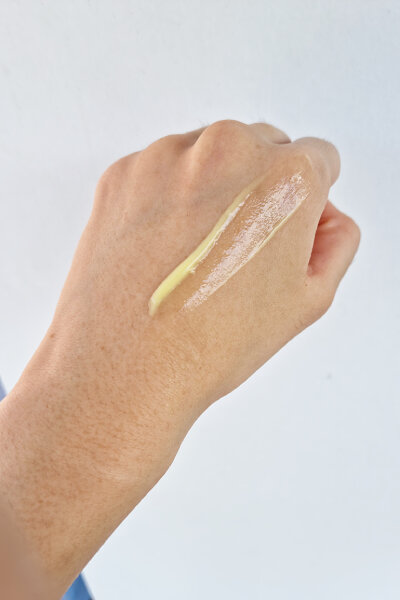 "It was easy to spread and doesn't make my skin feel too oily after applying. In fact, it felt pretty weightless," Sarah shares, adding, "I apply one to two pumps of the serum twice a day: once in the morning and another time before I sleep at night. It kept my skin hydrated and soft, which is exactly what I look for in my facial serums." There was also a subtle radiance in her skin.
While Sarah is prone to hormonal breakouts, she observed that these significantly reduced after using the serum for three weeks. "I usually get giant pimples when my period is arriving or when I'm extremely stressed but I haven't gotten any since I started using the product." Herbivore didn't include this in its list of claims, but it's certainly a welcome side effect!
Have you tried vitamin C serums before?
Final verdict on the Herbivore NOVA Serum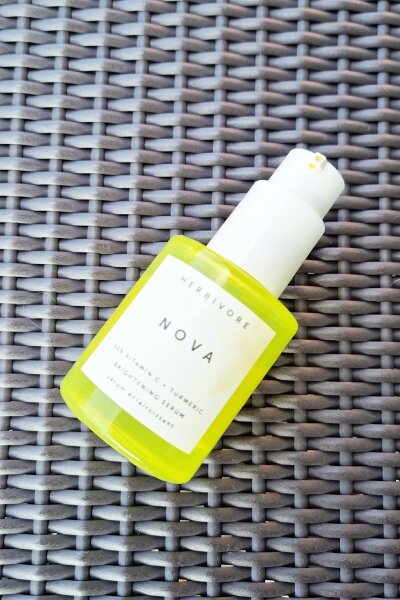 So is the serum a good addition to a brightening skincare routine? Sarah says it is. "I like how I could really feel and see the effects of the serum within a few days of use," she shares. "I would recommend it to friends around my age — in their 20s — who also struggle with combination and dull skin."
She adds that while the serum is a little pricier than what she's comfortable with, she'd definitely purchase it as a treat.
The Herbivore Botanicals NOVA 15% Vitamin C + Turmeric Brightening Serum is available at Sephora Singapore. It's priced at SGD102 per 30ML.
Maintain your even skin tone with a good sunscreen like the Ultra Violette Supreme Screen.
Comments, questions or feedback? Email us at [email protected].