As a fashion features writer, I've always been able to distinguish between my Furlas, Fendis and Ferragamos, however when it comes to beauty brands — such as Fenty — consider me stumped. While fashion and beauty are inherently related, I've always perceived the latter to be extremely complex and even overwhelming at times.
Do I want to look shiny, shimmering and splendid today (cue Disney's Aladdin OST), or am I ready to settle for a no-makeup, makeup look? Does green eye shadow make my eyes "pop" or will I end up looking like the latest member of the Gangreen Gang from The Powerpuff Girls? There are so many questions to be answered, however there's no denying that us ladies have been blessed by the beauty gods with many amazing products to try and to love.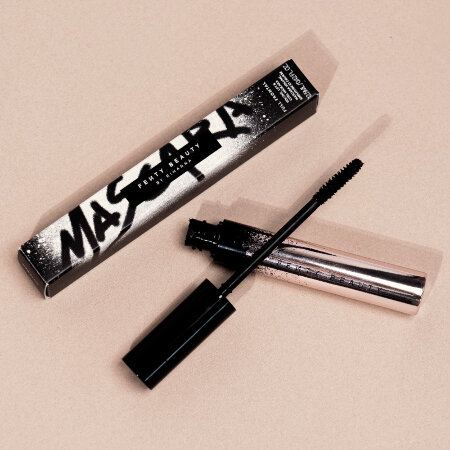 The Fenty Beauty Full Frontal Mascara aims to expose every little lash with eye-opening definition.
As a makeup newbie, the one brand that I've always heard about was
Fenty Beauty
. Founded by singer and designer Rihanna, it has been at the tip of every beauty guru's tongue since its inception in 2017. My peers have also been raving about the brand's Killawatt highlighters and
Pro Filt'R Concealers
for awhile now, so I was excited to try out the all-new
Fenty Beauty Full Frontal Mascara
(SGD39.00/~USD28.94) which is available online at Sephora.sg and in stores at Sephora.
Claims
For starters, I've always shied away from mascaras as they seemed pretty intimidating and difficult to use. You've seen pictures of women with tear-stained cheeks and smudged mascara under their eyes — it isn't a cute look and that was the last thing I would wish for myself especially after catching an emotional film at the cinema.
Aside from it being smudge-proof, what else should a great mascara deliver? Rihanna says she loves to create different looks with her mascara, hence it was important to her to have a brush that allows her to
do it all.
Thus, doing it
all
, according to Fenty Beauty, entails the ability to volumise, lengthen, lift and curl your lashes.
Packaging and Appearance
They say that your eyes are the windows to your soul — if you had looked into mine as I unpackaged this product, you would've seen that I was blinded (by love) in the best way possible. The packaging may seem straightforward at first glance however it speaks lengths about the megastar appeal of its founder. Here's why.
The product stands out with its cool metallic pink and black shade.
Housed in a black-and-white box with the word "mascara" splashed across it in a graffiti-like font, the product presents itself in a metallic light pink bottle which appears to be dipped in black paint. This reminded me of K-Pop girl group Blackpink's decision behind their band name — black has the power to contrast the femininity that's commonly associated with pink and I loved the meaning behind it.
Available in only one shade called Cuz I'm Black, the twist-to-reveal mascara is designed as a flat-to-fat brush that's exclusive to the brand. The shade name quite frankly made me chuckle — it's as if Rihanna herself had proclaimed matter-of-factly that she is unapologetic and proud of the colour of her skin. Finally, the product fits easily into your everyday makeup pouch and is distinguishable with its light pink shade. No troubles here.
Application and usage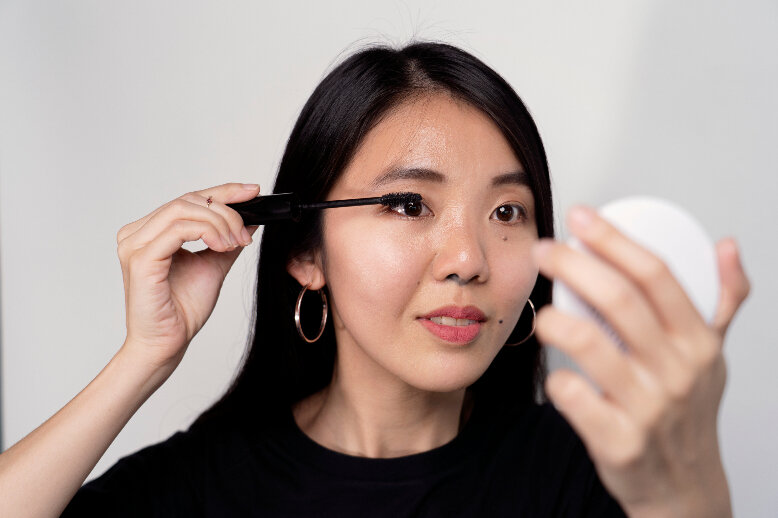 The Fenty Beauty Full Frontal Mascara comes with a flat-to-fat brush which was easy to use.
The packaging successfully caught my eye (and heart), but does it really live up to its claims? I put it to the test with one of the most challenging scenarios ever — the wedding banquet. Weddings can be very emotional and exhausting, so I was determined to find out if the mascara would hold up after an entire day of pictures and the newlyweds' tearjerking wedding speeches.

I started the day by putting the rest of my 'face' on, sans mascara. Then came the product of the hour, which made me hesitate for a hot minute before I bit the bullet and did it anyway. Having to work my way around an eyelash curler was terrifying enough, however ruining my makeup with poorly-applied mascara sounded worse.

Thankfully, the mascara wand was easy to manoeuvre and I managed to figure out its exclusive fat-to-flat brush feature which helped me greatly in the application process. Using the 'fat' side of the brush, I loaded it with product and used it to gently lift my lashes. "Try not to stab yourself in the eyeball," I told myself. Woah, my limp, sparse lashes became darker and more defined. I followed by using the 'flat' side of the brush to curl my lashes further. Double woah.

With my lashes on fleek, I showed up to the wedding banquet looking bright-eyed and photo-ready. (I wondered if the bride wore Fenty too?) I made sure to check in on my lashes every two hours throughout the day and was pleased to learn that my mascara didn't smudge. It provided the volume, length, lift and curl that my lashes so desperately needed. I was impressed.
Final Thoughts
Celebrity-founded brands are a dime a dozen but I could see why Rihanna's Fenty Beauty has been considered a cult favourite by die-hard fans and beauty enthusiasts alike — the brand's products walk the talk, plus their efforts in diversity and inclusion have led it to becoming a change-maker and major player in the beauty industry. The price tag on this product is pretty friendly too, so it's a good addition to your makeup collection if you're looking for a trusty mascara that
does it all. If you're feeling generous, remember to pick two of these up from Sephora while you're at it. Gift one to your closest girlfriend because great things are worth sharing.
*The product was sent as a press gift. The views and opinion of the reviewer are independent and purely editorial.

Have you tried Mary Kay's Honey Glow Finisher? Check out our review here.
Comments, questions or feedback? Email us at [email protected].