Confession time: I've never been much of a makeup maximalist, although I've always secretly admired how my friends would confidently rock up to dinner in their dramatic falsies, glittery eyelids, and glossy, magenta lips. In fact, my idea of a bold beauty statement would be to attempt a smokey eye in hopes that I don't look like Rocket Raccoon's long-lost sister.
Fortunately (or unfortunately) for me, the pandemic has made us forgo buzzy, glamorous social gatherings for cosy and quick dinner dates instead. Makeup still holds a strong spot on our beauty shelves — there's no doubt about it — however, we've also seen ourselves gravitating towards the skinimalism trend too.
Speaking of skinimalism, Fenty Beauty launched its first-ever skin tint earlier this year and it's called the Eaze Drop Blurring Skin Tint. Compared to heavyweight, full coverage foundations, skin tints are designed to feel much lighter on the skin while helping to even out minor imperfections and add a touch of glow to your complexion. I don't know about you, but that sounds like music to my ears! I decided to give this product a whirl, so read on for my honest review.

First impressions, claims and packaging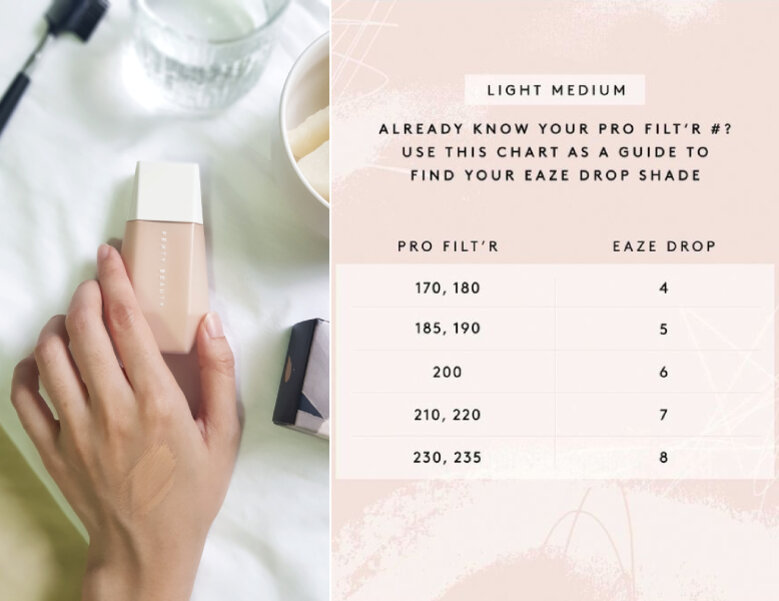 The Eaze Drop Blurring Skin Tint's packaging reminds me of a paint tube and the product dispenses easily with a light squeeze. Available in 25 flexible shades, the product is designed to provide buildable, light to medium long-wear coverage. It boasts a humidity-, sweat- and transfer-resistant formula and it contains the brand's proprietary QuickBlur Complex for a hydrating, diffused effect.
As I have hyper-sensitive skin, I gave the product a quick whiff (update: it wasn't scented and it smelt like regular foundations) and double-checked its ingredient list to ensure that it didn't contain any fragrances before proceeding with a patch test. My skin has reacted pretty badly from heavily fragranced products in the past, hence I'm quite cautious about the type of products that I put on it.
Some of the notable ingredients included in this product are glycerine, which hydrates the skin, and dimethicone, which prevents moisture loss and imparts a wonderfully silky feeling onto the skin.

Usage and application
Can I just say how it was practically love at first swipe? I had already harboured high hopes for the product after swatching it for the first time on the back of my hands and was glad that it exceeded my expectations when its smooth, blendable, "light as air" texture looked even better on my face.
Given its hydrating formula and lightweight texture, I didn't hesitate to use my fingers to apply the product onto my face and I appreciated how it made me feel as if I were applying a moisturiser instead of a foundation. If you're afraid of making a mess and prefer to have more control over the product, you can use a foundation brush too.
A single layer of this product wasn't sufficient to blur out the discolouration around my eyes, however, this issue was easily resolved after I applied another layer of the product as well as dabbed concealer over it. I've worn this skin tint a few times now, including once for a Sunday alfresco brunch date with my family around two weeks ago. I was impressed by its transfer-proof, staying power despite the humidity and it didn't make my skin feel "suffocated" even though I was sweating profusely from the heat.
Overall, I loved how it didn't feel "cakey" on my skin, yet, it was still able to offer a decent amount of coverage that I could easily build upon if I were ever in the mood to attempt a bolder makeup look.

Final thoughts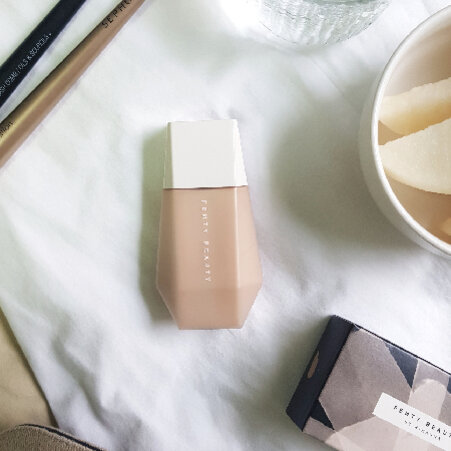 Did the Fenty Beauty Eaze Drop Blurring Skin Tint give me hydrated, smoother-looking skin? Yes! It has definitely earned a spot in my makeup routine as I'm a big fan of its comfortable, lightweight texture. Expectations-wise, I also wanted a foundation that made my skin appear happier and fresher, not stiff, "flawless" and unnatural — and this product exceeded that and so much more.
With its wallet-friendly price tag (SGD45/~USD33 for 32ML), this can be easily enjoyed by almost anyone, from the luxe beauty lover to the Fenty Beauty fanatic. In short, it's a makeup must-have that reflects our needs of the current times. Keen to give this a go? Check out the Fenty Beauty Eaze Drop Blurring Skin Tint on Sephora Singapore's website here.
*The product was sent as a press gift. The views and opinions of the reviewer are independent and purely editorial.
Has your hair been looking dry and frizzy lately? Consider transforming your tresses with this hair mask.

Comments, questions or feedback? Email us at [email protected].