Dr. Jart's Pore Remedy collection promises to gently smooth out the surface of your skin and decongest and minimise the look of your pores. The collection is comprised of a serum and a sheet mask that are infused with poly hydroxy acid (PHA), the gentle exfoliating sister of beloved alpha and beta hydroxy acids (AHA and BHA).
We tapped #TBLBureau Senior Account Manager Joey, who has been searching for a pore-minimising serum that won't dry out her dry-combination skin, to see if it will hold up to its promise.
*The product was sent as a press gift. The views and opinions of the reviewer are independent and purely editorial.
Dr. Jart Pore Remedy PHA Exfoliating Serum packaging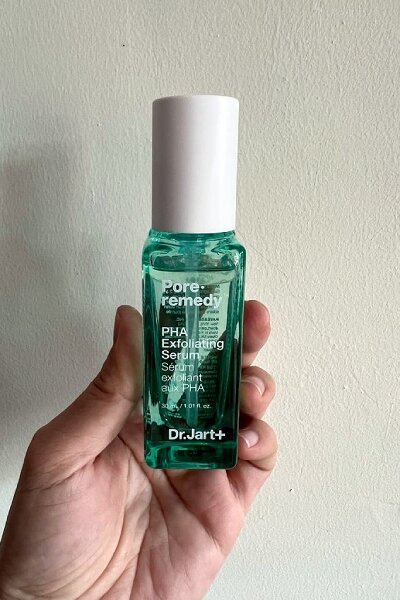 It comes in a clear green glass bottle with a white cap. "It makes it easy to see the usage of the serum," Joey shared. The serum's packaging uses an airtight pump to dispense the product. "I'd prefer a handy dropper instead since the serum's texture is very watery. The pump will spill too much of the serum if I press too hard."
First impressions on and claims of the Dr. Jart Pore Remedy PHA Exfoliating Serum
"Clean and refreshing" were the first words that came to Joey's mind upon seeing the Dr. Jart serum. She was intrigued by the 7% PHA in its formula since she's been looking for a gentle exfoliator that won't dry out her dry-combination skin. It seems that the serum will be the one to deliver since PHA is a recommended alternative to AHA if you have sensitive skin. "I was curious since it promises to instantly smooths my skin's texture and make pores look smaller."
In addition to PHA, the serum is formulated with panthenol to moisturise the skin and macadamia seed oil for some sebum control without clogging pores. The brand claims that the serum will instantly decrease the appearance of your pores and smooth out texture. After one week of use, you can expect to see that there's less excess oil, fewer blackheads, and a visibly smoother skin texture.
Applying the Dr. Jart Pore Remedy PHA Exfoliating Serum
Joey applied the serum twice a day for two weeks with her regular skincare products. In the morning, she'd apply the serum followed by her moisturiser and sunscreen. She also applied it before her night serum and cream before heading to bed. Through this regimen, she quickly observed that the serum is "easy to apply and absorbs quickly" and that it has a minty scent with a refreshing aromatherapy effect.
She loved the fact that her skin still felt hydrated after applying the serum. "My skin does not feel dry after using it," she shared. "Some exfoliating serums will make my skin feel dry after the first application." Her T-zone also looked less shiny come midday.
Overall, Joey noticed that there was less excess oil on her oily areas and that her pores were visibly "smaller and tighter" to the naked eye.
Will you try this exfoliating serum?
Final verdict on the Dr. Jart Pore Remedy PHA Exfoliating Serum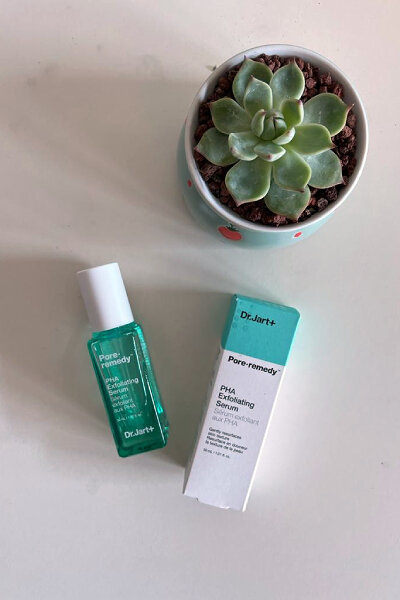 Joey's happy that the Dr. Jart Pore Remedy PHA Exfoliating Serum kept her skin feeling hydrated while delivering on its promises to exfoliate skin and minimise pores. "I will recommend this product to anyone who is interested in reducing pore size without causing their skin to feel dry," she added. She also finds it reasonably priced for a serum.
The Dr. Jart Pore Remedy PHA Exfoliating Serum is available for SGD56/MYR160 per 30ML in Singapore and Malaysia through Sephora stores and websites.
Don't forget to moisturise after you exfoliate! Check out our review on the Laneige Water Bank Blue Hyaluronic Moisturiser.
Comments, questions or feedback? Email us at [email protected].