If you have sensitive skin, you may have heard of the cult-fave Dr. Jart Cicapair Calming Gel Cream. This soothing moisturiser is infused with centella asiatica, also known as tiger grass, which has become a popular soothing ingredient in K-beauty skincare. We recently got our hands on the Cicapair Heroes set, which includes three Cicapair products — a full-sized Serum and travel-sized versions of the Calming Gel and Re-Cover — that provides a complete post-cleansing skincare routine for irritated skin.
For this review, we tapped #TBLBureau Campaign Team Lead Carissa who was intrigued if the Dr. Jart bestsellers can really calm her combination skin that's prone to flares of sensitivity and redness. Read on for her review.
*The product was sent as a press gift. The views and opinions of the reviewer are independent and purely editorial.
First impressions, claims, and packaging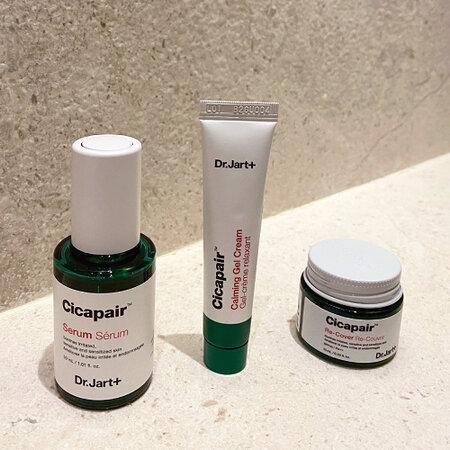 The Dr. Jart+ Cicapair Calming Gel Cream, Serum, and Re-Cover come in green-themed packaging inspired by its main ingredient, centalla asiatica a.k.a. cica. According to Carissa, the no-frills packaging is "convenient to use" and easy to pack in a kit if needed. The serum comes with a handy dropper that easily dispenses the liquid, while the calming gel cream comes in a squeezable tube. The Re-Cover Cream has a glass jar and metal cover that keeps the product securely in place. But what piqued her interest the most are the products' claims of calming sensitive and irritated skin.
Each Cicapair product contains centella asiatica which is known for its anti-inflammatory and moisturising properties. The gel cream is also formulated with Jartbiome, the brand's own skincare complex that boosts the health of your skin microbiome. Both the gel cream and the serum contain niacinamide, glycerin, and a blend of botanical oils and extracts that can help soothe, moisturise, and even out your skin tone.
Meanwhile, the Re-Cover is a beige-to-green-hued colour-correcting cream that promises to lessen redness, cover up blemishes, and protect against environmental stressors with SPF. Will this curation of Dr. Jart+ bestsellers live up to Carissa's expectations?
Application and use
Carissa used the set in this order: serum, gel cream, and recovery cream when needed. She started by using two to three drops of the Dr. Jart+ Cicapair Serum on newly cleansed skin. The lightweight, runny fluid helped soothe redness on her skin.
Carissa used the Dr. Jart+ Cicapair Calming Gel Cream, which has a "faint green" hue, in her morning and evening skincare routine. She didn't experience any residual stickiness that you'd typically expect from a soothing product because of the product's lightweight consistency. It also provided "sufficient hydration" and a calming effect upon application. To amp up the soothing effect, she likes to pop the gel cream in the fridge for 10 to 15 minutes before applying as this gives it an added cooling sensation. Since it's a gel moisturiser, it's also a great daytime moisturiser for those who have oilier skin.
When used together, the Serum and Gel Cream was enough to minimise redness and keep Carissa's skin — especially her cheeks — moisturised throughout the day.
In contrast to the other products, Carissa thinks that the Dr. Jart+ Cicapair Re-Cover resembles a colour-correcting concealer in appearance and function. The sage green-coloured cream, which can look beige-y in some lighting and is actually quite lightweight, helps cover up blemishes and redness. A little goes a long way with it too. "A very small amount — one small dot — of product is sufficient to correct the redness," she shared.
Final thoughts
Overall, the items included in the Dr. Jart+ Cicapair Heroes Set are a great addition to your skincare line-up if you're prone to redness and sensitive skin flares. In particular, Carissa sees the serum as something she'd recommend for sensitive-skinned folks as it provides a noticeable soothing effect. She also liked pairing the gel cream with the serum since this combination really soothed her skin and lessened the redness on her cheeks.
The range is also reasonably priced, she said, since the gel cream is priced at SGD44 and other individual products range from SGD24 to SGD60.
If you're looking for a moisturising, soothing solution to skin redness, you may want to check out the Cicapair Heroes Set that's available in Singapore for SGD72 through Sephora Singapore stores and website.
If you have sensitive skin, you may want to try using a gentle makeup remover. Read our review on the Eau Thermale Avène Tolérance Extremely Gentle Cleanser to see if it's for you.
Comments, questions or feedback? Email us at [email protected].