From uneven skin tone to glaring spots on my cheek, I've been dealing with hyperpigmentation issues since giving birth. Due to age, kids and work-related stress, I know my hyperpigmentation will continue to persist. Recently I've also noticed that my acne scars take a longer time to heal, leaving unsightly blemishes around my lips.
So I was interested when I was invited to try out the newly launched Cyspera Intensive System™ (Cyspera), which helps combat hyperpigmentation. I wanted to see if it could keep my condition under control and possibly lighten my acne scars. So, how did Cyspera fare?
What is Cyspera's approach to treating hyperpigmentation?
Cyspera's formulation is quite unique because it doesn't contain any hydroquinone, a popular skin-lightening substance that bleaches the skin and is often used in products designed to minimise hyperpigmentation. Although it's generally well tolerated by users, some studies suggest that hydroquinone can actually worsen hyperpigmentation in medium-to-dark skin tones instead of improving it.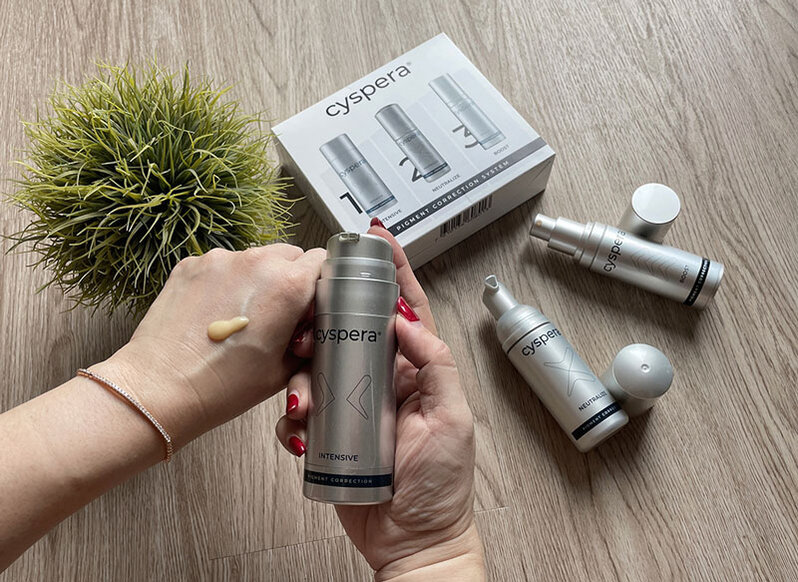 Cyspera is a three-step routine.
For the first step, apply a pump of the Cyspera Intensive™ cream and leave it on for up to 15 minutes. Cyspera Intensive™ is formulated with a cysteamine catalyst complex that aims to deliver powerful antioxidant properties that prevent the formation of dark spots and improve the appearance of existing ones.
Follow that with two pumps of Cyspera Neutralize™ which is like a cleanser, and massage it to the skin before rinsing it off with water. Cyspera Neutralize™ is formulated with an AHA-amino acid complex that re-balances the epidermis or the outermost layer of the skin after the application of Cyspera Intensive™ to smoothen out skin texture.
The last step is applying a thin layer of Cyspera Boost™. Cyspera Boost™, which is formulated with an isobionic-amide complex that works well with Cyspera Intensive™ to deliver a natural and healthy glow.
For optimal results, it's recommended to follow the routine once a day, every day.
Putting the Cyspera Intensive System™ to the test for one month
Before starting my Cyspera trial, I consulted with Dr. Komathy of The Lifestyle Clinic, one of Singapore's pioneers in aesthetic medicine specialising in hyperpigmentation treatments and one of the authorised prescribers for Cyspera.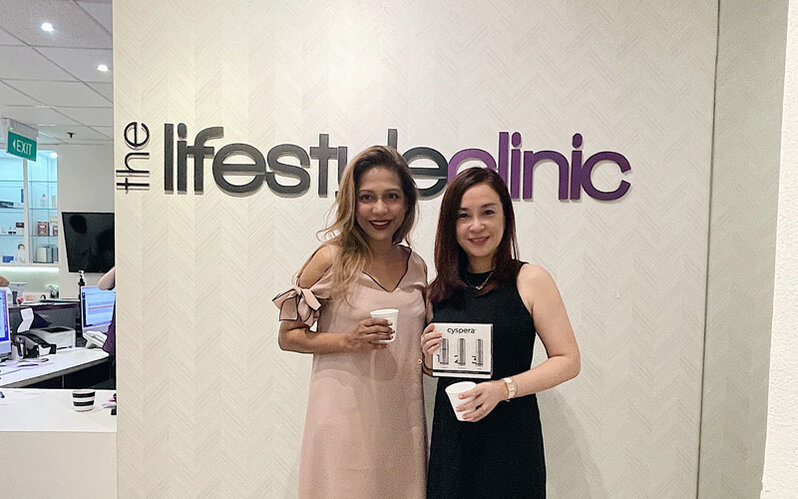 As advised by Dr Komathy, I made sure to apply Cyspera on rested skin. I actually do not need to wash my face before application as it is good to have a natural oil barrier between the Cyspera Intensive™ cream and my bare skin. If it is necessary to wash first, for example, to remove makeup, do wait an hour before starting to apply Cyspera.
I was also advised to let my skin adapt to Cyspera gradually by limiting the initial use of step 1 to five minutes a day and then slowly increasing to a maximum of 15 minutes when I feel my skin is ready to do so.
For best results, it was also recommended that I get adequate protection from sun exposure through topical and/or oral sunscreen.
During the course of my trial, I experienced a mild itch in tiny areas of my cheek about three times, particularly when I increased my application time in the first step. I would then stop using it for the next two days before I continued again. Overall, I did not have major skin irritation issues and was able to complete my trial quite smoothly but I extended my trial period to cater to rest days in between.
The results of the Cyspera Intensive System™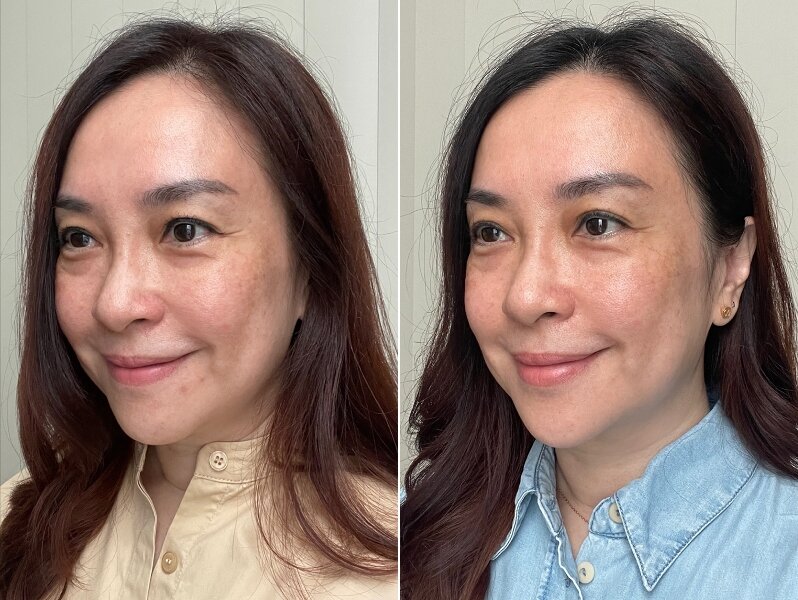 After about four weeks of use, my colleagues and I observed a slight improvement in the overall evenness of my skin tone and some brightening. What I was most happy about was that the acne scars around my lips cleared very nicely. I have tried many topical solutions and routines before and feel rather motivated by this outcome and will definitely continue to keep up with the routine to see if I can get further improvements.
The Pros, The Cons And Final Thoughts
The Pros of the Cyspera Intensive System™
What I like most about this routine is it is rather fuss-free with only three steps as compared to other routines I've tried. All steps are easy to administer and all products' absorption was seamless. I usually just set a 15-minute alarm to remind myself when it's time to cleanse off step 1. I also like that this routine is not confined to nighttime only. You can do it any time of the day. On days I work from home, I actually like to do it mid-day while taking a break from work. I find some best-done-at-night routines hard to keep up with as I tend to skip them when I get too tired.
Overall, the Cyspera Intensive System™ feels rather mild and other than the few times I experienced minor itchiness, I felt comfortable continuing to use it after a few rest days.
Cyspera Intensive System™ is not an over-the-counter product. For a price of SGD399, I find it quite reasonable compared to other systems I've tried. I've used it for four weeks now and there's still plenty of product left as you just need to use a tiny pump of the product each time.
The Cons of the Cyspera Intensive System™
The scent. There is a scent from Step 1's Cyspera Intensive™ cream that is similar to what you would smell when you're getting a hair perm. I could tell that it is masked with a peachy scent, which I appreciated. For the results I've gotten clearing my acne scars, I did find the slightly unique scent bearable.
Final thoughts on the Cyspera Intensive System™
We all know hyperpigmentation is a tricky issue that can't be treated quickly. Find a system you can conscientiously follow and that's already a good start to addressing this lifelong skin concern. In my case, I know I will still need a combination of treatments and products to get an ideal outcome. I will continue my occasional laser sessions to address my stubborn spots and keep up with my topical and oral sunscreens. I'm keen to add this fuss-free Cyspera Intensive System™ to my overall skincare regimen to try to achieve clearer and healthier-looking skin.
Cyspera Intensive System™ is now available in Singapore and Taiwan. The system will be launched in other countries in Asia-Pacific, including Malaysia, Indonesia, Thailand, Philippines and Vietnam in the next few months. Cyspera Intensive System™ is available for purchase as a set at SGD399 at selected clinics. Visit their website to find the nearest authorised clinic.
Read our review of the Bespoke Aesthetics CuRas Laser Treatment.
Comments, questions or feedback? Email us at [email protected].