The Clarins Double Serum is the brand's bestselling anti-ageing serum, known for its "two-in-one" formula that offers the benefits of 21 different plant extracts. This botanical blend promises to firm up, smooth, and boost the radiance of your skin in as fast as a week.
To find out if these are true, we tapped #TBLBureau Campaign Manager Xuanyi, who currently deals with dark spots and fine lines. Read her review to know more.
*The product was sent as a press gift. The views and opinions of the reviewer are independent and purely editorial.
First impressions, claims, and packaging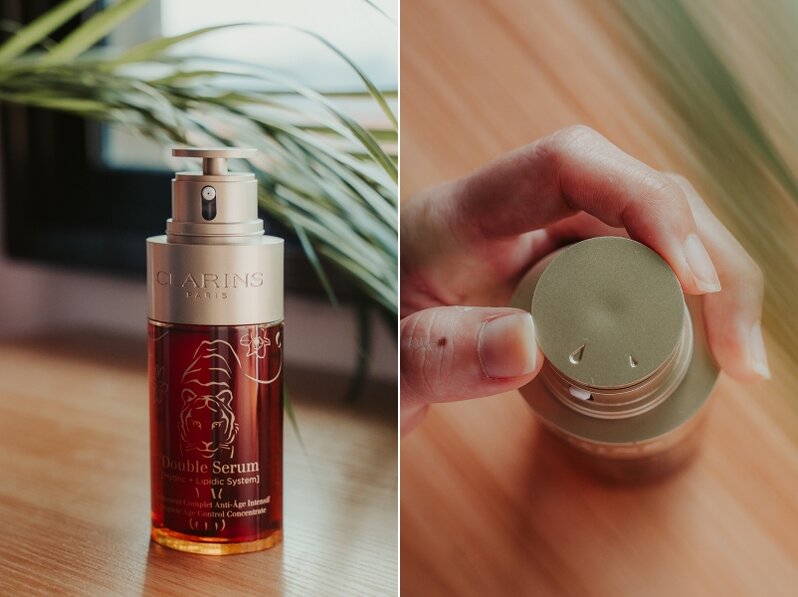 "I was worried it would be oily from the appearance of the serum," Xuanyi said since she prefers more watery serum textures for her combination skin.
The Clarins Double Serum has a unique two-phase formula made of a combination of water and oil-soluble (dissolvable) ingredients.
Xuanyi was also intrigued by the 21 plant extracts — which includes anti-ageing turmeric — that help that correct wrinkles, dullness, visible pores, dryness, and rough texture. The plant extracts also give the serum a subtle fragrance.
The serum's pump bottle packaging houses two chambers that separately contain the water and oil serums. This preserves the formulas' potency since these contain some ingredients that can't cohabitate in one product. The adjustable pump also allows easy control over the amount of product that's dispensed. You can either get just a small amount, as Xuanyi prefers, or a larger amount if you want to cover more surface area — like your neck and chest.
Application and use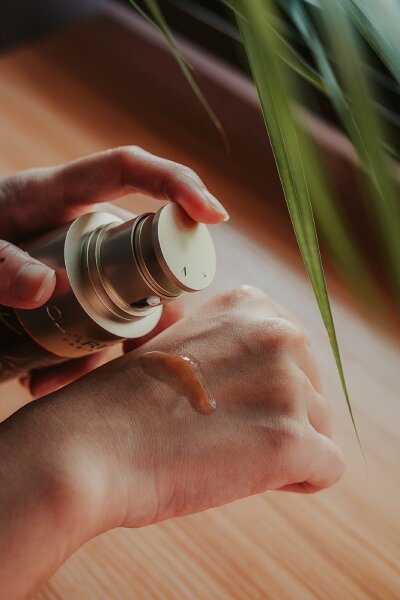 After pumping out a small amount, you can clearly see the difference between the two serum textures. "One is a clear liquid and the other an orange gel-like texture," Xuanyi described. Despite the difference in texture, the serums can be easily combined. You only need to mix them in the palm of your hand before applying them to your face.
Xuanyi also observed that the serum was quickly absorbed into her skin, without leaving a tacky or sticky residue.
To test the effects of the serum, Xuanyi used it for two weeks, applying it day and night. "During the day, it gives my skin a soft glow and keeps it hydrated," she said, adding that it also sits well underneath her makeup. "When used at night, my face feels more supple the next morning."
Which feature of this serum are you most interested in trying?
Final thoughts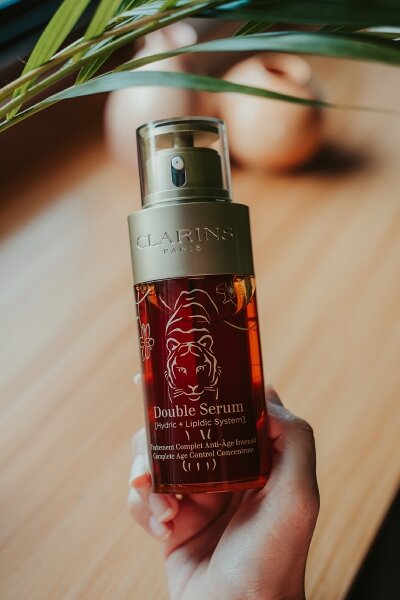 After testing the serum, Xuanyi observed a visible improvement in her complexion. "My skin feels smoother and more hydrated, especially in the mornings when I wake up," she shared. "My fine lines seem to have reduced as well."
She has yet to observe any pore-minimising perks, though she's planning on using the serum for a few more weeks to see if this improves. Still, she'd recommend it as a good introduction to luxury anti-ageing serums.
If you're looking for a nourishing anti-ageing serum and willing to splurge on it, the Clarins Double Serum is available in Singapore for SGD125 per 30ML, SGD175 per 50ML, and SGD225 per 75ML at Clarins boutiques and the brand's website.
Want to add retinol to your regimen? Look to the new Kiehl's retinol serum.
Comments, questions or feedback? Email us at [email protected].