If you've been lurking on TikTok, you may have noticed that there's one K-beauty sunscreen that has beauty lovers everywhere — including Singaporeans — in a tight grip. Yes, it's the Beauty of Joseon Relief Sun. The vegan and cruelty-free sunscreen offers SPF50 PA++++ protection and skin-caring perks thanks to rice extract and prebiotics.
Our resident Tiktok trend researcher, #TBLBureau intern Delia, gave the social media-viral product a whirl to see what the hype is about. Read on for her honest thoughts.
*The views and opinions of the reviewer are independent and purely editorial.
Beauty of Joseon Relief Sun packaging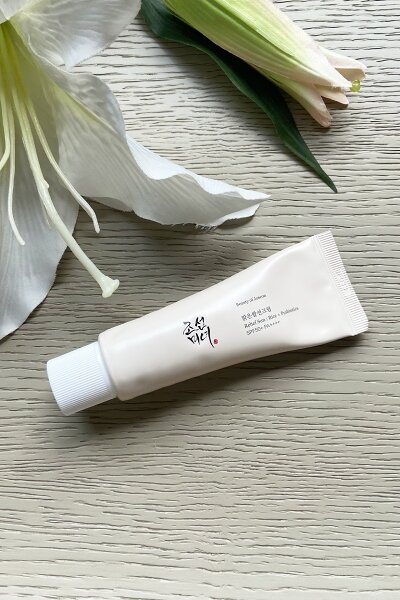 "It comes in a squeezy tube packaging with a twistable cap and it reminds me of a toothpaste tube," Delia shared. It's not a bad thing though. "It makes it easy to dispense the product since the 'softer' plastic material allows me to squeeze out every last drop of sunscreen easily." Waste not, want not.
She does think you'll need to be more careful if you're going to tote it around in your bag. "The material could puncture easily or even explode if it were compressed by other objects." Its big size can also make it hard to slip into your purse for reapplication throughout the day.
Beauty of Joseon Relief Sun first impressions and claims
Since Delia has dry and dehydrated skin, she looks for sunscreens with added nourishing and barrier-strengthening benefits. The Beauty of Joseon sunscreen seems to fit the bill. "It contains rice bran water which can help moisturise my dry skin," she noted. "I was also very intrigued by the grain fermented extracts a.k.a. probiotics as it is quite a unique ingredient to have in a sunscreen." She was also curious to see if it can help strengthen her microbiome and prevent her skin from bouts of excessive dryness.
Applying the Beauty of Joseon Relief Sun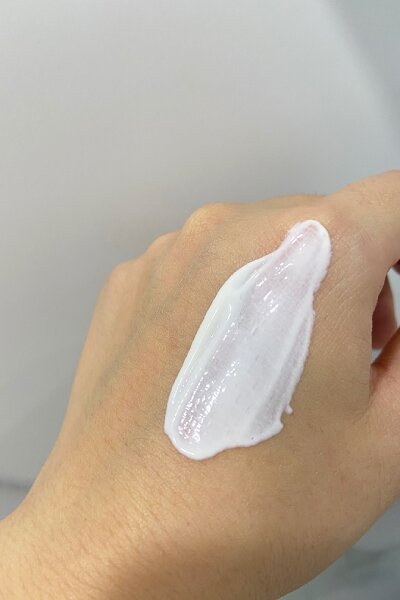 "The product has a creamy moisturiser-like texture and is slightly gel-like," Delia shared. "It has a slight cream yellow hue and doesn't have any fragrance." The product, to her satisfaction, made her skin look "very dewy and glowy" but without the dreaded white cast.
"My skin feels very nourished and moisturised after each use," she said. She added that it gave her skin a radiant tone-up effect and a plumper feel. She was also very happy to see that the sunscreen didn't pill when applied on top of her other skincare products.
The sunscreen layered really well underneath her makeup products too. "It creates a plump and dewy base for my makeup. I find that my foundation blends so well with this sunscreen."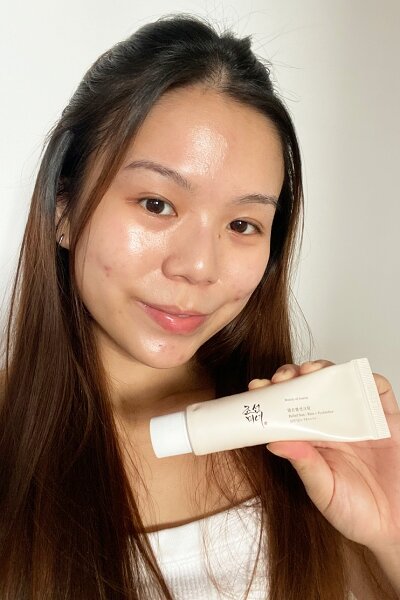 However, you do have to spend some time blending it into your skin as it can feel a bit sticky thanks to its thick texture. She recommends using a small amount during humid days and only on top of a lightweight moisturiser since it might feel too heavy on the skin. It's also not waterproof, so you'll want to switch to another sunscreen if you're heading to the beach or taking a dip in a swimming pool.
She also noticed that the sunscreen sometimes stings her eyes. "It usually happens if my skin experiences irritation from retinol or chemical exfoliants the night before," she explained, adding that she hopes they can tweak the formula so it's less sensitising on the eyes.
Are you interested in trying this viral K-beauty sunscreen?
Final verdict on the Beauty of Joseon Relief Sun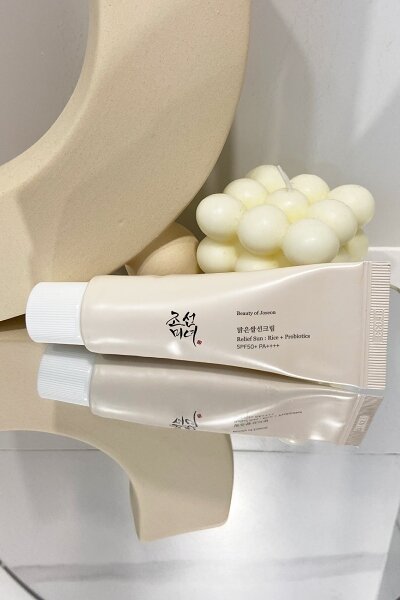 "It really lived up to my expectations," Delia said. "I expected a dewy cream-like sunscreen that applies well under makeup and it was exactly that."
Delia recommends the Beauty of Joseon Relief Sun specifically for those with dry skin types and those who are looking to add an extra layer of moisture to their skin. "It is also great for those who are looking for a glowy sunscreen," she added.
Want to try it out? Good news: This viral K-beauty sunscreen is also affordably priced. It's only ~SGD24.90 (exclusive of shipping) on the brand's official website and SGD30 on the brand's official Lazada Singapore store where it ships directly from Korea.
For another K-Beauty review, check out our review on the innisfree Retinol Cica Repair Ampoule.
Comments, questions or feedback? Email us at [email protected].