This article was first published on 11 October 2022.
There are many hair removal options available today if you prefer smooth and hairless skin. And while waxing is a popular choice especially when you're getting your hair removed at a salon, it can be extremely painful and can even cause blisters and burns if not done right. That's where sugaring comes in.


What is sugaring?
Sugaring is an epilation method that traces its roots to as early as 1900 BC. Back then, honey was used for this hair removal style. At present, the paste is made of sugar, lemon, and water in a caramelised state.
The idea of sugaring is similar to waxing. The paste is spread onto the area where hair removal is being conducted and as the paste hardens (but is still malleable to be pulled), it's stripped from the skin along with the hair strands.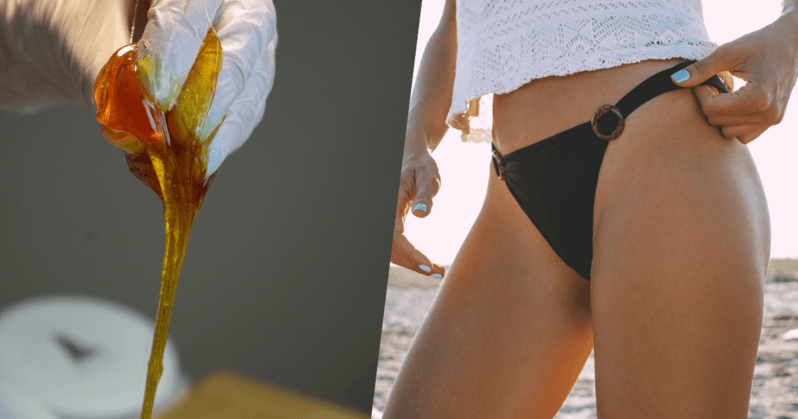 Not only is sugaring less painful than waxing, but it's also better recommended for those with skin sensitivities since the ingredients are organic and far less irritating than other types of wax used for hair removal.
Ready to switch to sugaring for your next hair removal session? Book a session at one of these 5 sugaring salons in Singapore.


1. Sugar(ed)
Sugar(ed) prides itself in 'pioneering' sugaring in Singapore. This makes it a great go-to if you're looking for a flawless — pun intended — me-time experience. It even has sugaring services specifically created for first-timers, as well as soothing treatments to prevent hair removal-related irritation and inflammation.
Address: Various locations.
2. Sugarfix
From your brows to your legs to other parts of your body that you want to be hair-free and silky smooth, Sugarfix has got you covered. Their intimate women's-only space will also give you a serene and secure pampering session you oh-so deserve.
Address: 298 Tampines Street 22, Singapore (Tampines), 520298
Book an appointment here.

3. The Organic Room
This sugaring salon uses top-notch organic ingredients to ensure you get optimum results during hair removal without getting irritated. Its salon experts are also expertly trained and known for valuable customer service that will leave you feeling spoiled from the moment you enter their salon to when you leave.
Address: Bugis Cube, 470 North Bridge Rd #04-03, Singapore 188735
Book an appointment via +65-8808-4786.
4. Sacchair Studio
If you're looking for a cosy, women's-only sugaring salon, this is for you. Sacchair Studio also offers special deals during its members' birthdays as well as to new clients, and other special daily promos to take advantage of so make sure you keep your eyes out for those during your visit.
Address: Various locations.

5. Flare Wellness
Sugaring isn't completely painless but Flare Wellness' hair removal experts will make sure even those with very sensitive pain tolerance will be able to walk away from the experience without tears. Its wide array of services will also allow you to find something more suited to your needs and budget.
Address: 470 North Bridge Rd, #04-03 Bugis Cube, Singapore 188735
Book an appointment via +65-8808-4786.
6. Sugarwaxed
This salon prides itself as the first and only unisex squeeze bottle sugaring studio in Asia. This method combines sugaring and waxing, and uses a technique that aims for minimal discomfort. They also claim this method is effective for finer hair regrowth.
Address: Various locations.
Comments, questions or feedback? Email us at [email protected].