This article was first published on 22 June 2022.
Travel might be opening up, but maybe you're putting it off because the thought of paperwork and COVID-related insurance is too much of a hassle for you. However, staying put in Singapore doesn't have to mean you can't pamper yourself. Singapore has tons of wellness spas all over the island for every budget so you'll be able to indulge yourself regardless of the size of your wallet.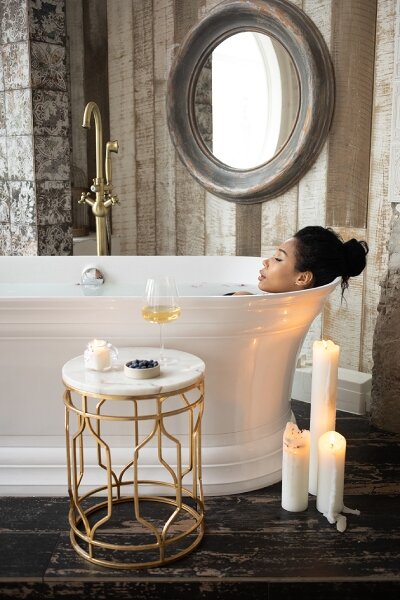 Whether you're all about maximising your time with an all-day pass or looking for a luxurious treatment to massage those worries away, here are 12 spas you can check out.
1. Joya Onsen Cafe
If you live on the Westside, Joya Onsen is the spa for you. Even if you don't, at SGD38 for a day pass, this onsen is worth travelling to. You'll be able to soak in a large 38°C to 40°C onsen pool as well as a pore-tightening cold bath where the water is infused with detoxifying ingredients such as green tea and oolong tea. There are gender-separated baths as well, so you can take your partner with you, and meet up after for a meal at the in-house cafe.
It's located at 511 Upper Jurong Road, Singapore 638366.
2. G.Spa Singapore
Calling themselves "a combination of a nature-inspired retreat and a one-stop spa destination", G.Spa is a spa that provides a wide-range of full-body treatments and spa facilities catered to all genders. For SGD70, you'll be permitted a one-time entry of 24 hours and enjoy facilities such as the hot pool, cold pool, steam room, sauna room, relaxation lounge with personalised monitors to watch movies and an ala carte buffet. Massages and customised facials are also available as add-ons. G.Spa is also open 24/7 so you can get your relaxation on at any time you want — even at 3AM!
It's located at 102 Guillemard Road, #02-02, Singapore 399719.
3. Spa Nes
An idyllic respite from the stressful cityscape of Singapore, Spa Nes is the largest spa in Singapore and draws influences from the healing cultures of Southeast Asia, and has an interior that is inspired by a nest (hence the name). At SGD68, their full-day pass allows complimentary access to all water and heat facilities available, and a free flow of refreshments served at the dining cove.
It's located at 407 Havelock Road, #02-01 Furama Annex, Singapore 169634.
4. Ikeda Spa
Japan might not be open to the world just yet, but you can try to emulate your experience with a soak at Ikeda Spa. Starting at SGD80 for a 30-minute single bath, soak in the Hinoki Onsen bath, Japan's most prized cypress wood once reserved strictly for royalty, and used for building palaces, temples and shrines. This precious wood releases mineral oils with soothing scents, anti-bacterial properties and many other therapeutic benefits.
It's located at 787 Bukit Timah Road, Singapore 269762.
5. Spa-1 Wellness Center
If you prefer to try your spa treatments from all over the world, Spa-1 Wellness Center has a myriad of treatment rooms such as the Himalayan Salt Sauna, Cassia Seed Sauna, Infrared Sauna, Finnish Sauna, Menthol Steam Room, Myanmar Jade Room, O2 Chamber, as well as many cold and hydro jet pools. Starting at SGD58 for a full day pass, kick back and relax in a room of your choice.
It's located at 511 Guillemard Rpad #B1-01, Grandlink Square, S399849.
6. Yunomori Onsen & Spa Singapore
Talk about a full-on experience. A top spa within Southeast Asia, Yunomori Onsen & Spa combines both traditional Japanese onsen therapies with Thai spa treatments. The mineral-rich, warm waters of our variety of baths detoxify and relax the body, readying it for the healing effects of expert Thai massage. For SGD38, guests will have all-day access to the Yunomari baths, sauna, steam rooms and all amenities available. You'll also be given a set of Yukatas to wear, which makes for a fun photo op with the Sakura decor and props!
It's located at 1 Stadium Place, #02-17/18 Kallang Wave Mall, Singapore 397628.
7. SPA CLUB AT BEACH ROAD
A 10,000-square-foot relaxation haven, SPA CLUB AT BEACH ROAD provides a multitude of premium face, body, beauty and health services for the most discerning of clients. One of the largest spas in Singapore, SPA CLUB AT BEACH ROAD encompasses 22 treatment rooms (including three VIP couple suites) over two floors. Calling themselves a luxury oasis in the city, Spa Club now offers a welcome package at SGD128 that allows one day access to SPA CLUB Heat Experience, including a heated pool, amethyst steam room, sauna room and ice fountain. Customers will also be allowed to pick a bespoke 60-minute treatment of their choice.
It's located at 75 Beach Road, Level 1 Fu Yuen Building, Singapore 189689.
8. So Spa at Sofitel
For an affordable price of SGD60, access Sofitel's spa garden facilities and spend the day at the hotel. You'll be able to access their mud pool, galaxy steam rooms, and the piece de resistance of the hotel – the amazing waterfall pool. The package price also comes with a Club Sandwich & Burger at The Cliff restaurant. All you'll have to do is just lay back, soak up some vitamin D, close your eyes and pretend that you're in Bali.
It's located at 2 Bukit Manis Road, Sentosa, Singapore 099891.
9. Elements Wellness
Nestled in a private room, experience the time-honored Japanese bath ritual in a handcrafted Koyamaki wood tub with energized ion water at Elements Wellness Centerpoint. They even ensure your onsen experience comes complete with real Hinoki wood bath accessories for authenticity. Unfortunately Elements Wellness doesn't have day passes, but their onsen rituals start from SGD168 for the Koyamaki Onsen Ritual. This treatment consists of a body massage, back scrub and a private suite. Come with your partner and you'll be able to enjoy the promotional price of SGD248 for two people.
It's located at 1004 Toa Payoh North #04-14, Singapore 318995.
10. Remède Spa at St Regis
If you're open to stretching your budget for a luxurious experience, the Remède Spa at St Regis needs to be on your list. Escape to their decadent urban sanctuary for an ultimate pampering experience of a lifetime. Inspired by ancient traditions from the East and West, Remède Spa offers a variety of exclusive treatments that focus on the element of water, and bathing rituals to refresh and rejuvenate. Their 2-hour day pass is SGD90, which gives you access to their Cedarwood Finnish Saunas, Eucalyptus Scented Steam Chambers, wet lounge areas, indoor and outdoor jacuzzis and even an ice fountain.
It's located at 29 Tanglin Road, Singapore 247911.
11. Pablo Blau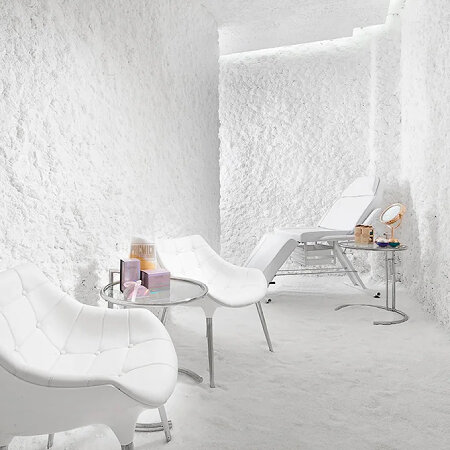 Ever had a pesky cold that won't go away? You can try salt therapy. Also known as Halotherapy, it provides several holistic health benefits. It promises to improve your skin and respiratory system and strengthen your immunity. Pablo Blau is the go-to wellness spa for this treatment since its salt therapy rooms are coated with pharmaceutical-grade dry salt crystals. This recreates the environment of a natural salt mine — but one where you can get a facial treatment or watch a movie!
It's located at Raffles City Shopping Centre, 252 North Bridge Road #02-26A, Singapore 179103.
12. Aramsa The Garden Spa
Hidden in the Botanic Gardens, Aramsa The Garden Spa is a nature-inspired spa that replicates the zen-like ambience of a resort. Get any of their spa packages that are inspired by different holistic practices in Bali, Java, Malaysia, and the Himalayas.
It's located at 1384 Ang Mo Kio Avenue, 1 Bishan Park 2, Singapore 569932.
Want to try gua sha facials? Here are some places in Singapore that offer them.
Comments, questions or feedback? Email us at [email protected].