Quality Japanese ingredients, scientific innovations, and tried-and-tested beauty methods are the hallmarks of Japanese beauty brands and the reason why they're sought after. So in this episode of BeauTea Talk, hosts Roanna and Becks head over to the number one Japanese beauty destination in Singapore, Welcia-BHG's new Takashimaya S.C. Flagship store, to discover the Welcia-exclusive J-beauty brands available to us locally.
1. RESTA
RESTA, which is short for "Press Restart", is anti-ageing skincare for sensitive skin. This brand, made by Welcia in collaboration with Rohto, uses a regenerative medicine concept in its formulas.
Its hero ingredient is the Stem Rich Moisture Complex made with adipose stem cells that stimulate collagen and elastin production and strengthen the skin barrier. This helps keep the skin moisturised and firm, so your skin stays youthful-looking for longer.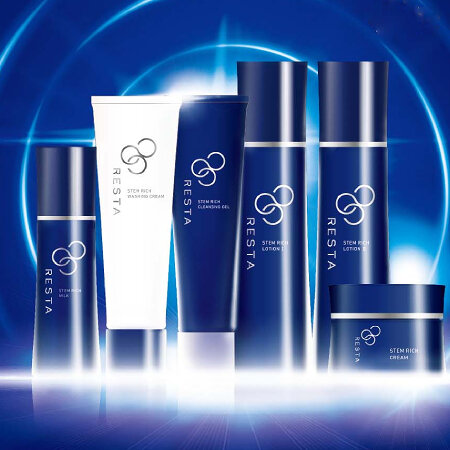 Becks' picks: The RESTA Stem Rich Cleansing Gel and RESTA Washing Cream to cleanse her skin, the RESTA Lotion I and II as toners, and the RESTA Stem Rich Cream for moisturiser.
2. Only Minerals Nude
Only Minerals Nude is another sensitive skincare J-beauty brand you can find at Welcia-BHG. It has quite a minimalist approach to its collection. It offers a clay soap, a vitamin C serum, a lotion toner, an overnight gel cream, and an SPF brightening day cream — the foundations of a basic skincare regimen! — that are infused with Japanese beauty ingredients like shiso leaf, fish mint and cherry blossom leaf extract.
Roanna's picks: Only Minerals Nude First C Boost as a pre-serum, the Bouncy Essence Lotion for toner, the Multi-Defense Day Cream as a daytime moisturiser and the Chrono Night Charge Gel for an evening moisturiser.
3. LUX Bio Fusion
Pick up the LUX Bio Fusion's products for your haircare woes. It's formulated by Unilever especially for Welcia Japan and it's now available in Singapore through Welcia-BHG. The formulas are designed to revive very damaged manes due to colouring and perming.
Roanna's picks: The Black Hair Edition, which consists of a shampoo, conditioner and hair mask infused with the miracle plant of Jericho, argan oil, and black food extracts that deeply nourish your hair and prevent lasting hair damage due to protein distortion or the breakdown of hair proteins.
4. Stephen Knoll Professional Haircare
This Japanese haircare brand is inspired by New York's chic aesthetic and powered by Kose's beauty knowledge and patented Japanese nanotechnology. It offers premium haircare products that correct all types of hair woes, from frizz to dryness, by soaking your mane with a powerhouse botanical complex that goes all the way to the follicles.
Becks' picks: The Moisture & Control series that is made up of a shampoo, conditioner and hair mist. It's perfect for damaged or always-styled hair.
Which of these J-beauty brands are you going to add to your collection?
Next, get to know the zero- to low-waste beauty products in Singapore here.
Comments, questions or feedback? Email us at [email protected].