This article was first published on 18 May 2022.
By now you would have heard of gua sha treatments, or at the very least, seen those pretty rose quartz or jade gua sha tools at Sephora or on your fave beauty KOLs' social media feeds. But does this little jade scraper really chisel out your cheekbones, give you that v-shape face that you've been looking for and depuff your eye bags?
Well, if done properly and consistently, the answer is a resounding yes!
What is a gua sha?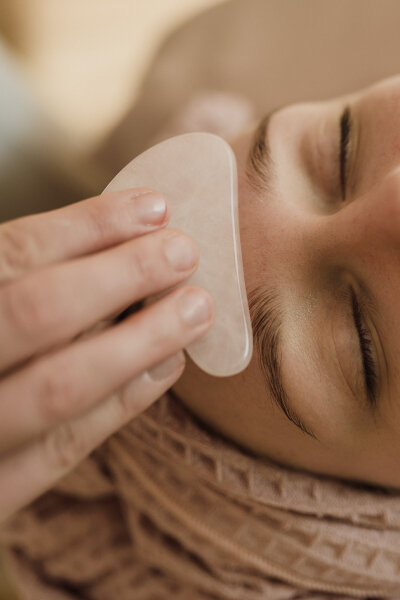 A traditional Chinese therapy technique that dates back to hundreds of years ago, gua sha loosely translates to "jade scraping" and utilises a jade tool to scrape against your skin (hence the name), apply even strokes to stimulate lymphatic flow and drainage. In turn, this helps to improve blood circulation, reduce skin inflammation and heal your acne scars. Originally used as a body treatment, gua sha for the face has been gaining popularity of late due to all the positive benefits it helps in promoting skin health and wellness.
If holistic facial treatments are your kind of thing, here are 10 spas as well as traditional Chinese medical clinics that offer this service in Singapore.
1. Loft Signature Guasha Face Treatment at Jean Yip Group
A unique treatment that helps you attain brighter, more radiant and healthier skin through the facial scraping technique, this 90 minute combines the best of both worlds by combining a typical facial treatment with gua sha. Not only will the treatment help to aid in clearing clogged pores and helping you to gain control of your acne, it will also help to iron out fine lines and wrinkles, giving your skin a more youthful appearance.
You can find them at Tampines Mall (Hub) #03-12, 4 Tampines Central 5, Singapore 529510. Check out their list of other outlets here.
2. Facial Gua Sha at Kin Teck Tong
If you're just looking to try out traditional gua sha without all the bells and whistles of a facial treatment, try heading to a TCM clinic like Kin Tech Tong. Their Facial Gua Sha is all about enhancing blood circulation and lymphatic flow in the face and neck, ensuring that the blood flow provides nutrients that encourages cell regeneration and repairs the skin, which is vital for healing scars and boosting collagen production.
They're located at #04-47, 23 Serangoon Central, Singapore 556083. Book your appointment here.
3. Jade Gua Sha Facial at Renaza Wellness Lifestyle Labs
Unwind after work with Renaza's Jade Gua Sha Facial. This facial is a great way to de-stress and detox, something we all need as we start shifting back to regular office work. After all, if we pamper our tired bodies with massages, why not our face since we hold so much tension in there? This treatment also combines their specially formulated hydrating essence and mask to significantly improve the health and appearance of your skin.
They're located at 8A Marina Blvd, #B2 to 23, Singapore 018984. Book your appointment here.
4. Gua Sha Face Therapy at Geranium
Known for their skillful extractions and gua sha facial techniques, the Gua Sha Face Therapy at Geranium combines TCM tecniques and pharmaceutical-grade products from SkinCeuticals to achieve supple skin and a more defined face contour. One thing we really like about this treatment is that it starts off with a relaxing scalp massage to help improve blood circulation, so that your skin will be more receptive to the upcoming treatment.
They're located at 2 Kallang Ave, CT Hub #02-02, Singapore 339407. Book your appointment by calling 6444 1522 (Kallang Ave outlet) or 6294 2581 (Horne Road outlet).
5. Gua Sha at Probeau Wellness
If you're a first timer when it comes to gua sha, the good thing about Probeau Wellness is that you can adjust the pressure needed for your facial. Choose between short or long strokes, and start with mild pressure and gradually increase the intensity, depending on how much you can tolerate! With regular sessions, gua sha might also help with migraines, neck pain and lymphatic drainage.
They're located at 23 Bendemeer Rd, #01-515, Singapore 330023. Book your appointment here.
6. LED Light Treatment With Guasha at SkinLab 360
Enhance your facial treatment results with the LED Light Treatment With Guasha at SkinLab 360. The spa offers green light therapy to improve the function of your cells together with gua sha techniques. This combination helps to ensure that the active ingredients of your skincare products better penetrate your skin and work more effectively.
They're located at No. 1 Jalan Anak Bukit, Bukit Timah Plaza #B1-14/16, Singapore 588996. Book your appointment by calling +65 6466 3193 or +65 8344 7442 (WhatsApp).
7. Gua Sha Facial at Bioskin
Using a jade and rose quartz tool to increase blood circulation and lymphatic flow in your face, Bioskin's Gua Sha Facial treatment helps to reach into the deeper layers of your skin to activate energy flow. Not only can you banish fine lines and see lifting results, you'll also achieve brighter, firmer and clearer complexion. Their skilled therapists are specially trained to give you the most therapeutic and tension relieving session — feel all your tension, fatigue and congestion melt away during the facial.
They're located at 176 Orchard Road, The Centrepoint #02-22 – #02-25, Singapore 238843. Book your appointment by calling 6222 6777 or texting 8222 7733 (WhatsApp).
8. Gua Sha at Guo Tai TCM Rehab & Wellness Center
Block out a day of holistic treatments by booking a treatment at Guo Tai TCM Rehab & Wellness Center. As Guo Tai is a TCM center, you'll be able to consult with a licensed practitioner of Chinese medicine before your treatment, and get the advice possible before you begin. Furthermore, if needed, you can get other treatments such as acupuncture, cupping and steaming therapy that can help improve blood circulation not just in your face, but your entire body.
They're located at 111 Somerset Road, #03-29 TripleOne Somerset, Singapore 238164. Book your appointment here.
9. Syoujin Guasha Facial Detox
Syoujin is known for incorporating many Traditional Chinese Medicine techniques in their wellness procedures. They usually offer discounted first-trial sessions. Pay them a visit at their various locations in Singapore and book your appointment here.
10. Sin Kang TCM Facial Gua Sha
Sin Kang TCM Clinic has been around since 1999. Their services focus mainly on wellness and holistic health, centred around tried and tested methods using Traditional Chinese Medicine. Their experts are also very friendly and will walk you through other treatments you can get along with the gua sha facial. Book your appointment here.
Pamper the rest of your body through treatments like back facials.
About the author
Noemi Lange is an individual made up of coffee, crystals and anxiety. She spends way too much on designer clothes and believes that everyone should make time for therapy (both retail and the regular kind). In her free time, she likes listening to fictional rock bands, actual rock bands and taking long walks in the Prada store.
Comments, questions or feedback? Email us at [email protected].