Do you want your beauty products to be good for you and Mother Earth? If the answer is yes, then you may want to start switching to or adding more conscious beauty brands to your beauty collection. These are brands that champion environment- and humanity-friendly practices in making their products. Such practices can include using sustainable packaging for their products and shipping material as well as using ethically sourced ingredients that have little to no lasting impact on the environment.
In a new episode of BeauTea Talk, hosts Roanna and Becks share their favourite conscious beauty brands in Singapore and how these brands help you get your skin goals while helping the planet too. Plus, stand to win a L'OCCITANE Beauty Hamper filled with conscious beauty products worth SGD100 — more details on that in the video above. Now, let's discover the best conscious beauty brands in Singapore, shall we?
1. CLEAN Beauty Collective
Clean fragrance brand CLEAN Beauty Collective has a line called CLEAN RESERVE that solely uses sustainable farm-to-fragrance ingredients and synthetic alternatives in its fragrances. The brand also uses sustainable wood from Spain for its bottle caps, instead of metal or plastic. The ink on the perfume labels is also eco-friendly since it's soy-based.
The extra conscious touch: The range also gives back to its partner farming communities by supporting community programs that promote education and healthcare for the farmers who make the fragrance ingredients as well as their families.
CLEAN RESERVE is available in Singapore through Sephora.
2. L'OCCITANE
L'OCCITANE is another popular conscious beauty brand in Singapore. Its products have special logos that make it easy for you to identify the sustainable efforts behind creating them. For example, L'OCCITANE uses 95% natural origin ingredients in its leave-on products. On the other hand, its rinse-off products like shampoos and shower gels are formulated with 95% readily biodegradable ingredients.
The extra conscious touch: L'OCCITANE also has the Big Little Things recycling programme that takes in your used beauty bottles from any brand. You can find the designated recycling bins in L'OCCITANE stores across Singapore. The programme also has a feature where you're rewarded for skipping on the paper bag and using your own reusable bag. You can also make use of the brand's Refill Fountain at ION Orchard or purchase its eco-refills to restock your L'OCCITANE faves. The reward stamps you receive in exchange for your earth-friendly actions can then be used to shop for L'OCCITANE products.
L'OCCITANE is available in Singapore through its stores and website.
3. Biossance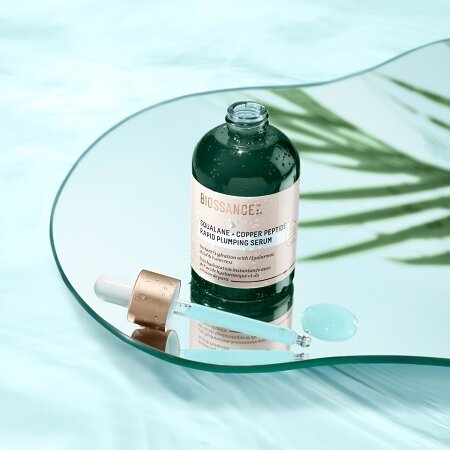 Have you heard of squalene? It's a moisture-locking skincare ingredient that is traditionally derived from shark liver oil. However, you'll be pleased to know that there's a shark-friendly option used in skincare. Biossance uses sugarcane-derived squalane (the term used for the plant-based alternative to squalene) in its products. Squalane is great for hydrating your skin and locking in moisture. The brand also uses sustainable packaging — the tubes and bottles are all recyclable, while the outer packaging is made from biodegradable sugarcane paper.
The brand's products are also formulated and developed in a facility that is certified for its responsible use of energy, waste, and water.
The extra conscious touch: Biossance also offers carbon-neutral shipping through its partnership with CarbonFund.org. The brand plants trees and funds reforestation efforts for every shipped Biossance order to offset its environmental impact and reduce the carbon emissions in the atmosphere.
Biossance is exclusively available in Singapore through Sephora.
4. Tata Harper
Luxury skincare brand Tata Harper Skincare uses 100% biodegradable formulas that are toxin-, fillers-, artificial- and genetically modified organism- (GMO) free. Some of the ingredients in the brand's products are cultivated on the brand's own farm, where it also packages and ships out your orders. Speaking of packaging, Tata Harper's skincare products all come in glass bottles and tubs — adding to the luxurious beauty experience — while the tubes in its cleansers are made from sugarcane. This makes Tata Harper's packaging a little more earth-friendly compared to the plastic that's more commonly used in beauty products. The brand also uses biodegradable soy-based ink for any outer packaging.
The extra conscious touch: Tata Harper also reduces the waste it produces by making its products on a made-to-order basis.
You can find Tata Harper Skincare products in Singapore at Sephora.
Which of these conscious beauty brands are you already using?
For more beauty recommendations, check out the quirky Japanese beauty products in Singapore that deserve your attention.
Comments, questions or feedback? Email us at [email protected].