When it comes to creating natural luxury skincare products, you should be familiar with Tata Harper and its founder. The Queen of Green grew up surrounded by strong female influences in her hometown of Barranquilla, Colombia, where natural beauty products were used in her grandma's spa parties. Now based in Vermont, where Tata Harper Skincare is manufactured and packaged in their 1,200-acre farm, Tata has been creating luxe skin goodies for 10 years. Ahead, she shares how her Colombian heritage influenced her to create farm-fresh skincare products as well as the importance of layering your skincare and creating sustainable products.
The seeds of Tata Harper Skincare
Growing up in Barranquilla, a big industrial city in Colombia, Tata was frequently exposed to the benefits of naturally made skincare products. "My grandmother would host spa parties in her house every weekend and invite all of these women to come to try her hair mask or body scrub. I loved helping her make the products from scratch using local Colombian ingredients that came from the earth."
It was also the same experience that helped her realise the importance of self-care. "I was immersed in a household of strong, entrepreneurial women that loved beauty — we're a total of 35 cousins and 20 of those are women — so there was a dedication to self-care." She also found fulfilment in helping others feel more confident and beautiful through beauty treatments.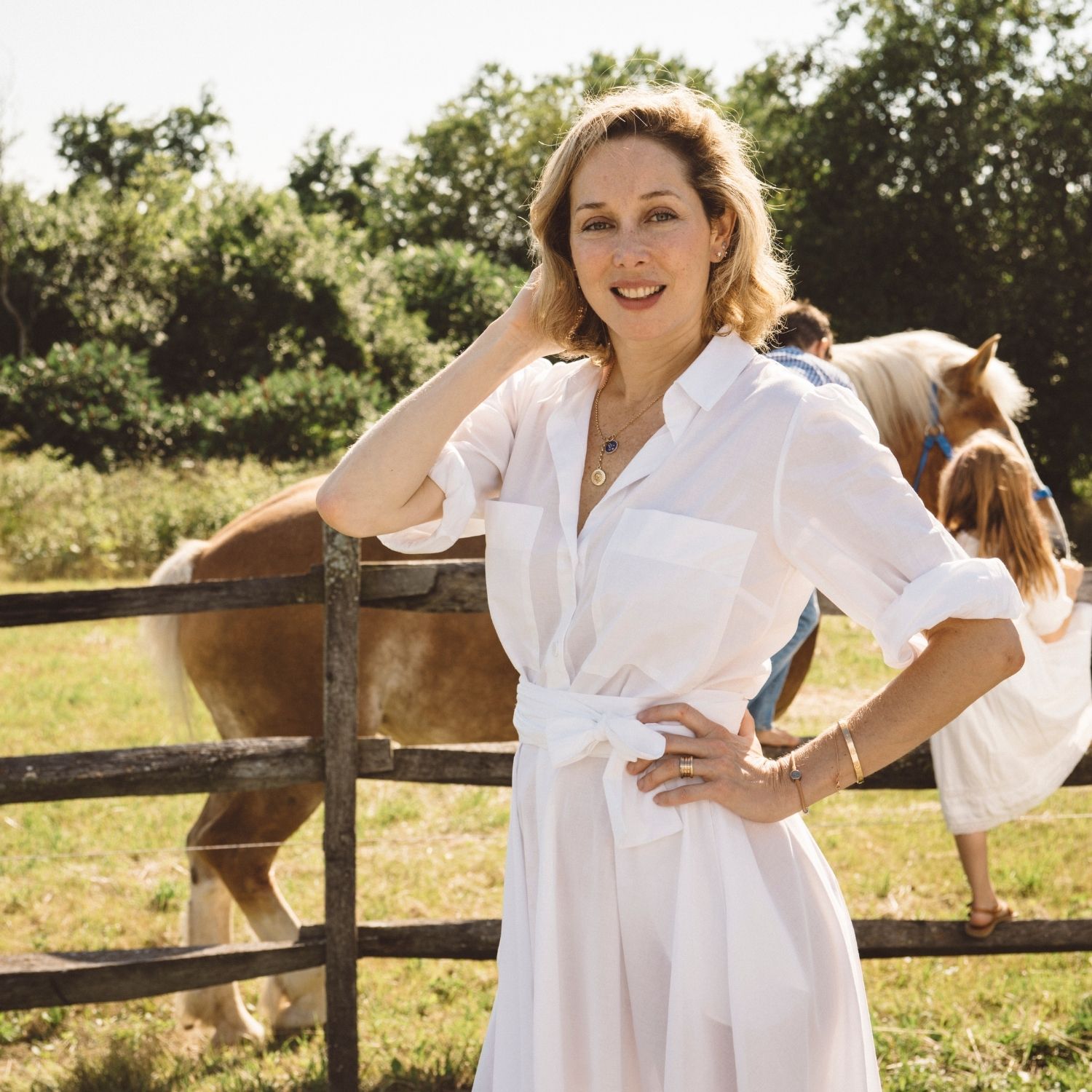 Taking a cue from her grandmother's spa parties, Tata's initial brainstorming and development process echoed her own introduction into skincare. "When I started to formulate my own products, I thought that there was no better way to see if they worked than by hosting my own spa parties. I would invite my close friends and family over and I would walk them through some of the first regimens that we created."
Fast forward to this day, Tata now holds beauty classes where she teaches women how to harness the powers of skincare for self-care.
Why natural, farm-fresh skincare was the way to go
Not only is Tata quite involved in making and testing the products she sells, but she also decided to formulate, package, ship, and even grow some of the skincare ingredients they use in their products right on the Vermont farm where she and her family reside. What can't be grown in the lush fields of Vermont are sourced from all around the world. Still, these need to get Tata's seal of approval before they're included in any formula.
"We source only the highest quality ingredients and the most innovative natural technology available, and include as many as we can in every formula to make our products as effective as possible."
On the farm, they grow the brand's core ingredients of calendula, alfalfa, borage, arnica, and meadowsweet. These herbs are hand-picked and dried before undergoing a process called "garbling" where "the ingredients are rubbed by hand on a screen to break them down". These are combined with a carrier oil and gently heated to extract the oils and nutrients. "Then they're strained and become our Farm Grown Beauty Complex before they are bottled up and shipped off straight from the farm," Tata briefly explained.
Tata's also very proud of the fact that sustainability has always been at the core of Tata Harper Skincare since the beginning. "For us, sustainability isn't about marketing, it's just the way we've always done business. You can't be a green company without a green product, and that means everything from ingredients to manufacturing to packaging needs to take the planet into account."
Most of Tata Harper Skincare is packaged in recyclable glass packaging (adding to the luxe feel of the products) which are then placed in cartons made with certified paper from sustainably managed forests and use biodegradable soy ink to reduce the toxicity of the cartons.
They're also making product refills, including for the newly launched Water-Lock Moisturiser, to reduce the waste that comes with full packaging.
Why you should look for minimised maximalism in skincare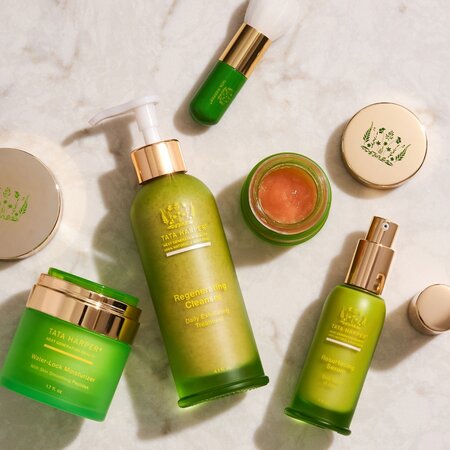 These all sound well and good, right? For Tata, it's not enough to just create sustainable and non-toxic products. While there are a lot of brands that call themselves "natural" and "clean" and promote a minimalist skincare approach, in the sense of just having one ingredient for each step, Tata believes that minimised maximalism is the true way to go when it comes to caring for your skin. Everything from Tata Harper Skincare is about maximising the benefits you get from one formula. How? By using the right ingredients, no matter how many these may be. "We believe your skincare should multi-task as much as you do — so you'll see a library of benefits versus one."
As Tata puts it, "You'll need fewer products on your shelf because we engineer with up to 72 high-performing ingredients that deliver unyielding results."
Aside from using effective products, it's also important to know the proper order of applying them on your face. "Our products are designed to work together, so layering is super important. In order to maximise the efficacy of your skincare, I suggest applying products in order of lightest to heaviest molecular weight." She recommends starting off with essences, serums, and eye creams — since "these are the most important anti-ageing steps to take for your skin of tomorrow" — before applying facial oils and moisturisers to lock it into your skin.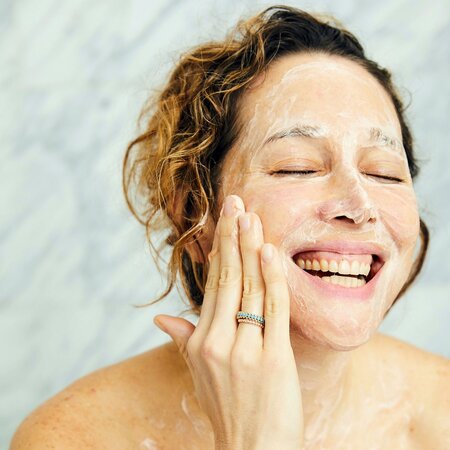 She practises this in her own skincare regimen. Twice a day, she'll go through her routine of exfoliating with Regenerating Cleanser because "exfoliating daily really lets my skin breathe and glow since it gets rid of any build-up that accumulates overnight [and] it also helps products absorb better". This is followed by the Hydrating Floral Essence "to help prep my skin for treatment and help my serums penetrate deeper". Then it's all about layering: "I use the Elixir Vitae on my whole face, next I'll use the Elixir Vitae Eye Serum, and then the Repairative Moisturiser."
While there are a lot of natural skincare brands out there, Tata Harper Skincare continues to stick to its beliefs established in 2010. It's all about formulas that deliver efficacy, quality, and purity without compromising your health. You can rest easy knowing that each item that leaves the Vermont farm went through a lot of testing beforehand. If it's not Tata-approved, it wouldn't find its way to your vanity.
Tata Harper Skincare is available in Singapore through Sephora, Net-A-Porter, and the Tata Harper website.
(Cover photo from: Tata Harper Skincare)
Get to know the people behind your most beloved brands here.
Comments, questions or feedback? Email us at [email protected].