Confession time: I have a love-hate relationship with facial oils. Having oily-combination skin, finding a facial oil that doesn't make my skin look greasy or break out has been quite a task. While my opinion has changed a bit over time, I still don't consider myself an avid facial oil user. But the award-winning Biossance Squalane & Vitamin C Rose Oil really changed that. I first encountered the brand when I tried their repair cream and eye gel. Both lived up to their respective claims, so I was eager to try another Biossance product.
This cult favourite face oil promises to brighten, firm up and hydrate the skin while fighting free radicals, all in one rosy skincare step. It seems like it's perfect for the super minimalist (or lazy) skincare user, doesn't it? Let's find out.
First impressions, claims, and packaging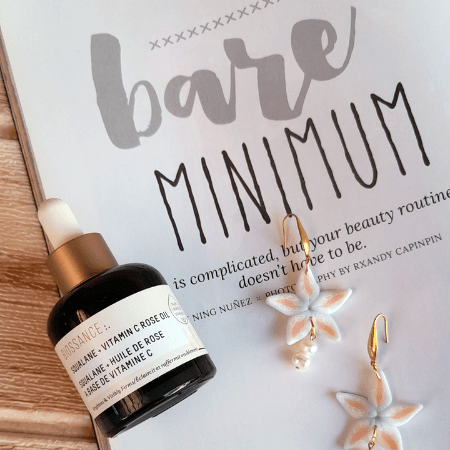 I like sticking to my usual routine of cleanser, toner, serum, moisturiser, and SPF. Adding another step felt unnecessary and some oils feel very heavy or take a long time to absorb. However, the Biossance Squalane & Vitamin C Rose Oil has brightening and elasticity-boosting Vitamin C that was lacking in my regimen.
Aside from the shelf-safe Vitamin C, it also contains chios crystal oil for firming and revitalising the skin, sugarcane-derived squalane for locking in moisture, and Damascus rose petal extract for calming the skin and natural fragrance. Not to mention that it's also vegan, nontoxic, cruelty-, paraben-, and PEG-free.
Packaging-wise, I had the old green glass bottle packaging (to prevent the Vitamin C from oxidising) but Biossance has since switched it out for a pretty pink bottle for the Western market. It comes with a glass pipette that features a flexible handle to easily dispense the oil on your face or the back of your hand.
Application and usage
When adding a facial oil into your routine, it begs the questions of when you should apply it. According to Biossance, the Squalane & Vitamin C Rose Oil should be the sixth step in your skincare routine — that's after your cleanser, mask, eye treatment, serums, and moisturiser. Oils can penetrate moisturisers but not vice versa. Pair it up with an SPF if you're using it in the morning to increase the efficacy of both products in neutralising skin-damaging free radicals from sun exposure.
I started using the oil alone after cleansing and toning, first once a day in the morning and then eventually using it at night as well. Surprisingly, my skin felt super hydrated even when using it alone and just two drops for my face and neck. My skin felt soft and elastic, but I didn't experience any of the greasiness I feared.
When I added a moisturiser into the mix, I didn't like how the lightweight oil felt just sitting on top even after massaging. So, I ended up mixing the two on the back of my hand first before gently massaging it all over my face and neck. This left the same results as using the oil alone, so I did skip moisturiser every now and then. No judging, please!
Biossance also recommends oily skin people to dampen their skin with a fine facial mist or some water before applying the oil, but I found that it works well even if you skip this step.
Final thoughts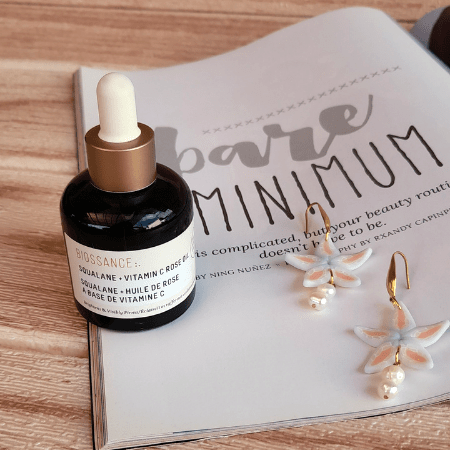 So has the Biossance Squalane & Vitamin C Rose Oil become a mainstay in my skincare routine? Undoubtedly, yes. I love how it makes my skin feel soft, hydrated, and refreshed. The natural rose scent was also very pleasant and calming, adding another luxurious touch to my skincare routine. I noticed a subtle glow in my skin after a month of using it, too.
I haven't experienced any adverse reactions — I got all of the benefits and had no more doubts. However, I didn't have dark spots or redness left over from acne breakouts before testing it, so I can't vouch for its effectiveness in that matter.
One hold-up though: it's SGD106/~USD79.94 for a full-sized 30ml bottle. I like the effect it has on my skin, but it can be quite a splurge for facial oil. If you want to give it a shot, you can purchase it from Sephora Singapore stores and online.
*The product was sent as a press gift. The views and opinion of the reviewer are independent and purely editorial.
Next, discover if the reformulated LANEIGE Water Sleeping Mask is worth the splurge.
Comments, questions or feedback? Email us at [email protected].