So you may or may not have heard — Timothée Chalamet is reportedly dating Kylie Jenner. The pair was recently spotted exhibiting some PDA at Beyoncé's Renaissance World Tour concert at SoFi Stadium.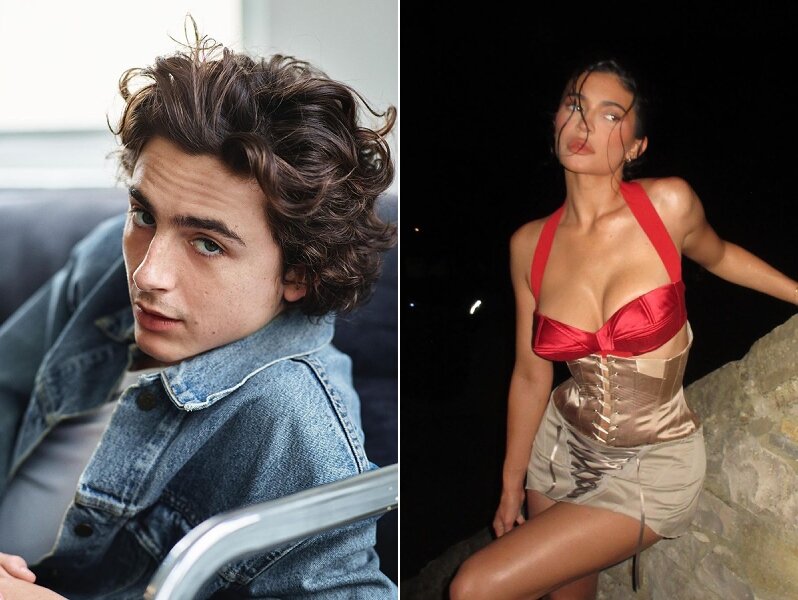 Curious to know more about Kylie's new rumoured beau? Read for some fast facts and a rundown of his movies so you can add them to your To Be Watched list.
Who is Timothée Chalamet, Kylie Jenner's new rumoured boyfriend?
Timothée is a French-American actor who has been nominated for several awards, including an Academy Award, two Golden Globe Awards, and three BAFTA Film Awards. The 27-year-old has acted opposite the likes of Saoirse Ronan, Zendaya, and Armie Hammer.
This isn't the first time that he's publicly dated another high-profile celebrity. Timothée dated The Idol star Lily-Rose Depp from September 2018 to April 2020. In June 2020, he was spotted in Cabo San Lucas, Mexico with actress Eiza González. The pair split ways in October of the same year.
Rumours about his potential relationship with Kylie started circulating in April of this year, a few months after Kylie reportedly split with her longtime partner Travis Scott. Timothée and Kylie seem to have confirmed their relationship since they shared a very public smooch during a Beyonce concert on 5 September 2023.
Timothée Chalamet movies to add to your watch list
1. Call Me By Your Name (2017)
One of Timothée's breakout roles was as 17-year-old Elio in the coming-of-age film Call Me By Your Name. It's quite a controversial film since it shows a blossoming romance between two men with a slight age gap between the two characters. Timothée acted opposite Armie Hammer, who played the role of Oliver.

You can watch it on Netflix.
2. Dune (2021)
If you like science fiction plots, Dune is a worthy contender for your watchlist. Timothée plays Paul Atreides, a young man tasked with saving his family and people from extinction. He travels to the most dangerous planet in the universe, Arrakis, where his heroic journey begins. We won't spoil anything, but if you're familiar with the books that this film is adapted from, then you know there's more to it than a simple Chosen One storyline.

Spider-Man actress Zendaya played the perfect foil to Timothée's Paul as Chani. Fun fact: Dune 2 is set to be released in 2024, so keep your eyes peeled for it!
You can watch it on Apple TV.
3. Lady Bird (2017)
2017 was quite a year for Timothée because he also had another blockbuster film that year. In Lady Bird, he plays Kyle Schieble — the edgy, seemingly know-it-all teenage boy who Lady Bird (Saoirse Ronan) has a crush on. This coming-of-age film will make you want to hate Kyle but Timothée's charm makes it hard to last.
You can watch it on AppleTV.
4. The King (2019)
If "flower boy" roles aren't your cup of tea, check this one out. Timothée takes on the challenge of portraying Hal a.k.a young Henry V of England and tells the royal's story of the spare heir who becomes king. The Batman actor Robert Pattinson plays his rival Louis, the Dauphin.
You can watch it on Netflix.
5. Wonka (2023)
Timothée steps into the shoes of young Willy Wonka, the quirky chocolate factory owner we met in Charlie and the Chocolate Factory (1971). The fantasy-musical film is a prequel and tells the origin story of young Willy who's on his quest to become a candy tycoon. It's set to premiere in theatres on 15 December 2023.

(Cover photo from: @tchalamet and @kyliejenner)
In other dating news, Ahn Bo Hyun is dating BLACKPINK's Jisoo. Get to know him here.
Comments, questions or feedback? Email us at [email protected].