Constance Wu and her boyfriend Ryan Kattner are taking over today's trending news as they announce that they're expecting baby number two!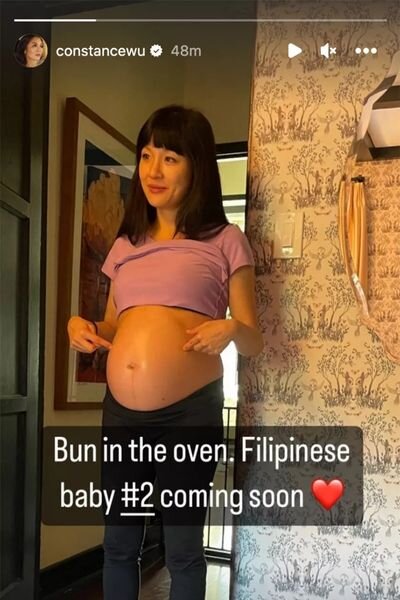 Keeping up with Constance Wu and Ryan Kattner
The popular
Crazy Rich Asians
star and
Golden Globe nominee
shared a photo of her baby bump via her Instagram Story last 21 February. She wrote in her caption, "Bun in the oven. Filipinese baby #2 Coming soon" with a red heart emoji at the end, referring to her boyfriend Ryan Kattner's Filipino heritage and her Taiwanese heritage.
This is a big step for Constance as she didn't announce the news about her first pregnancy back in August 2020 and is known for keeping her personal and family life private. And this shouldn't be a surprise as she has faced hate and backlash after her controversial tweets in 2019 expressing her annoyance about the renewal of the ABC show Fresh Off The Boat, in which she stars as Jessica Huang, the mother of the central characters of the story. She also said that she felt that she was ostracised by the Asian American community especially those who loved the show.
But the actress finally gained the courage to tell her side of the story during her interview on Late Night with Seth Meyers and she shared how she was sexually harassed and abused on the show and kept silent about it because it was also before the rise of the "#MeToo" movement.
Last year, she published a memoir titled
Making a Scene,
a book of her personal essays and reflections about that low point in her life, her childhood, young love, heartbreak, and "making it" in Hollywood.
Who is Ryan Kattner?
Constance's boyfriend, Ryan Kattner (whose stage name is Honus Honus) is the frontman of the rock band
Man Man
, an actor, and songwriter. He's also more active on social media compared to the actress and also shared about her
book
.
We're wishing Constance a safe pregnancy and all the best for her young family!


Comments, questions or feedback? Email us at [email protected].