Tan Zi Xi's art wasn't initially meant to centre around environmental and sustainable themes. However, the Singapore-born and London-trained artist started to take inspiration from her concern for and curiosity about the impact of human activities on Mother Earth, which led to thought-provoking and action-inspiring pieces such as An Effort Most Futile, an installation featured in 2015 at the Singapore Art Museum as part of the Imaginarium: Under the Water, Over the Sea exhibit.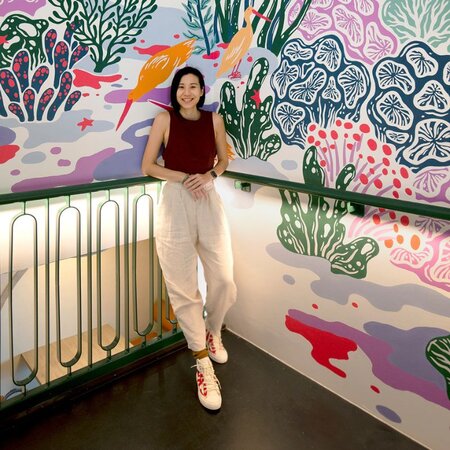 As an alumna of Central Saint Martins, where many big names in the creative field hail from (including Alexander McQueen, Stella McCartney, Joe Wright, and Christopher Kane, to name a few), Zi Xi said that instead of feeling pressure to make a name for herself, her education inspired her even more to find her path as an artist.
Below are more of Tan Zi Xi's insights on art as a launching point for conversations and inspiring action about sustainability.


Art as a bridging language to communicate environmental themes
According to Zi Xi, "Art speaks to audiences across languages and cultures." It connects people's similarities in "today's context and modern time" despite limiting barriers.
Using art as a universal language for sustainable action, she creates installations and pieces that talk about environmental issues in a way that confronts people about our current reality. This translates to conversations about the art piece, which evolve into discussions about sustainability and environmental awareness.
Zi Xi said: "Although we are very much dependent on nature, we can be blinded by the issues and impact our actions have on the environment. This impression disturbed me deeply, hence, when I first explored the topic of communicating about environmental issues, art became the medium that I chose to pique the interest of the audience as it engages audiences from all walks of life and whether you are young or old; art has a way to shed light on issues which an artist wishes to convey."
On top of this creative mindset, Zi Xi also uses dark humour and hyperbolic elements to make her work even more exciting and captivating to audiences.


She said that because "we are constantly bombarded with so much news, stories and pictures daily," people get easily jaded by environmental issues as a defence mechanism to being overwhelmed with information.
"I have shared my works with young children before and it brings me joy that I am able to reach out to them and educate them on these heavy topics through illustrations or an installation artwork," she said.


On her 'ocean' of inspirations which led to fascinating artworks
"An Effort Most Futile was created in 2008 when I was still studying in London," Zi Xi shared. "One day, I came across an article about the Great Pacific Garbage Patch and it was the first time I heard about this phenomenon. I felt perturbed and upset about how our garbage has been so carelessly dumped into the ocean seemingly without any concern for the marine wildlife and environment."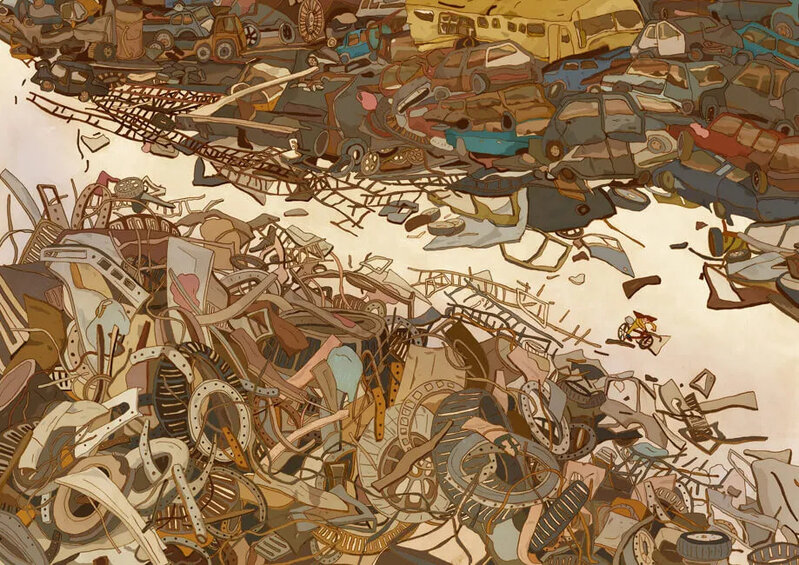 When she was invited to join Singapore Art Museum's exhibition in 2015, she wanted to use the platform to "recreate a physical manifestation of the Pacific Garbage Patch, where children and adults could experience being immersed in a space covered with trash, simulating the environment of the 'plastic pool.'"
She believes that encountering a visual piece in an enclosed space illustrates the situation to people in a more accessible way, allowing them to feel the weight of the issue from a closer perspective.
As to why the ocean seems to be the 'muse' of most of her environmental pieces, she said: "I find the ocean a very mysterious place. Maybe it's because it's far and out of sight, and most of my knowledge comes from watching documentaries and reading about it. This mystery also allows me a lot of creative freedom to imagine what it looks like and what it will be in the future."


This is also why she thinks
Plastic Ocean
is her most memorable ocean-themed project to date. "Since it was my first large-scale installation, there were many learning curves and unforeseen challenges that I had to climb and overcome with the team but the process taught me a lot in coping with projects of that scale."
Communicating the importance of sustainability also requires large-scale support
Coming up with a concept and making it happen is one thing, but getting support to get it amplified is another.
Zi Xi shared how she chooses which brands to collaborate with, saying: "Environmental change can take place on many different levels, and that comes with taking the first steps to communicate the purpose and goals. [I understand that] every company or brand may have ideals and angles that may be aligned with my beliefs differently; so as long it is meaningful, the collaboration is worth a try.
For example, HSBC has a more social impact on their customers and has been running the 'One Tree Planted' campaign. I find such initiatives meaningful and important as the brand has long-term goals to continue doing its part for the environment."

But even with all the current conversations about sustainability, there's still more to be done. Zi Xi expressed that she has "tried to propose Plastic Ocean to other art festivals but the scale and monumental work is mammoth, labour intensive and costly to say the least. Which is why the resource required for the installation may have deterred organisations from bringing the work into their exhibitions."
She added: "I think other parts of the world were a lot more aware of ocean pollution than Singapore. My assumption is, since Singapore is a very clean and sheltered country with very little pollution and natural disasters, it inevitably gave us a very comfortable environment to live in. This has led us to become desensitised to the larger environmental issues happening out there. Perhaps due to this, it took a while longer time for Singapore to catch up on campaigning sustainability."
However, Zi Xi is firm in taking on this challenge.
"I am ready to embark on new proposals," she said. "I believe that if I try hard enough to be progressive and create new work, it would give me future opportunities to revisit Plastic Ocean or communicate about the environment in other ways."


For fellow artists and storytellers who share the same struggle, this is what she had to say: "I think it's important to be hopeful and kind to others who may not have the same mindset. Being patient and consistent in your beliefs is also fundamental because this is going to be a long-term cause you'll be fighting for."
Check out more inspiring stories from sustainability changemakers here.
Comments, questions or feedback? Email us at [email protected].