"Trashion" — a portmanteau of "trash" and "fashion" — is used to describe fashion and art projects that are made from trashed, found or repurposed materials. Although the term was first coined more than a decade ago, it gained traction again recently as the pandemic sparked a shift in consumers' mindsets surrounding conscious consumption and sustainability.
So, how does one embrace "trashion"? How does it help to reduce fashion waste and why should it be regarded as more than just an eco-conscious fashion fad? We checked in with Veronyka Lau and Woon Tien Wei, the organisers of the Temasek Shophouse Renew Earth Sweat Shop initiative, to share their expert advice and experiences on this matter.
Trashion is more than just a trend
"'Trashion' embraces environmentalism and innovation. It encourages people to be brave with their choices, to learn to use their hands to put things together, to exercise their unique sense of aesthetic," revealed Veronyka. The visual artist added that "trashion" has become "quite widely used in green and design circles as people catch on more and more to the enormity of the problem with unfettered consumerism," and is leading to conversations about the circular economy, reusing and repurposing. "Trend bibles have listed 'trashion' as a cultural direction that is going to stay in our social consciousness for some time as the world "grapples with the effects of climate change," elaborated Veronyka.
Speaking of trends, New York-based designer Nicole McLaughlin's "brassant" went viral on Instagram during the peak of the pandemic last year. Her eye-grabbing piece, which was fashioned out of two croissants and a few strings, re-ignited conversations on the creative possibilities of "trashion". The New York-based designer has been consistently advocating for sustainable fashion since 2018, creating garments made of thrifted apparel and everyday household items, such as a juice box bra top and a pair of shorts comprising used leather gloves.

This makes us believe that "trashion" will always have a place in fashion and in our lives — be it in the present or in the long run. All it takes is a little conscious effort and creativity to make it happen.
Trashion is for everyone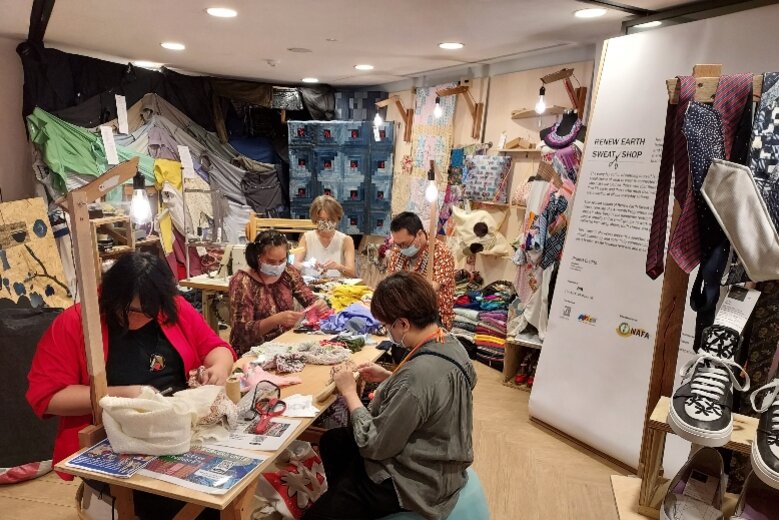 "Trashion' in this context is also very much aligned with our Temasek Shophouse Renew Earth Sweat Shop community and participatory art initiative, which was created to bring awareness to the growing issue of fashion waste. We are facing a critical moment for our planet and it's where we need to collectively make fashion more 'renewable' and 'sustainable' than it is now," explained Tien Wei, who's also an artist, curator and co-founder of independent culture and social space Post-Museum.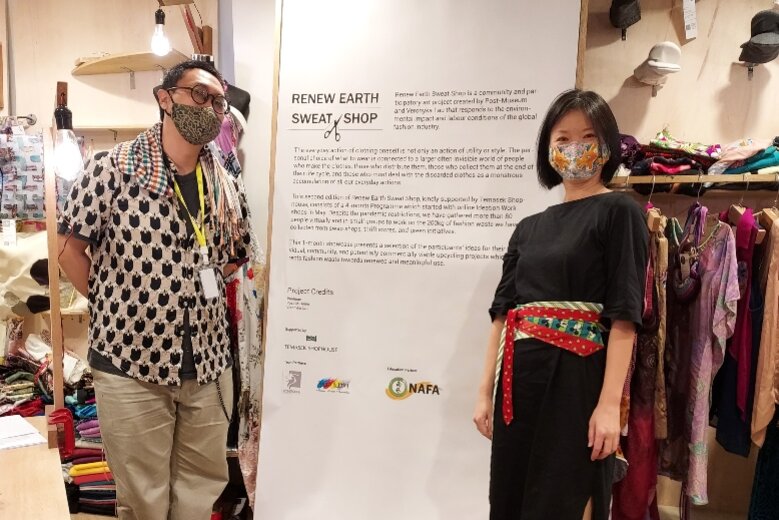 "[Trashion] looks great in high-end stores but these are often out of reach for the ordinary person. There's also the stigma that we're trying to debunk, which is that 'trashion' or upcycled creations are often seen as crafty and not well-made. Is there a middle ground for us to create desirable everyday wearables from fashion waste?" Veronyka mused. With this goal in mind and the support of Temasek Shophouse, Veronyka, Tien Wei and their team of designers and creators decided to challenge themselves to explore beyond runway creations for the initiative and collected over 200KG of fashion waste from swap shops, thrift stores and green movements.
The result? A vibrant pop-up showcase and community space at Temasek Shophouse, where members of the public are able to participate in free workshops and learn how fashion's excesses can be practical and repurposed to create everyday items. The showcase and workshops will be available till the end of October.
"Our creators have taken up the challenge to make shoes, bucket hats and outfits from fashion waste. Plus, the more we see creative outputs by brands and designers we love using what people would consider 'trash', the more it makes people rethink what is desirable and when it crosses into something that we put by the wayside and discard. It has suddenly become a trend to pair new and old, celebrities and designers wearing vintage, thrifted pieces and incorporating them into new looks and designs," shared Veronyka.
Trashion makes you re-think your clothing consumption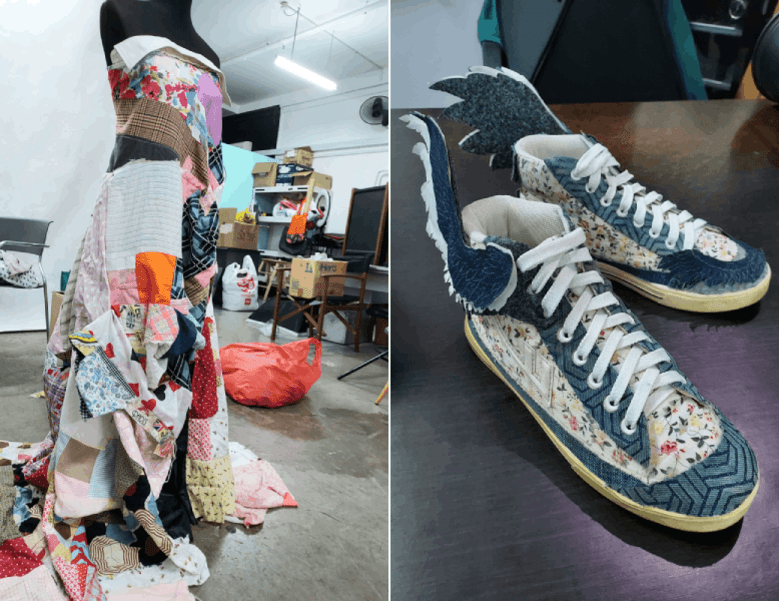 "I feel that 'trashion', to a certain extent, amplifies our instinct to keep fashion materials around longer. That is good as we keep clothes away from landfills and in Singapore's case, from incineration. It changes our perception of 'waste'. It's a step in the right direction for our planet and for us to embrace the kinds of values that help us create a more 'just' planet. Apart from saving resources, we should also recognise the unseen labour that goes behind making every piece," added Tien Wei.
Veronyka shares the same sentiments as Tien Wei. She also hopes that more consumers will learn to appreciate their clothes and the tireless hands that made them: "The fashion industry is built on the backs of those who have not much choice but to take low wages to work in grim conditions. We only see the glamour of retail stores and become detached from how these things come to us so affordably. From the workshops that we conduct, people find out how much work goes into making even something as simple as a shirt. Someone is doing that work and we need to think about them."
Embracing trashion, thrifting and more
"Trashion" is a fun and creative avenue for us to be more mindful of our fashion consumption. What other ways can we also help to reduce fashion waste? Veronyka recommends thrifting, while Tien Wei suggests that we forge a deeper relationship with our clothes, as well as participate in clothes swaps.
"Visit thrift stores as our main go-to! A lot of times, consuming is a by-product of boredom or filling a lack that is not physical. Partaking in activities that build up a stronger sense of self is fundamental to consuming responsibly, even beyond fashion. It's also important to think about the brands that we patronise and to question if their products are made ethically and responsibly," advised Veronyka.
"Swap, share, gift and make! There are gestures other than shopping that define our relationship with clothes. Our project partners, Swapaholic and Cloop are the few businesses and initiatives that facilitate the swapping of clothes. You can also keep your clothes around for a lot longer. Learn more about them and appreciate them, such as their origin and culture. Ultimately, we need to expand our vocabulary of understanding fashion as a culture. 'Well-made' shouldn't be the only defining value of a clothing item. Rather, we should also see and accept values that make them meaningful," shared Tien Wei.
The Temasek Shophouse Renew Earth Sweat Shop initiative runs till the end of October and is located at 28 Orchard Road, Singapore. Click here to sign up for their upcycling workshops, which are free and open to the public by RSVP only.
(Cover photo from: Post-Museum)
Here are six ways to make your beauty routine more sustainable.

Comments, questions or feedback? Email us at [email protected].