Purposeful dressing can bring more joy to your life as it gives you the chance to reflect and be proud of your sartorial decisions. On this note, hear from three effortlessly fashionable women — Amiera Raushan and Parveen Hassanbhai from Singapore and Lucien Villarruz from the Philippines — who show us how wearing beautiful clothes not only allows them to express themselves but empowers them to forward meaningful causes as well.
"We are what we wear."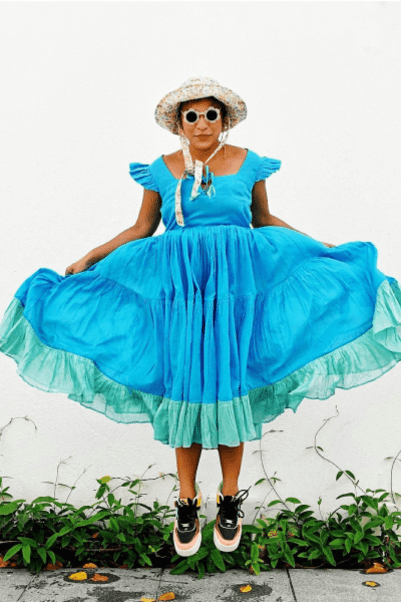 Casual, ephemeral and "sometimes, a little dramatic." Amiera Raushan describes her personal style as such and cheekily adds that she's often seen in comfortable, "nap-ready" outfits as well. Joyful, purposeful dressing has become a part of her everyday life. While indulging in her love for prints, uplifting colours and rich textures, the digital marketer and photographer also makes a conscious effort to seek and support local brands and designers that promote ethical practices, sustainability and artisanship.
"It's so important for our clothes to reflect who we are and what we stand for, as just like we are what we eat, we are also what we wear in so many ways! Dressing well and ethically helps us to internalise this positive habit more naturally too," she explains. Her favourite brands at the moment include conscious label Maisha Concept ("The brand's founder, Rakhee is the sweetest too!"), Singaporean labels Our Second Nature and Beyond The Vines, as well as Indonesian label Smitten by Pattern.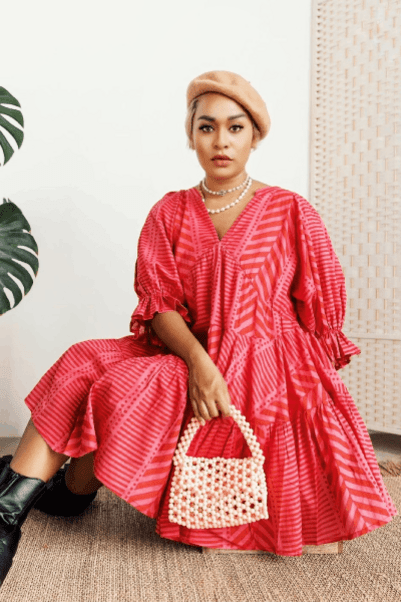 Amiera's purposeful outfit: A tiered dress from Maisha Concept. "Every collection from Maisha Concept is handcrafted in small batches. Their designs are hand block printed by artisans using traditional techniques. I believe that they are the best at what they do — they celebrate local culture, artisanship and are helping to raise awareness towards sustainable clothing manufacturing. This feels special to me," enthuses Amiera.
"Be unapologetic and dress for yourself."
When it comes to dressing up (or down), Parveen Hassanbhai likes to lead with her mood and intuition. Above all, the freelance public relations practitioner endeavours to stay true to her personal style rather than be influenced by what others expect of her. "Be unapologetic and dress for yourself! We don't have to fit into the boxes of how society expects us to look or dress. This philosophy has been something that I have stuck by for many years," she explains.
Although Parveen finds it tough to describe her personal style, she shares that she values comfort and appreciates designs that are "out of the box" or offer an androgynous twist. "You should be comfortable in what you wear, even if you're in an oversized tee and sweatpants because you're not in the mood to dress up. That's ok," Parveen adds. Similar to Amiera, Parveen is also a fan of Singaporean label Beyond The Vines ("I've been following them for many years now.") and adds that she's "very proud and happy" to see how the label is helping to place local fashion on the map.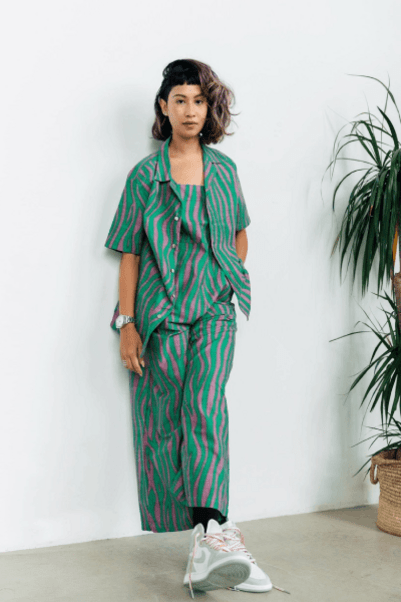 Parveen's purposeful outfit: A jumpsuit and collared shirt from Indonesia-based slow fashion brand Stain. "I discovered this brand a few months ago when I saw it on [ethical fashion and beauty boutique] Zerrin's Instagram. It made me stop by the boutique and buy the piece. I love the bold colours and patterns and I also love how they use eco-friendly materials and independent suppliers to preserve the craft and traditions," shares Parveen.
"My fashion philosophy? Less is better."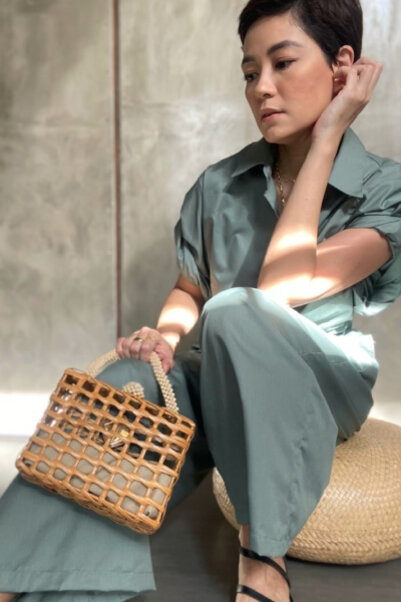 Lucien Villaruzz lives and breathes local fashion. As the founder of two local labels herself, (ethical children's clothing brand Little Luli and lifestyle brand Simple Essentials), the chic mother of one never passes up the opportunity to shine the spotlight on Filipino brands on her Instagram. "Some of my favourite local fashion brands include Anika, Christiana Manila, TopStop, Zarah Juan and HeyJow," Lucien says. Lucien reveals that she's even bonded with some of the designers and become friends with them too.
Sharing that she subscribes to an "easy, minimalist" style of dressing, Lucien prefers to invest in high-quality pieces that can be worn season after season. "My fashion philosophy would be 'Less is better'. I like to combine classics with a few trendy pieces," she explains.
Lucien's purposeful outfit: A colourful ensemble featuring Filipino fashion brands. "I admire how these local fashion designers always do their best to push their brands forward by creating products that are new to the senses. It's important to dress up in something that we're happy and comfortable in. To me, dressing up is an expression of who we are; we should be confident of what we wear, regardless of what others might say," concludes Lucien.
What is your personal style philosophy?
(Cover photo from: Amiera Raushan and Lucien Villaruzz)
Next, find out what tattoos mean to Gen Z.

Comments, questions or feedback? Email us at [email protected].