When it comes to skincare, I have several criteria that I look for. First, it shouldn't make me breakout horribly. Secondly, I need to be done within 10 to 15 minutes. And finally, clean and cruelty-free skincare takes priority. Scouring the aisles of beauty stores and browsing through Sephora pages takes a lot of time and commitment. Let's also not forget testing out a product one-by-one to see if my skin takes to it. In the past, I would just stick to my go-to cleanser and moisturiser combo and call it a day.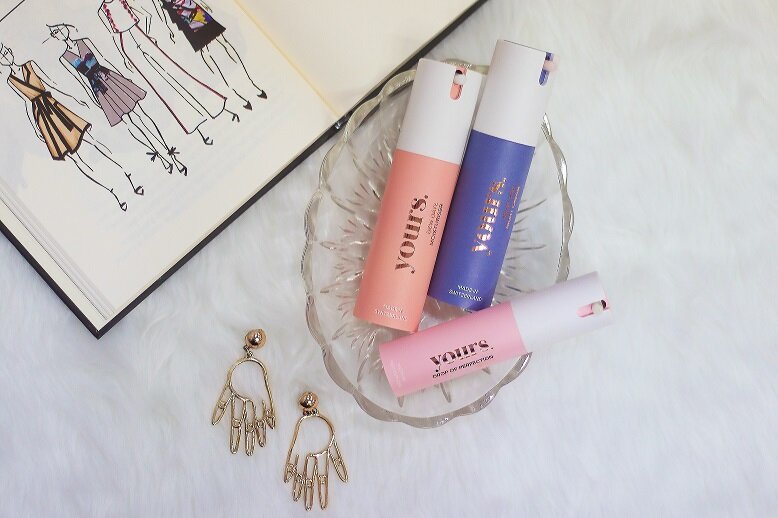 Yours
reached out to us to ask us to try out their personalised skincare kits. Who wouldn't want skincare product tailormade specifically for you? I was interested in seeing if their technology would be advanced enough to create a formulation that perfectly suits my skin concerns. Read on to find out how it went.
Claims
Yours is a clean beauty brand based in Singapore, but all products are made in Switzerland. The company claims that the Yours personalised skincare sets are truly bespoke for every individual's skin, lifestyle, and environment. The products are cruelty-free, toxin-free, paraben-free, sulfate-free, and phthalates-free too. The company promises to deliver "a box full of goodness and love" to your doorstep within five to seven days.
If your skin concerns change or experience a lifestyle/environment change after the skin assessment, you can retake the test on their website to get new formulations made for you. They claim that their products will give you dewy, healthy, and youthful-looking skin.
Skin Assessment Test
The questions they ask in the online skin assessment test help determine the perfect products to include in your personalised skincare kit.
The skin assessment was pretty straightforward. You simply indicate what your skin concerns were at the time of testing. Skin type, habits, sleeping schedule, vices, skin irritants, and level of activity are all factors taken into consideration. The test also prompts you to upload a selfie with your bare face in bright (not harsh) lighting. It's not required but the website claims that it would help the company finalise the items included in the subscription box. I was able to get a list of the products that will be sent to me prior to uploading my picture. I also got an e-mail about the contents of each product, creating transparency without the need for paper waste.
Packaging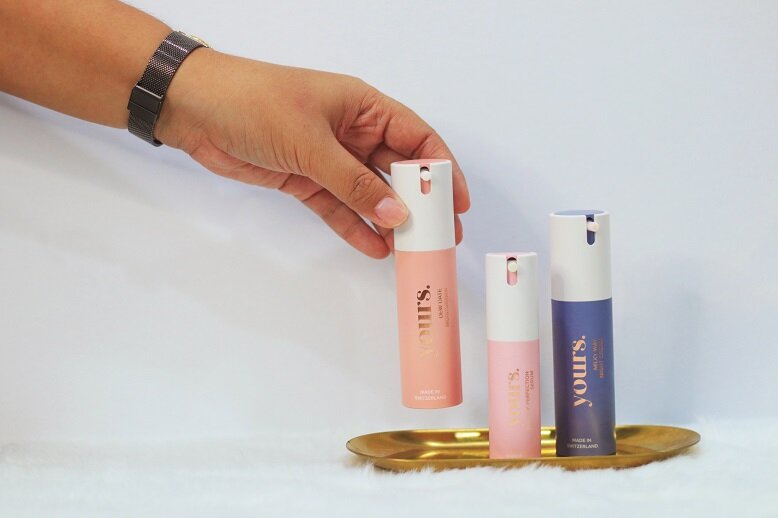 The Yours personalised skincare items came in a lovely, small blue box where they were arranged neatly inside. The components are sturdy and luxurious to the touch — surprisingly managing to arrive completely intact from its three-week trip from Singapore to the Philippines. In addition to their sturdiness, the blush pink and dusty violet colours indicate which product to use in the morning and the evening. The rose-gold font on the component hasn't smudged or faded away in the weeks I've been using the trio. It also came with a personal card from the company, which is a nice touch. The package also included a small manual on how to use the items, in the order that they should be applied during the day or at night.
Contents and Application
Based on my assessment results, I was given three items. These were the Drop of Perfection Serum, the Dew Date Moisturiser, and the Milky Way Night Cream. For reference, I have oily-combination skin leaning towards the oilier side. I will give a rundown of each product's appearance and ingredients, as well as my experience with it, one by one.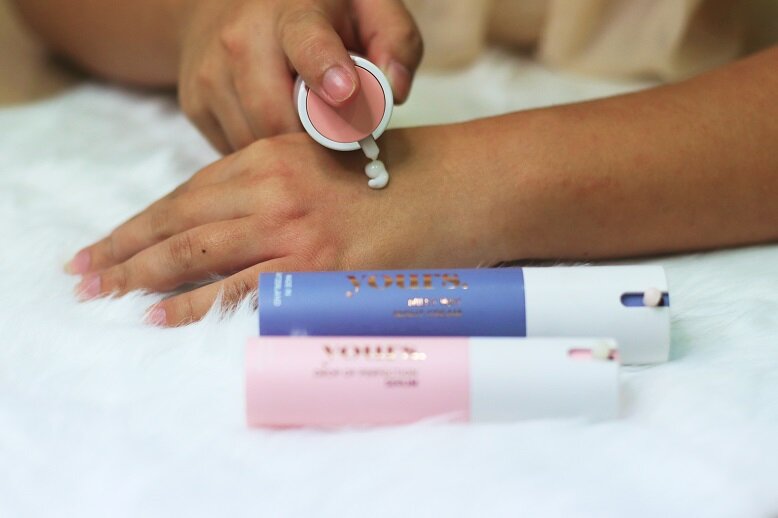 A small pump of my personalised Dew Date Moisturiser is enough to cover my entire face.
The
Drop of Perfection Serum
(USD29, 15ml) comes in a smaller pink bottle. Its consistency is like a drop of gold oil. Lightweight and easily absorbed into the skin, it was the first Yours product I tried. It was recommended that I apply it after toner, morning and night, in small dots all over my face and gently massage it from my nose outwards and up. Whatever minimal product left on my hands I applied on my neck. Since I tend to get shinier as the day goes on, I was quite hesitant to start using serums. However, I noticed that this serum didn't cause my skin to get oilier than usual since I started using it. I do wish that it came in a bigger bottle since it is supposed to be used twice a day. But since you really only need to apply a minimal amount, it will still last quite a while. I've been religiously using it for almost two months and have yet to run out. Its main ingredients were Alp sebum, which reduces sebum production and minimises pores; sebocea, to lighten skin's complexion and prevent skin irritation; and nyo sensyl, a zinc-enriched acne-soothing active.
With the Dew Date Moisturiser (USD20, 30ml), I really hoped it would help control the amount of shine my skin produces. I wanted a lightweight moisturiser that my skin can absorb quickly. Luckily, I got exactly what I wanted with the Dew Date Moisturiser. Formulated with squalane and vitamin E, its white cream melts into the skin within minutes of application. I noticed that my skin was dewy, not greasy, as the day progressed. It made my skin feel soft and supple which I really liked, especially when used with the Drop of Perfection Serum.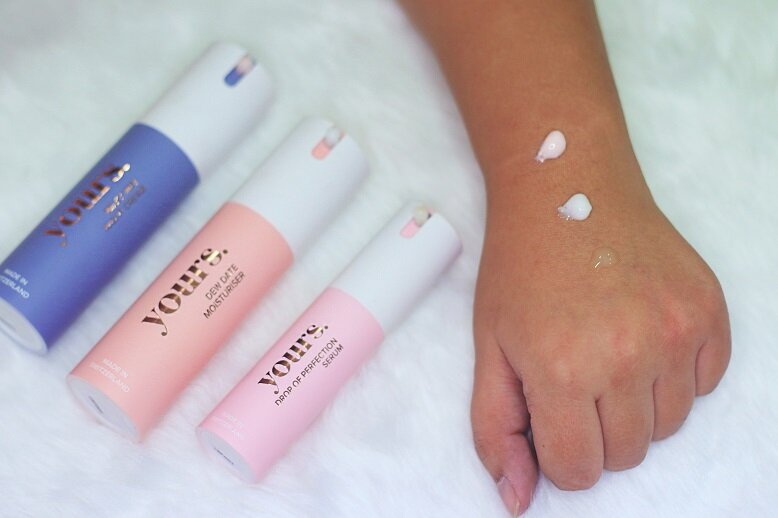 From top to bottom: one pump each of the personalised formulas for my Milky Way Night Cream, the Dew Date Moisturiser, and the Drop of Perfection Serum from Yours.
To be quite honest, my nighttime routine previously involved cleanser and toner before going to bed. No moisturiser, eye cream, nada. This mostly stemmed from not liking the sticky, heavy feeling of most night creams. Because of this, I was pleasantly surprised with the
Milky Way Night Cream
(USD25, 30ml). Similar to the other items in my personalised Yours skincare set, my skin eagerly drank it in. Its formula consists of detoxored complex, an anti-pollutant, toxin cleanser, and skin renewer; betaine, or sugar beet, to soothe the skin; and lastly, sunflower oil which is rich in vitamins A, D, and E. It has a pretty pink hue, differentiating it from the Dew Date Moisturiser, and a very pleasant rose scent. Though I prefer my skincare to be fragrance-free, the Milky Way's particular scent wasn't cloying at all. It's nice to go to sleep with smelling like a bouquet of flowers.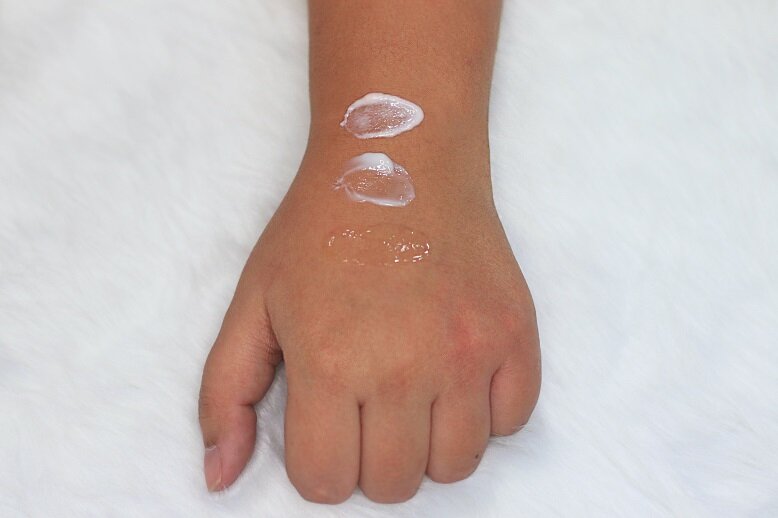 Swatches of my personalised skincare items from Yours.
I didn't get to try their eye serum (USD25, 10ml), as dark eye circles weren't a major concern during the initial assessment.
Final Thoughts
To sum up my experience with Yours personalised skincare, it was absolutely great. I appreciate having the research and purchasing process being done for me. If you're a skincare newbie or minimalist, this service is perfect for you. To be honest, lazy skincare is the best way to describe it — and I mean that in the best way possible.
Being overwhelmed with the options currently available in the market has become a deterrent for buyers. They often gravitate towards what is conveniently available and affordable. While Yours isn't cheap — it costs around USD79 for a first-time order of a complete set, USD99 afterwards — the service acts as a skincare consultant, personal shopper, and guide. I think they're a good starting point if you're just beginning to introduce skincare into your routine. If you also want to cut back on the items you use daily, their range of products will certainly have a match for you. One complete Yours personalised skincare set can last for months and you get a lot for what you pay for.
Was Yours able to create my perfect skincare set? In my opinion, it did. I didn't experience any skin purging or irritation, my skin soaked up all the products with gusto, and I noticed that my oily areas were less shiny as the weeks went on. Though I do have some dry patches on the perimeter of my skin that the moisturisers weren't able to address, most of my skin concerns were solved. They promised to deliver dewy, glowing, healthy, youthful-looking skin with their products. In my case, that promise was fulfilled.
*The products were sent as a press gift. The views and opinion of the reviewer are independent and purely editorial.

Take the Yours Skin Assessment Test and purchase a personalised Fully Yours Complete Regimen set on their website for 10% off using the code FRIENDS.

Comments, questions or feedback? Email us at [email protected].