How can one not fall in love with a cleansing balm charmingly called Then I Met You Living Cleansing Balm? The whole packaging — from the soft butter texture, the bright orange colour that owes its hue to the oxidant rich sea buckthorn and the periwinkle blue container — is designed to delight. Fun fact: the pairing of blue and orange, reminiscent of a blue and orange sunset, even has its own hashtag #timyblue. It's just the product one needs to add some joy into the ritual of removing the makeup and grime off your face at night.
This oil cleanser, to be used as the first step of K-beauty double cleansing regime has won numerous awards, notably, 2019 Allure Best of Beauty Award, as well as praises from beauty editors like this one from allure.com and positive reviews from vloggers like James Welsh and Liah Hoo.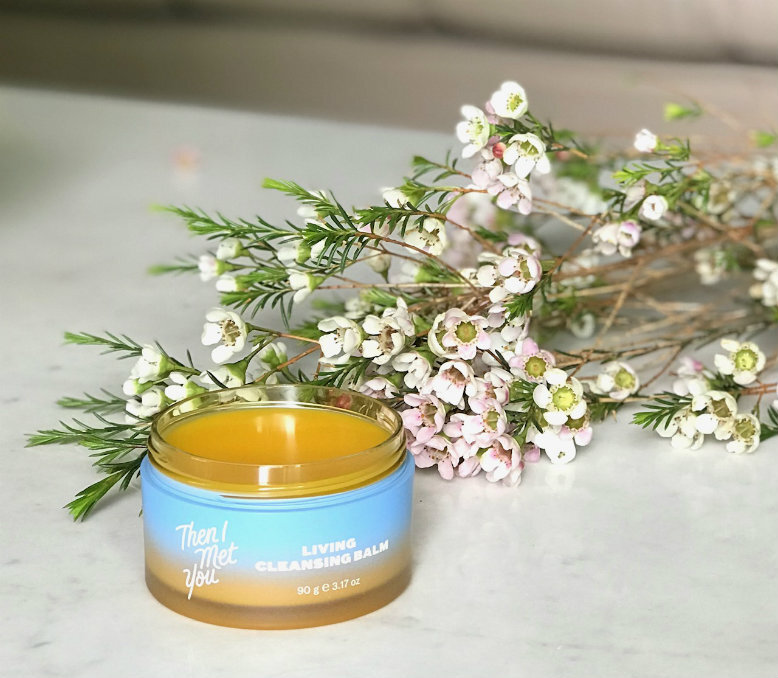 Then I Met You Living Cleansing Balm, USD38
About the brand
Before I wax lyrical about the product, the back story first. This brand is the brainchild of Charlotte Cho, founder of the popular e-commerce site www.sokoglam.com. It is based on her decade of deep-diving into K-beauty, learning about skincare products and ingredients and listening to consumers. She wanted to formulate a cleansing balm that is rich, luxurious and capable of removing makeup, including eye makeup without making vision blurry. The product must also feel great and smell great.
Packaging and Price
There are only four products in the Then I Met You product line, two of which are designed for double cleansing, K-beauty's foundation of good skin. One is Step 1 Living Cleansing Balm (USD38, 90g), an oil-based cleanser to remove oil-based impurities and Step 2 Soothing Tea Cleansing Gel (USD36, 100ml) to remove water-based impurities.
Ingredients
The ingredients list reads like the contents of a well-formulated moisturiser which gives the wow factor for this cleansing balm. It removes oil-based makeup and sunblock gently and effectively without compromising the skin barrier. Besides nourishing olive oil, the other key ingredient is Seaberry or sea buckthorn oil, which is rich in fatty acids and omega-6. There is neither synthetic colourant nor fragrance in the cleanser. The cleanser's bright orange colouring is due to the high lycopene and carotenoid content of sea buckthorn oil. Meanwhile, it has an uplifting natural fragrance from a blend of rosemary, persimmon and grapefruit oil.
What the product does not have deserves to be mentioned — it is free of alcohol, paraben, synthetic fragrance and mineral oil. An environmentalist may also like to know that this product is formulated without polyethylene, a point Charlotte Cho is very proud of as a lot of research and development went into finding a replacement while maintaining the texture she wanted.
Does this cleanser deserve the hype?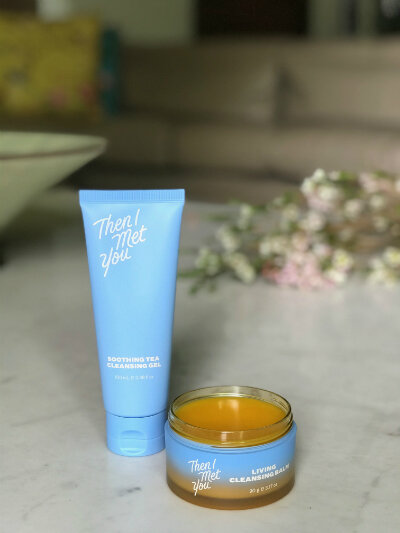 #2 Then I Met You The Cleansing Duo, USD68
I would suggest pairing the Living Cleansing Balm with the brand's Soothing Tea Cleansing Gel, which is step two of double cleansing, to remove water-based impurities. The gel cleanser is sulphate-free with a pH of 6 and formulated with PHAs or polyhydroxy acids (the gentler cousin of AHAs or alpha-hydroxy acids and BHAs or beta-hydroxy acids). It has hydrating ingredients like glycerine and sodium hyaluronate; skin brightening ingredients like fermented rice water (sake); and is fragranced with a fusion of liquorice root and mandarin citrus to invigorate the senses.
Did the cleanser deliver on its promises? Oh yes, it did. Aside from the oil cleanser giving my face a gentle and effective cleanse, it also smells heavenly. Along with the gel cleanser, the oil cleanser actually makes me look forward to cleaning my face at night.
Both cleansers are packaged as The Cleansing Duo at USD68 and are available on thenimetyou.com. Shipping to Singapore added USD9 to my bill and the products reached me in about 11 days.
*The product was purchased by the reviewer. The views and the opinion of the reviewer are independent and purely editorial.

Next, see if the Pyunkang Yul Essence Toner is a game-changer.
Comments, questions or feedback? Email us at [email protected].