Gone are the days when a new cellphone model would excite me. These days, tech in beauty is more my jam. My first foray into the beauty gadget world was through the Foreo Luna Mini 2, which left quite a good impression on me, creating hope for more fun finds in the tech-beauty dimension. When first presented with the prospect of trying out the Skin Inc Optimizer Voyage Tri Light ++, however, my old sceptical self shone through. I may have lucked out in my first gadget, but did this one surprise me in a good way as well?
What's the Skin Inc Optimizer Voyage Tri Light ++?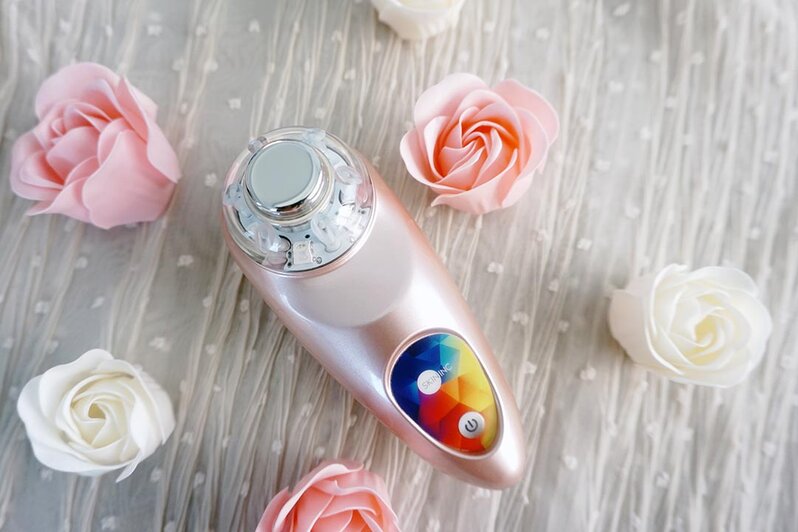 The device is said to combine the power of NASA-inspired LED Chromotherapy to activate the light receptors in the skin and Low Frequency Stimulation to address different skin concerns like brightening, anti-ageing, blemish control and more. The original version of the teardrop-shaped device has three lights while the limited-edition one in sleek Rose Gold, which I got to try, has five.
Turning the device on (and off) and choosing your light based on your concern is pretty straightforward with just pressing the power button. Red is for repairing damaged skin cells, yellow is for brightening the complexion, blue is for soothing sensitive and acne-prone skin, orange is for a combination of repair and brightening, and purple is for a mix of soothing and anti-ageing. A couple of other benefits the device promise are boosting the absorption of skincare products and V-sculpt, which helps give you a lifted V-shape and reduces water retention.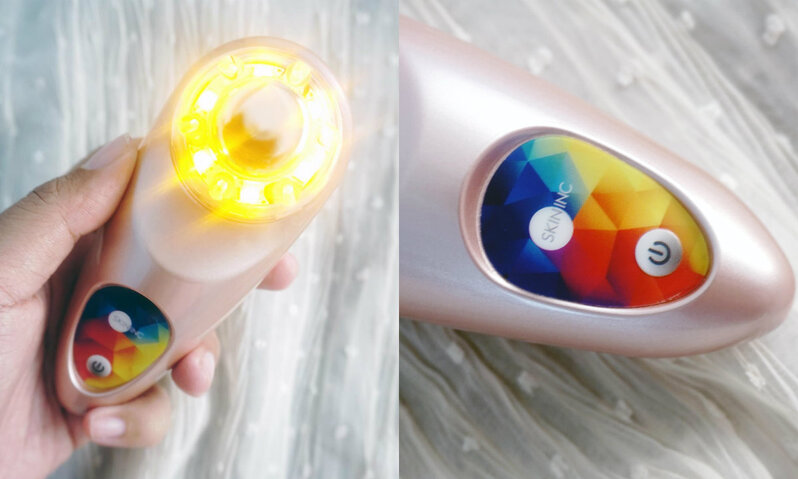 How to use it
Using it is pretty straightforward, too. Just pick the light according to your skin concern, glide the circular applicator on with the help of a water-based product (a serum or a mask) using circular, upward motions for 10 minutes, et voila! — facial in a flash.

I have quite a few skin concerns but I wanted to test the device on those where I can see a quantifiable result a day or so after use. So I alternated the yellow and blue lights (with some days using the other lights so I can test them all out). I used it with the Deoproce Aloe Vera Gel after putting on my toner. It does give off a bit of warmth but nothing I was uncomfortable with.
How was my experience?
The day after using it for the first time, I was surprised to see my skin glowing; I almost squealed. Using it for 10 minutes for a couple of days was bearable, but I'd have to admit that using it for that long a time every single day proved to be cumbersome. After a few more days, I felt like I was already accustomed to how my skin looked so I wasn't wowed by the results anymore. But I saw a friend sometime during my first week of testing it and she commented that my skin looked better than when we last saw each other. Two weeks into using the device, another friend shared how "fresh" she thought I look.
Overall thoughts
I'll admit that there were qualms when I first started using it, with questions such as "How would I know if it really works or if it's my mask that's carrying the weight?", "Can I do this by using just any LED light in a similar colour?", "Will I get similar results with my cocktail of acids?" and "Is it worthy of its price?" swirling in my head.
Now that I've arrived at the end of my testing voyage (pun intended), I'd say it really does work (my skin looks calmer now and has a nice glow to it) — just don't expect it to be a miracle-worker that will grant all your skin-related wishes overnight. It's more an investment that grows over time than a straight-up purchase to fill an urgent need. So if you can commit to its price of SGD398/USD295, I say go right ahead. Or maybe wait until they release a version that's rechargeable; the latest one's powered by three AAA batteries — that would make the purchase even more worth it.
Get the Skin Inc Optimizer Voyage Tri-Light here.
Comments, questions or feedback? Email us at [email protected].