I've been a fan of micellar waters for the longest time as I love how they are gentle yet effective in removing makeup from my sensitive skin. Couple this with my minimalist approach to skincare, I believed that this single step would suffice until I read about the benefits of double cleansing (K-beauty fans, I hear you!).
Double cleansing involves cleansing your skin with an oil-based cleanser followed by a water-based cleanser. This two-step approach ensures that you've thoroughly removed grime, makeup, SPF and other impurities from your skin while preparing it for better absorption of your serums and moisturisers. With this in mind, I decided to incorporate Glow Recipe's Papaya Sorbet Enzyme Cleansing Balm into my skincare routine to see if it would convince me to become a double cleanse enthusiast. Here's how it went.
First impressions, claims and packaging
I was initially hesitant to add an extra step to my cleansing routine as I wanted to keep it as simple and fuss-free as possible. That said, Glow Recipe's fruit-based products are such mood lifters and they never fail to remind me to have fun with my skincare routine.
Housed in a cheery, orange-coloured glass jar, the Papaya Sorbet Enzyme Cleansing Balm boasts a creamy texture and a bubblegum-sweet scent. This fragrance-free product is formulated with key fruit-based ingredients such as Papaya Enzymes, Papaya Seed Oil and Blueberry Extract to help dissolve makeup, dirt and oil from your face.
Papaya Enzymes help to resurface and soothe the skin, while Papaya Seed Oil is rich in fatty acids that keep the skin hydrated. Blueberry Extract, meanwhile, has antioxidant properties that help protect the skin against environmental aggressors.

Usage and application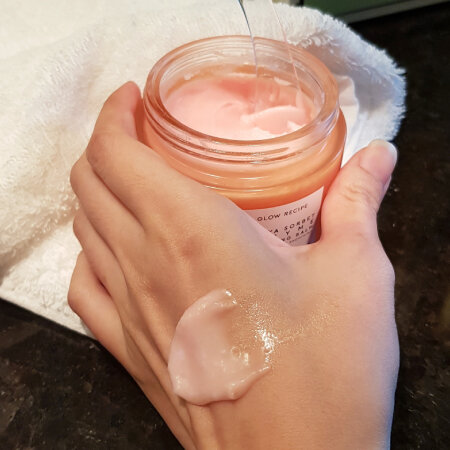 In contrast with other makeup removing cleansers, you're required to apply the product on dry skin. I scooped up a strawberry-sized amount of the balm with my dry hands and applied it across the key areas of my face. Then, for around a minute or so, I massaged it on my skin, especially around areas where I had more makeup.
The process felt quite sensorial and relaxing as I was much more hands-on with my skincare routine than my previous preference for using cotton rounds to apply my toners and micellar waters. Its sweet scent didn't hurt either. That said, I wasn't the biggest fan of the product's buttery, wax-like consistency. Even after thoroughly washing my face with two to three rounds of water, I could still feel the thin layer of the product on my skin and it made me think that my face wasn't "clean."
Furthermore, this product alone did not suffice in removing all of the makeup from my skin. Upon patting my face dry after using the balm, I still found traces of foundation on my facial cloth, so I proceeded to use a cleanser as this two-step routine had intended.

Final thoughts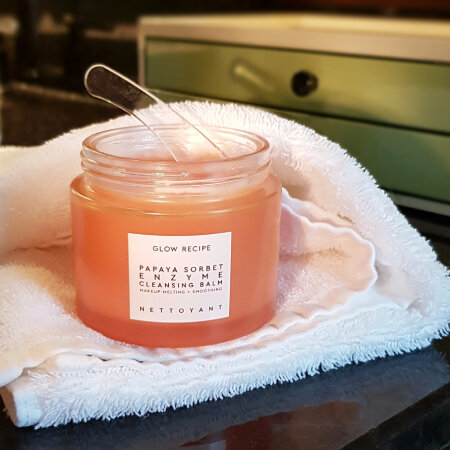 It's been quite an interesting and sensorial experience to have tried this cleansing balm and working on a two-step cleansing routine. I also noticed how I was spending a little more quality time on my face — from massaging it to cleansing it thoroughly to ensure that it's free from dirt and grime — rather than a quick rinse-and-go.
That said, I believe I'll need more convincing from my K-beauty obsessed peers, and will be trying out other cleansing balms in the market before I can become a full-time convert of the double cleanse routine. If you're interested to try out Glow Recipe's Papaya Sorbet Enzyme Cleansing Balm, you can find it at Sephora at SGD49/MYR145/~USD37 for 100ML.
*The product was sent as a press gift. The views and the opinion of the reviewer are independent and purely editorial.
Now, hear our thoughts after trying out the Kiehl's Calendula Toner.

Comments, questions or feedback? Email us at [email protected].