Gentle beauty reminder: Beyond our face, other areas of our body such as our hands, arms, back and legs can exhibit signs of premature skin ageing too, especially if we frequently expose our bodies to the sun and other external aggressors.
Let's not forget other potential skincare issues that could also arise, such as clogged pores (AKA backne), dryness and an uneven skin tone. If you've been thinking of building a solid bodycare routine like I am, read on as I recently tried Paula's Choice 5% Niacinamide Body Serum and Weightless Body Treatment 2% BHA.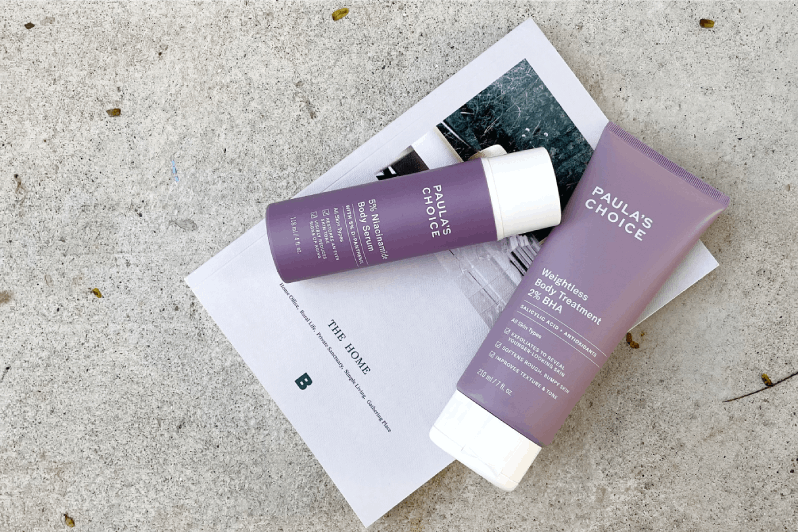 How did the products fare on my dry, sensitive skin? Should you add them to your bodycare routine? Read my review to find out.
*The products were sent as press gifts. The views and opinions of the reviewer are independent and purely editorial.
Paula's Choice 5% Niacinamide Body Serum: claims, ingredients and texture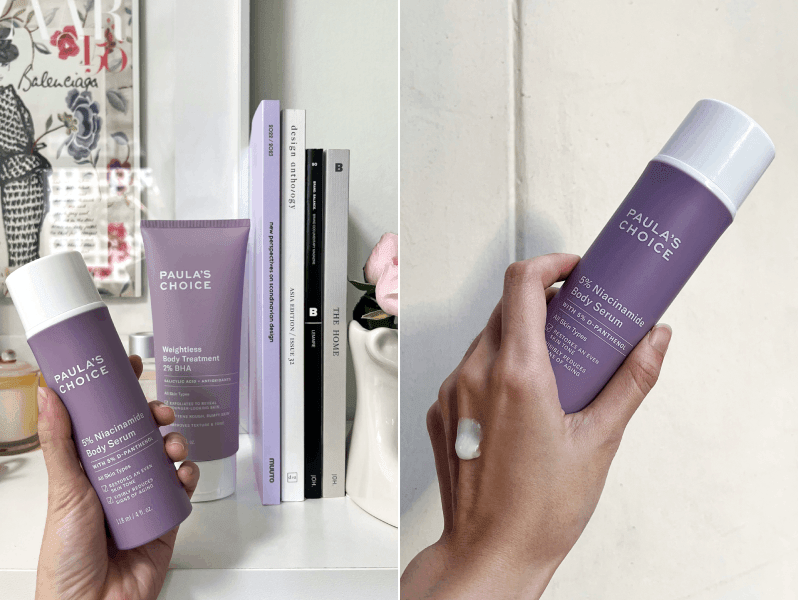 The 5% Niacinamide Body Serum is a great starter product if you're new to bodycare. It is designed to address skin woes such as discolouration, damage from hair removal and a weakened skin barrier. Its main ingredients include niacinamide, which helps with diminishing dark spots and improving your skin texture, and d-panthenol, also known as vitamin B5, to hydrate and soothe the skin.
The serum is housed in a lilac-hued pump bottle. It dispenses a pretty decent amount that was enough to cover my forearm. It has a runnier texture compared to the Weightless Body Treatment (we'll go into that later). It absorbed quickly into my skin and didn't feel sticky to the touch. It also has a pleasant and faint vanilla-like scent. I experienced the product's hydrating benefits almost immediately and am inclined to continue using it.
Adding the 5% Niacinamide Body Serum to your routine
Similar to your facial serums, you are recommended to apply this after cleansing and exfoliating your body. You are also encouraged to apply on areas of concern from the neck down — this can range from stubborn post-acne marks on your back and elbows to areas prone to discolouration, such as your chest. Do complete your AM routine with a broad-spectrum sunscreen rated SPF 30 or greater.
Paula's Choice Weightless Body Treatment 2% BHA: claims, ingredients and texture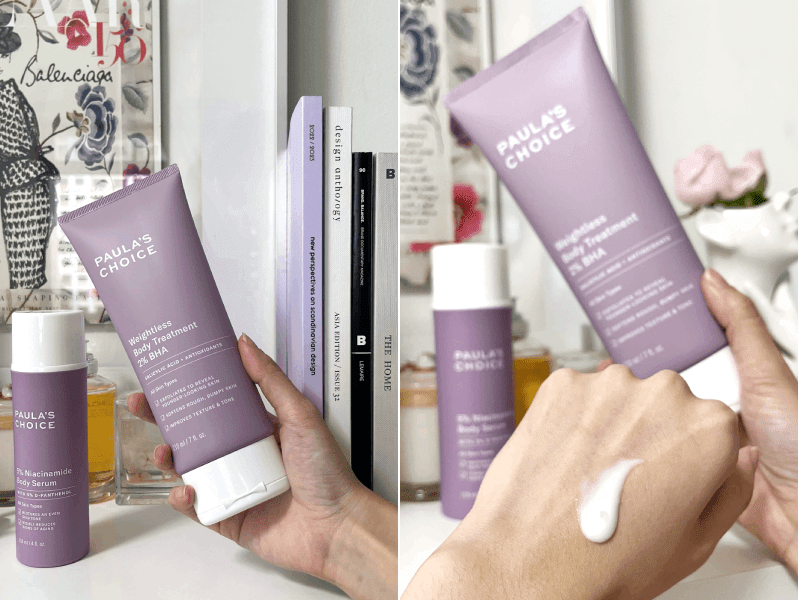 Meanwhile, the Weightless Body Treatment strives to go a step further than your regular body lotions. On top of its skin-softening and moisturising properties, it is formulated with 2% BHA (beta hydroxy acid) — specifically salicylic acid — to exfoliate layers of dead skin for radiant, smooth skin. It also contains antioxidants to safeguard the skin and claims to be 100% fragrance-free.
The lotion comes in a lilac-coloured squeeze tube. The product tends to flow out pretty quickly whenever I uncap the product, so I was careful to dispense the amount I needed. It has a faint nutty scent and a slightly tacky texture but I didn't mind these. It still felt lightweight and smooth on my skin. As such, it was easy to spread the product across different parts of my body such as my back and elbows.
BHAs for the body: what they are and how to use it
New to using BHAs in your bodycare? The most important rule when using exfoliants such as BHAs in your beauty routine is to follow them up with a broad-spectrum sunscreen rated SPF 30 or greater if you're applying them in the daytime.
BHAs are also gentle enough to be used on sensitive skin and are oil-soluble, thus they are able to reach under your skin to clear excess oil and other substances that are potentially clogging your pores.
As someone with sensitive skin, this product worked perfectly well on my skin and I could immediately feel its skin-softening benefits, especially on my dry hands. You are recommended to apply this daily before your moisturiser for "all-over smoothing" or as a spot treatment.
My main skin concern is dryness as I spend most of my time in a dry and air-conditioned environment. I use this once every two days in the evenings before I head to bed.
Final verdict on Paula's Choice bodycare duo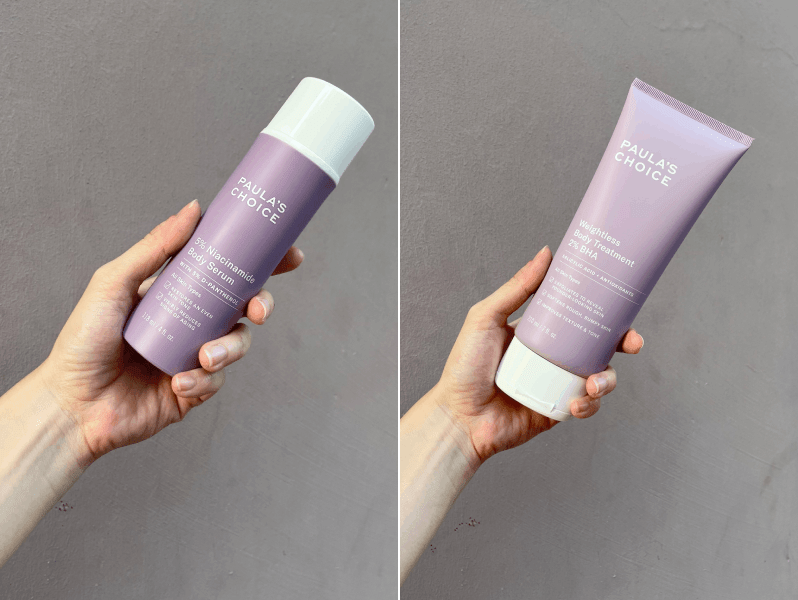 I'm inclined to continue using both the 5% Niacinamide Body Serum and the Weightless Body Treatment 2% BHA. The body serum has proved to be a hydrating saviour for my dry skin and I intend to layer this with my regular body moisturiser. As for the body treatment, I see it as a great first step into incorporating a gentle yet sensitive skin-friendly exfoliating acid into my body care routine.
If you've been paying enough attention to your skincare routine, this is your sign to step up on your bodycare game as well. Beyond your trusty hand creams, adding a gentle, hydrating lotion and serum such as this duo from Paula's Choice can help to keep your skin health in check and keep you looking smooth and radiant from top to toe.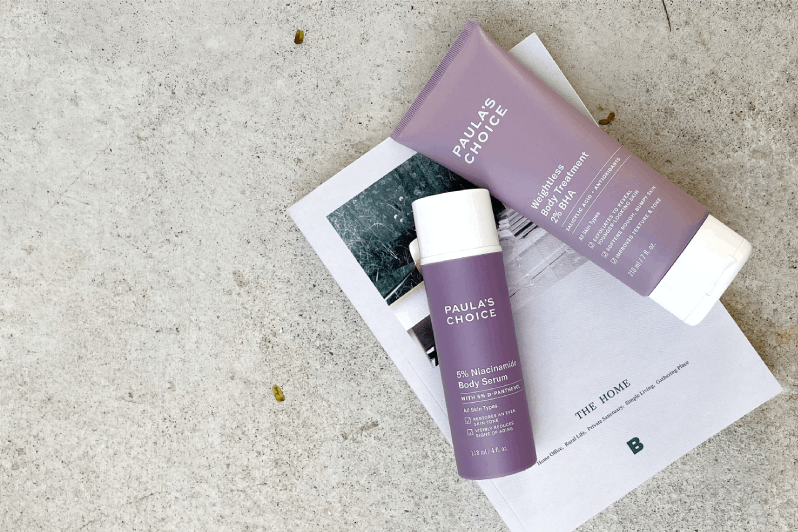 Keen to check them out? The 5% Niacinamide Body Serum is currently sold out online. In the meantime, you can join the waiting list for updates or check out other bodycare products by the brand. The Weightless Body Treatment is priced at SGD19 per 60ML and is available on Paula's Choice's website and Shopee Mall.
FYI: Exposure to pollution can weaken your skin. Read to find out if you should add The Body Shop's Edelweiss Daily Serum Concentrate to your routine.

Comments, questions or feedback? Email us at [email protected].