Skincare check: When was the last time you put the same level of attention to your bodycare as you do to your facial skincare? If it's not recently, your body's skin may be calling for some needed moisture. Will adding a nourishing bodycare product like the Drunk Elephant Wonderwild™ Miracle Butter do the trick?
#TBLBureau Head of Content and bodycare minimalist Becks tried it to see if it helps nourish the extra dry or patchy spots on her skin and give her the luxuriously rich moisturising experience she's looking for. Read on for her full review.
*The product was sent as a press gift. The views and opinions of the reviewer are independent and purely editorial.
Drunk Elephant Wonderwild™ Miracle Butter packaging
"Drunk Elephant's product packaging is always on-trend with their quirky product names, signature neon tones and (on this product) cute icons," Becks said. "At 60ML, it seems rather small in size for an all-over salve but I soon learned that a little goes a long way for this product."
Other than that, there's nothing much to say about the product's packaging, cute as it may be. It's the contents of the formula that matters.
Drunk Elephant Wonderwild™ Miracle Butter first impressions and claims
"I am lazy when it comes to bodycare, so I generally lean towards a routine that offers me as few steps as possible," Becks said. "Since I only use one skincare product for my body, I tend to prefer my body moisturiser to feel luxuriously rich on my skin. That's something I'd usually don't go for in my facial skincare." The Drunk Elephant Wonderwild™ Miracle Butter seems to be just the product she's looking for.
It's formulated with a blend of restorative plant butters and oils to seal in moisture and deeply nourish the skin. Becks is most interested in the marula butter, cupuaçu butter and shea butter concoction since these will help correct the dry patches she has. And since dry skin is also prone to irritation, she was pleased to see the presence of meadowfoam and rosehip oils which are widely known for their soothing properties.
However, since the product's ingredients make it an occlusive — a thick moisturising agent — she did wonder if it can be used on the face given that Singapore's pretty humid. Drunk Elephant also claims that you can use it on the cheeks and lips, as well as any dryness-prone body parts such as the elbows and heels.
Applying the Drunk Elephant Wonderwild™ Miracle Butter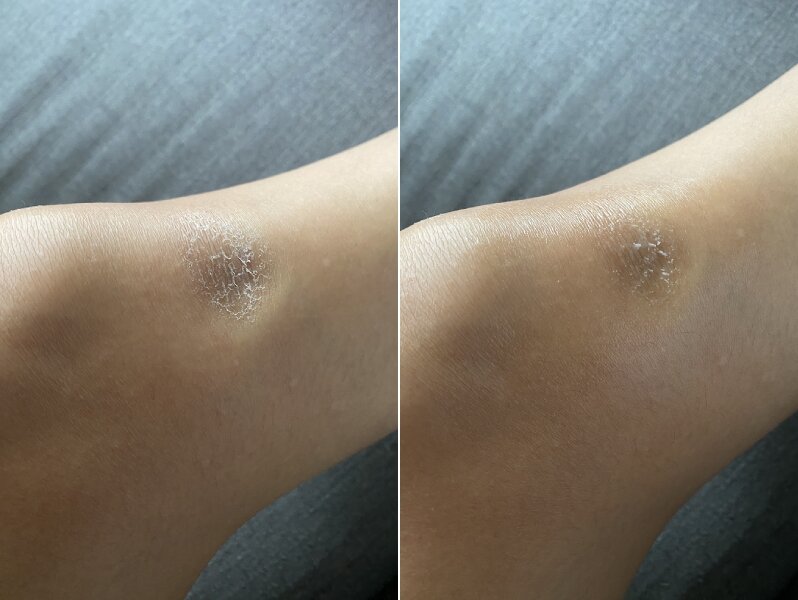 Since the salve has a lot of butters and oils in its formula, it has a very thick and creamy consistency. "It's buttery and feels like a rich balm," Becks observed.
It glides on well too. "I love how it goes on smoothly and how it feels luxuriously rich on the skin," she added. It doesn't leave any tackiness on the skin and feels quite comfortable, even considering Singapore's humidity. However, it does leave a slightly sticky residue on your hands right after applying. If you're in a rush, it's better to wipe off your hands before picking up anything else to prevent messes.
Another pleasant surprise? You won't find a hint of fragrance when you apply it. "I was quite taken aback by how it's completely scentless. I expected a natural scent but… nothing."
But does it work to correct dry skin? Becks shared that she can definitely see an improvement in her skin texture. "It definitely softened the dry patches on my body," she said. After using it for several months, the dry patches on her skin have also fully disappeared.
How do you like your body moisturisers?
Final verdict on the Drunk Elephant Wonderwild™ Miracle Butter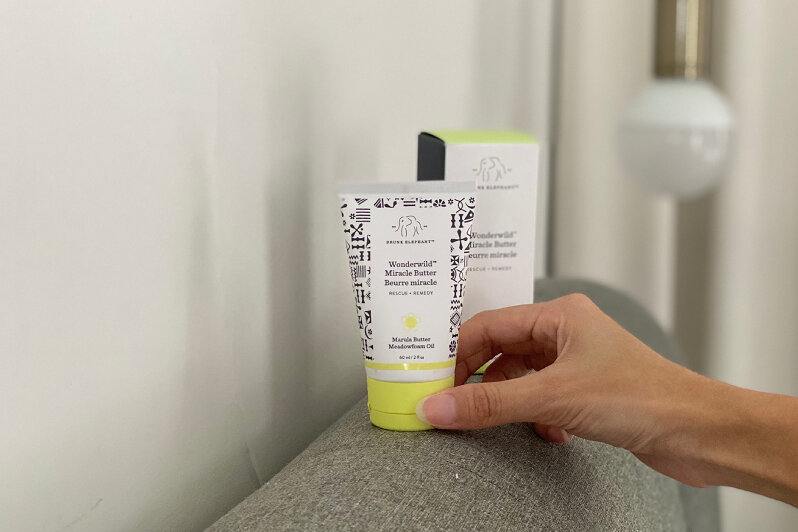 Overall, this body moisturiser has proven to be a wonderful salve for dry skin. "I would call this my 'desperate-measures product'," Becks shared. "I'd definitely consider getting this product if I ever encounter dry skin again."
She'd recommend it for people who have dry skin, travelling to colder climates, or looking for a plant-based bodycare product. If you have acne-prone skin, however, she recommends going for another product. If you really want to use it on your face, it's better to use it sparingly and only for dry skin emergencies.
The Drunk Elephant Wonderwild™ Miracle Butter is available in Singapore through Sephora, where it's priced at SGD55 per 60ML.
Want to go hands-free with your bodycare? Check out this Indonesian bodycare collection.
Comments, questions or feedback? Email us at [email protected].