Deodorant is one of those beauty slash grooming items that I — and I'm guessing most of us — skimp on. I would willingly splurge on serums, lip tints and sunblock. But spending big bucks on a deodorant? Seems a bit unnecessary. That said, I've always wondered how a high-end deodorant compares to a drugstore option. Is it really any better? I finally had the opportunity to test one out when I was asked to review the award-winning Kopari Coconut Deo.
The main selling point of this popular natural deodorant is that it's aluminium-free and doesn't contain any controversial ingredients like paraben, silicone and phthalates. Why go aluminium-free? The jury is still out on this, but there have been discussions that aluminium, which is present in most antiperspirants to block sweat glands, are causing toxins to be built up in our lymph nodes. So, in theory, using an aluminium-free deodorant can keep your mind at peace and promote healthy pit sweating.
If it doesn't use the traditional ingredients of keeping your pits odour-free, then what does Kopari Coconut Deo use? The answer is in the name: it's the antimicrobial, antibacterial natural coconut. As a bonus, coconut is also a good moisturiser so using Kopari Coconut Deo is like putting skincare on your underarms. Sounds like a sweet deal, right? Keep reading to know if it's worth swapping your current deo for.
Packaging and appearance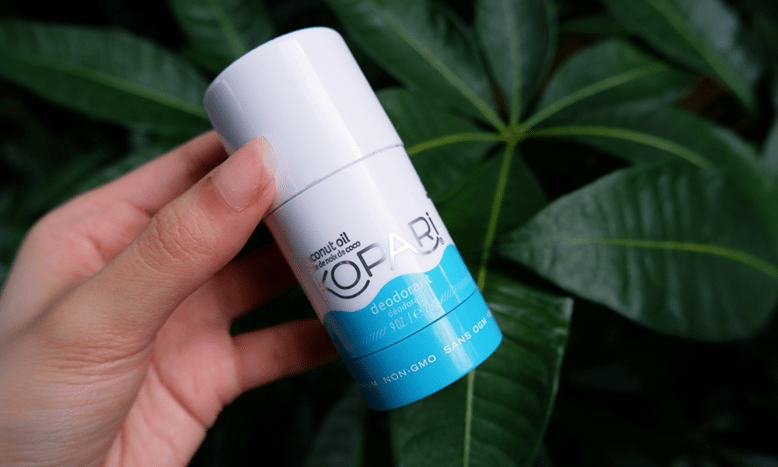 I love that Kopari is straight-forward when it comes to packaging — no unnecessary frills, rollers and the like, which are common in drugstore deodorants. It's very easy to use, just screw off the cap and glide the product on your underarms. Plus, the minimalist two-toned design is also super cute. No complaints here!
Texture and fragrance
You would think that putting an oil-based product on your armpits will be uncomfortable and greasy, but that's not the case with this one. Surprisingly, it just feels like a lightweight moisturiser. You don't have to worry about putting too much because the product is well-solidified (stored on my vanity table; no melting or spilling even in the afternoon) and just one or two swipes is enough to cover the underarm area. It also doesn't transfer or leave any stain marks on clothes, unlike some drugstore options.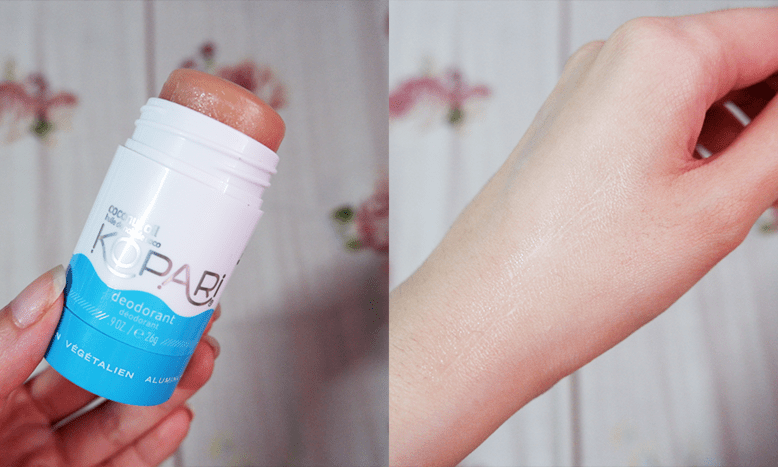 Kopari Coconut Deo is solid but melts into a lightweight creamy texture when applied on skin
As for the fragrance, I would say that it has a strong scent and people who don't like anything overly sweet-smelling will find it off-putting. But personally, I like this coconut scent with a hint of 'salty' whiff. It reminds me of carefree days lounging at the beach. Ahh!
Application and usage
Confession time: the reason why I don't splurge on deodorants is that I rarely use it. Yup, you read that right! I only use them whenever I go to an exercise class because things can get really funky and sweaty and for important events to make sure that I'm covered. On regular days, I just skip it because — not to brag — but I don't sweat a lot or have strong body odour.
To effectively give this a test, I used this before going to my yoga and barre classes. In both times, I had no problem at all with its effectivity. I didn't experience body odour, but the sweating was really intense since it doesn't have the anti-perspiration feature a common drugstore deodorant has.
On their website, Kopari explains that there's a purging period when you first use this deodorant because you're "detoxing" all the aluminium residues on your armpits. They cautioned that for the first few days of using, you may still experience body odour but it will get better after you finish your detox. However, I didn't really experience this; it just straight-up worked in keeping the funk at bay.

For me, the best feature of the Kopari Coconut Deo is its moisturising properties. It may have not whitened or made any visible impact on my underarm skin but it did make it smoother and plumper, which I never experienced in years of using a drugstore deodorant.
Overall thoughts
I'm all for plant-based natural alternatives that are vegan-friendly so I really like the concept of using coconut oil instead aluminium for managing body odour. However, the price (SGD25/USD14) is pretty steep if you compare it to its drugstore counterpart so it may be more of a once-in-a-while splurge for me. It does have many advantages: no non-sense packaging, unique beachy scent, clean ingredient list and super hydrating. So if you're someone who puts a premium on these factors then I'd say go for it.
Read more beauty reviews here.

Comments, questions or feedback? Email us at [email protected].