During my media trip at the LG headquarters in Seoul last July, we were given the chance to test and review some of their latest innovations. Among their new offerings, I gravitated the most towards the Pra.L Total Lift Up Care. You see, at age 46, sagging skin is now one of my key skincare concerns. And this beauty gadget promises to help improve skin elasticity and lift facial skin when used twice a week, so it seemed to be the one that can address my concern.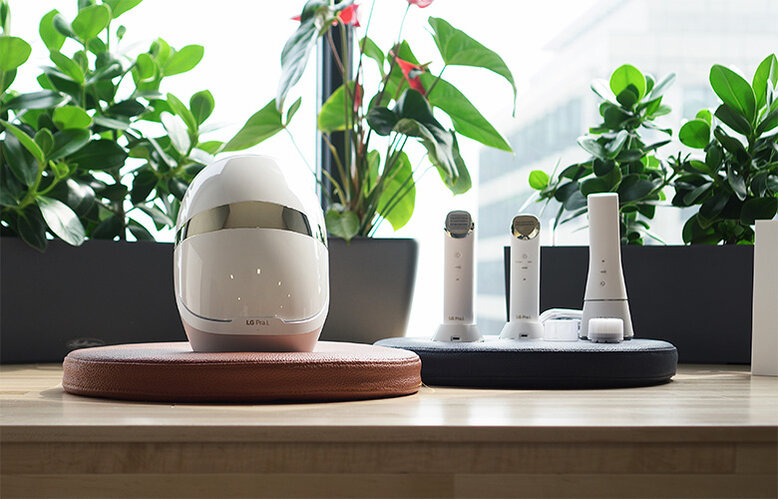 I started noticing skin sagging issues during my mid-30s, and they became more visible in my late 30s. Since then, I've tried out various methods to bring back the bounce on my skin, and I did have some degree of success. But, truly, the effectivity of these treatments depends on how diligent I am about keeping my regular treatment sessions.
Of course, sometimes life happens and I would slack. Between juggling a business and taking care of three young kids, it's not always easy to find time for professional treatments. It's also one of the reasons why the Pra.L Total Lift Up Care caught my fancy. Because it's a portable device, I can do some self-maintenance at home when I have to postpone my visits to my facialist.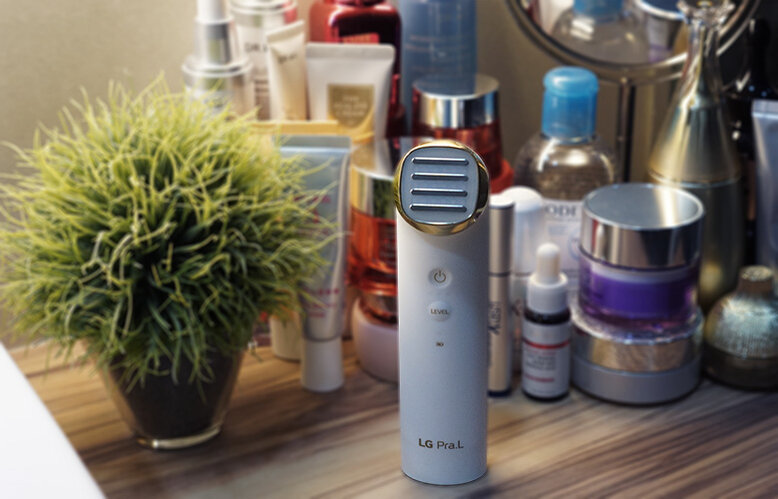 With all these in mind, I was so excited to try it. Keep reading to learn about my experience using the Pra.L Total Lift Up Care and how it compares to other similar devices that I have used in the past.

Built and usage
What I love most about the Pra.L Total Lift Up Care is that it's wireless. This means I can leave it in my bathroom next to the sink with all my skincare products. By doing this, using it becomes a natural part of my skincare routine before bedtime. It also makes it easy to glide around my face. Compared to other similar devices, which need to be plugged in, using this is just seamless.
Another thing that I like is its weight. It's not so heavy that it would strain your wrists while using it, but it's also not very lightweight that you wouldn't have good leverage for when you move it on your skin. The powdery rubber feel of the device makes it comfortable to hold in the hand.
Testing the features
All the devices under the LG Pra.L series has the voice guidance feature, which I like. When you turn on the product, the voice assistance tells you which mode you're in and guides you in your routine. You can also choose to turn off the voice assistance if it's already late in the night and you don't want to disturb anyone. There are three modes to choose from: Total Care mode (for tightening + lifting), Tightening mode, and Lifting mode. You can rotate through the three modes by holding the level button for about five seconds.
It's also worth mentioning that the head of the device is made with medical material; it's safe for the skin and easy to clean. Before you start, clean your face and make sure you apply a water-soluble product such as a water gel or ultrasonic wave gel. This is to ensure smooth contact between the device and your skin and smoother manoeuvring.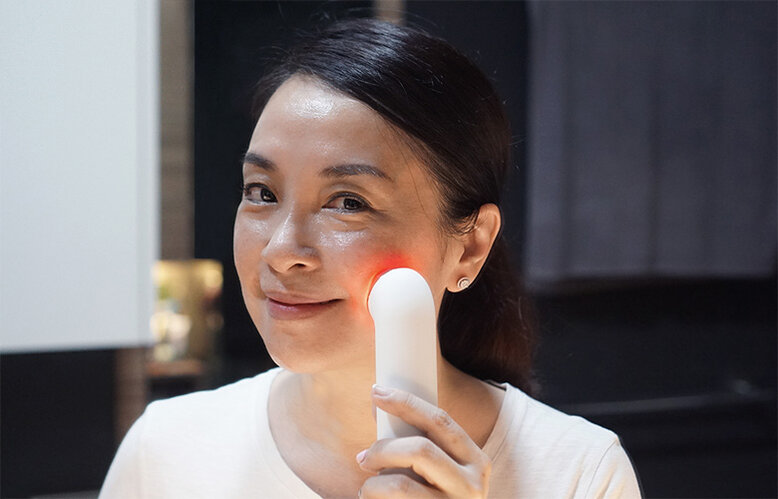 With the tightening mode, the thermal energy of the high-frequency current (deep heat effect) and the wavelength of the RED LED are both transmitted to the skin to help improve elasticity. Don't be alarmed about the "deep heat effect" because, at least for me, I hardly felt any heat and that's saying something because I'm someone whose facial skin is extremely sensitive to heat. I feel that heat also aggravates my melasma issues; this is another reason why I have stopped using my other device.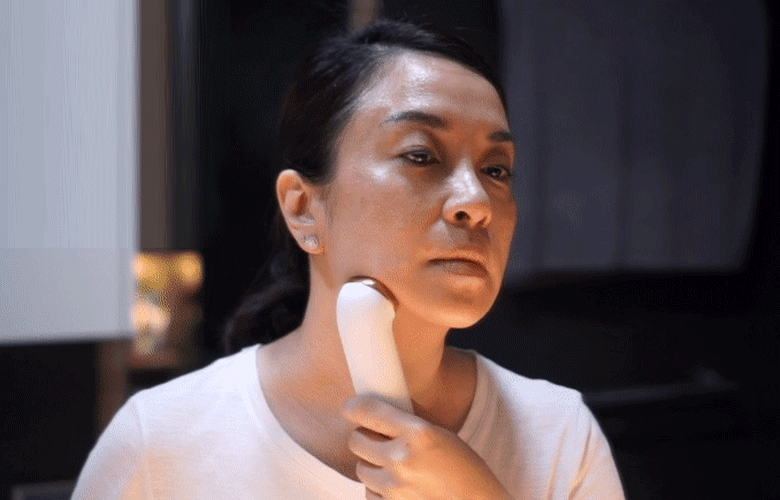 With the lifting mode, the microcurrents stimulate skin tissue and muscles to lift the facial skin. While using this, I actually felt a little prickling sensation on my face. I was nervous at first, but soon got used to the feeling and now I kinda enjoy it. It feels like my face muscles are actually getting a workout.
The LG Pra.L Total Lift Up Care also features a sound cue to signal when it's time to stop or move on to the next treatment. There's a beep every five seconds, which you can use as a guide to pace your routine. Truthfully, I tend to not follow the beep and just follow my own pace. My tip is to always move the device in an upward motion, and if you're using it on the neck, make sure to avoid the area where the thyroid gland is located because you don't want to stimulate it.
The tightening and lifting modes each runs for about nine minutes, so that's a total of 18 minutes for the complete skincare routine. As always, I'm a little stretched for time but I always try my best to use it twice a week (the recommended usage frequency). Usually, I do one complete routine and one lifting routine each week.
Battery life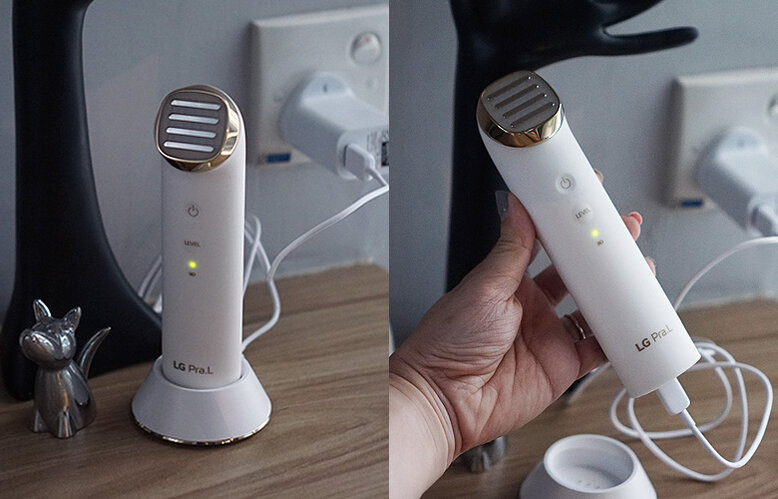 The battery life of LG Pra.L Total Lift Up Care is amazing. A full charge takes about more or less 3 hours. A full charge is said to be enough to last six complete 18-minute (both lifting and tightening) sessions. But because I don't do the complete routine all the time, I find that I hardly have to charge it.
Results and overall impression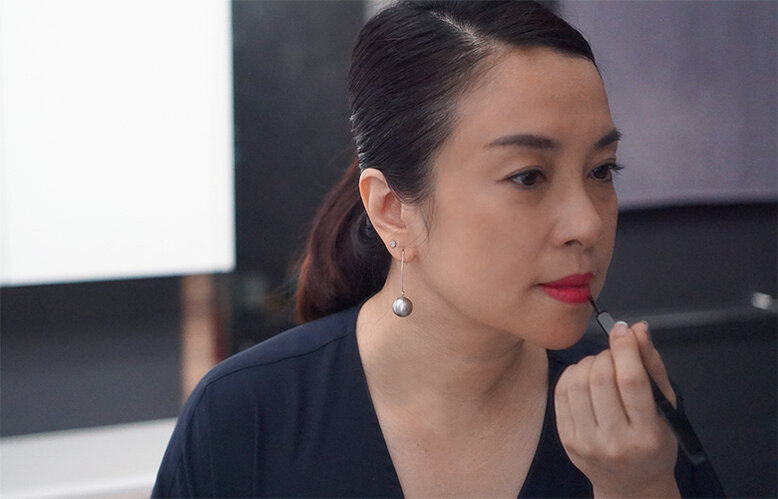 After using it for about two months now, I would say that I really love it. I've been using it to lift the skin around my cheeks, temple area, along my jawline, and under my chin. The improvements are visible, especially along my jawline, which is now more defined.
Priced at SGD699 (~USD512), think of it as a special treat for yourself. Considering how much we spend on treatments, which we may not be able to keep up with regularly, I think the Pra.L Total Lift Up Care is a great companion that's worth the investment. Plus, it's really handy for a last-minute glow up before special events and when travelling.
You can learn more about the Pra.L Total Lift Up Care and where to buy it here.
Comments, questions or feedback? Email us at [email protected].