When the LG Pra.L line of home beauty devices launched locally in July, I was intrigued by the possibility of reaping the benefits of a medispa-esque treatment in the comfort and convenience of my own home. It can be very challenging to secure appointments at clinics for facial treatments when they do not open past office hours, after all, and weekends are pretty precious.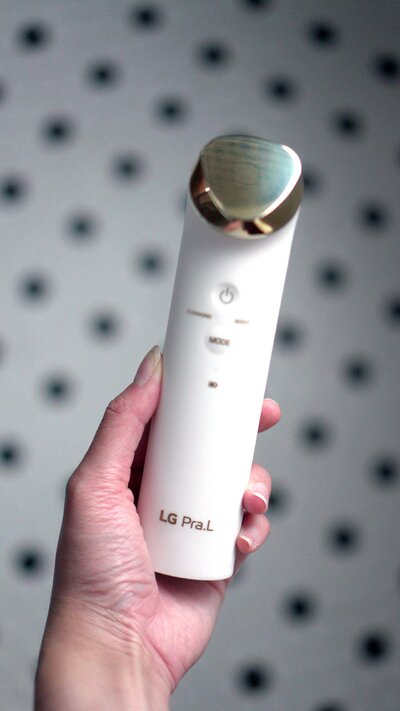 As a serum junkie with a dash of cleanser obsession, I was immediately drawn to the LG Pra.L Galvanic Ion Booster, which promises both deep skin cleansing and improved product absorption. I volunteered to take it on an extended test run to ascertain its efficacy as I embarked on a series of trips under varying weather conditions across Australia, Kuala Lumpur, London, Milan, Manila, and of course, Singapore.
At first glance
I liked the gold-accented, warm white aesthetic of the Pra.L product line and packaging, including, of course, the Galvanic Ion Booster.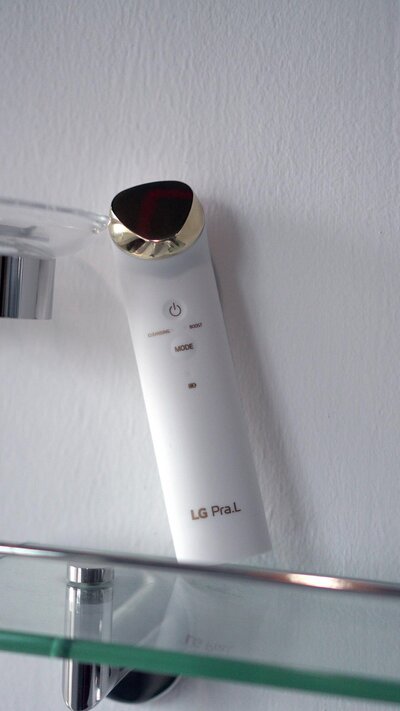 The handheld device's sleek lines, coupled with a discreet charging base, made for a pleasing addition to my vanity. Its finely textured silicone-coated body was just grippy enough to ensure it did not slip too easily from my butterfingers without looking rough or feeling rubbery. A very nice tactile experience indeed.
Weighing in at just under 200 grams, the Galvanic Ion Booster also has just the right amount of heft that it feels solid in my hands without making my carry-on feel noticeably heavier when I travel. The fact that it runs on a USB-C charged battery definitely adds to its appeal as a travel-friendly device.


A game of push and pull
All LG Pra.L devices come with a voice guidance feature that tells you which part of your face to target. I find it infinitely more informative and helpful when I'm already knee-deep in the process of winding down for the night.
This might seem trivial, but in practice, it goes a really long way towards keeping you on track when you're jet-lagged or just really exhausted because you can rely on the device to guide your movements instead of trying to remember what to do. Meanwhile, if you're all about enjoying your skincare ritual in peace and quiet, fret not because the voice guidance can be turned off.
Designed to enhance skincare product absorption, the Galvanic Ion Booster comes with two settings: Cleansing Mode and Boosting Mode.
In Cleansing Mode, attractive forces between ions of opposite charges are leveraged to draw out fine impurities from your skin, which better prepares your skin for the application of subsequent products. For this reason, it is ideal to begin with the three-minute Cleansing Mode right after your main cleansing step.
Water-based products with at least a moderate amount of slip work best with the Galvanic Ion Booster. I personally recommend using an inexpensive gel-type moisturiser with Cleansing Mode as I like to wipe and rinse it off immediately before moving on to the next phase of my routine.
In Boosting Mode, ultrasonic wave vibrations are employed in conjunction with a heat massage over the course of three minutes to help ingredients penetrate the skin more deeply. The Galvanic Ion Booster's triangular head is also shaped as such to easily access all facial contours. I personally really liked the gentle warmth applied to my skin as I worked the serum into my face. The fact that the device head is made of medical-grade materials typically used for surgery and implants also gives me the assurance that my skin is unlikely to react negatively during use.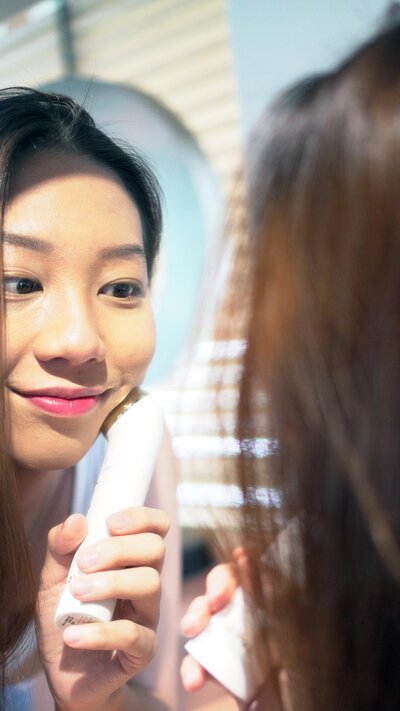 All in all, full use of the Galvanic Ion Booster adds six minutes to the total time spent caring for your face each night — less than half the amount of time needed for a facial mask! While I do find it a little challenging to keep it up every single night, five times a week isn't quite as daunting.
Power and endurance
The Pra.L Galvanic Ion Booster more than lived up to the website's two-week claim. In the time that it was in my custody, I managed to go for as long as three weeks on a single charge. In a pinch, a quick 15-minute charge is more than sufficient to last a couple of nights.
Charging while travelling is a breeze, thanks to the USB-C port at the bottom of the handheld. Not only do I not have to bring the cradle, but I can also charge it with my phone's charging cable! It is interesting to note that the device is unable to charge when connected to a USB-C to C cable, as I learnt – only USB-A to C cables.
The verdict
In the first month of use, I went to Australia in the middle of winter for a vacation and noticed that my skin was remarkably calm and flawless despite the cold, dry, conditions. I was also expecting breakouts then due to my monthly cycle. At the time, I was hesitant to consider it an immediate effect based on the assumption that it would take longer for results to show.
When I embarked on a series of back-to-back work trips to Milan and Manila the following month, however, my skin condition remained stable even in spite of long flights, jet lag, and a hectic schedule with minimal sleep. My most recent trip to London — at the beginning of winter — yielded similar results.
The moment of truth was when I visited my regular facialist, who observed that there was significant improvement in my skin's hydration compared with before I began the trial.
I must say that while I was fairly sceptical at the beginning, I have come to appreciate what the Galvanic Ion Booster has done for me, and believe that it does exactly what LG says it does: improve absorption of my skincare products.
At SGD529 (USD390), purchasing the LG Pra.L Galvanic Ion Booster can be an intimidating thought. But it is difficult for me to dispute the results; it is an investment worth considering seriously.


Learn more about the LG Pra.L Galvanic Ion Booster here.
Comments, questions or feedback? Email us at [email protected].