"Flower gleam and glow" is a line from Disney's Tangled (2010), but it sure applies to my skin goals this year. To sum it up, all I want from 2021 is brighter, better, smoother (magical?) skin. Is that too much to ask?
Considering I've been lazy about exfoliating lately, not to mention the messy midday oiliness, thanks to my combination skin, I've been having clogged pores and small pimples popping up on my face. A bit too far from my goal. So I thought I'd give the KORA Organics Turmeric Brightening & Exfoliating Mask a chance to see if it'll solve my skin issues and help give me what I want. This multi-awarded facial mask developed by former Victoria's Secret model Miranda Kerr claims to be the secret to refined, smooth, and glowing skin. Is it?
First impressions and packaging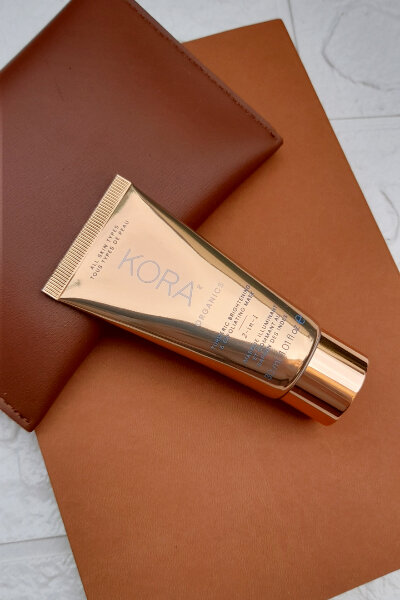 Luxury in a tiny tube sounds cliche, but I feel that it describes the KORA Organics Turmeric Brightening & Exfoliating Mask's packaging perfectly. The gold reflective finish seems like a metaphor for the glowing skin the mask promises to deliver. Did it get me excited? Definitely.
I like the squeeze tube packaging. Compared to potted facial masks, this seems more hygienic since you don't need to dip back in with your fingers or an applicator. It was soft enough that I can comfortably squeeze the exact amount of product I want to apply. I also think I won't have any difficulty getting every last drop from the tube once I use it all up.
I was initially worried about the crushed rosehip seeds, quartz, and BHA-rich Aspen bark — which are physical exfoliators — in the formulation. I thought these may be too abrasive on the skin. But since we're doing this in the name of exfoliating, I decided to give it a chance. These ingredients, in addition to papaya enzymes (a chemical exfoliant), are supposedly the secret to polishing and refining my skin's texture, so let's see how it fared.
Application, texture, and usage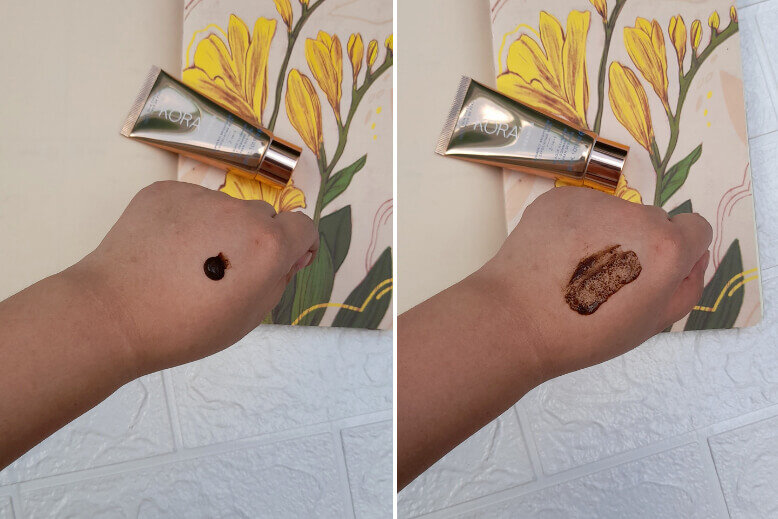 The mask has a very dark brown colour when freshly dispensed from the tube. If you're scared about it staining your skin, it doesn't leave any residue (thankfully!) KORA Organics recommends that you apply the mask on damp skin in circular motions before leaving it on for five to 15 minutes, which is what I did.
Since it contains turmeric and peppermint, this exfoliating mask has a strong fragrance. The minty scent of peppermint was the most noticeable and added an invigorating aroma to the whole experience. Texture-wise, it felt like a sugar scrub with its crushed rosehip seeds and quartz. You can see the little white bits of quartz once the mask dries completely, which happens pretty quickly.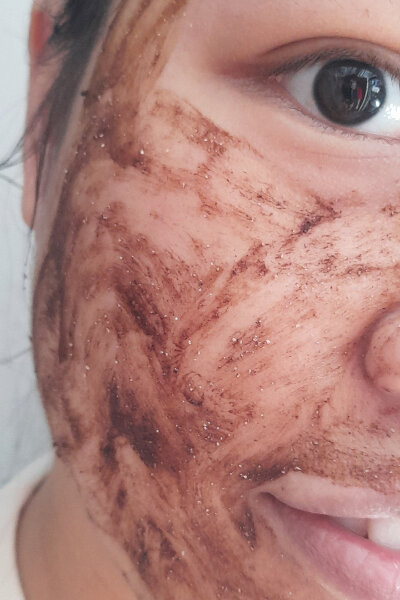 I felt a slight tightness on my cheek and forehead. Not as much as it would have been if I were using a clay mask, but there was a comfortably taut feeling for a few minutes.
I washed it off with water in light circular motions. I followed it up with my usual toner, moisturiser, and SPF if I exfoliate in the morning. When I feel like it, I also add a few drops of the
KORA Organics Get The Noni Glow Face Oil
for extra hydration. I expected to get slight redness around my nose and parts of my cheeks, something KORA Organics claims to be due to the increased blood circulation. It faded away after 10 minutes, so no worries!
Results
The first time I used the product, I was really underwhelmed. "That's it?" ran through my mind. Though my skin looked a teensy bit brighter, the porous textures on my nose and inner cheeks were still very present. Yet I persevered and kept using the mask twice a week for two weeks. I've noticed an improved vibrance in my skin which is also less oily after every time I use the mask. Still, I've yet to see its promised pore-declogging powers but I'll continue to use it religiously for a few more weeks.
Final thoughts
Overall, I was happy with the results of the KORA Organics Turmeric Brightening and Exfoliating Mask. Brighter? Check. Smoother? A bit. Detoxed? I've yet to see it.
But in all fairness, there are a lot of positive points to using this mask. It didn't strip moisture from my skin yet left my oily areas looking less shiny. There's a hint of healthy glow throughout the day that's not caused by sebum. I just hope that it will eventually have an effect on the little pimples I still need to deal with.
With all of that said, I wouldn't recommend it for people with sensitive skin. Since it's a physical exfoliant, it might irritate the skin and cause redness. This is made for oily and combination skin folks like me, so if you have the same skin type and concerns, you can pick this up.
If you want to give this 2-in-1 exfoliating mask a try, you can purchase a full-sized bottle 100ml for SGD68/~USD51.05 or get in a smaller trial size in the
Instant Facial Glow On-The-Go Kit
with a mini Noni Glow Face Oil for SGD47.20/~USD35.44 at
Sephora Singapore
.
*The product was sent as a press gift. The views and opinions of the reviewer are independent and purely editorial.
Comments, questions or feedback? Email us at [email protected].