I was admittedly intrigued when I heard about former Victoria's Secret model Miranda Kerr's skincare brand KORA Organics. After all, who wouldn't want glowing skin like a supermodel? The Noni Glow Face Oil is one of the brand's best-selling products, with promises of smoothing, nourishing and brightening the skin. Will using it twice a day be enough to make my skin supple and glowing?
First impressions, claims, and packaging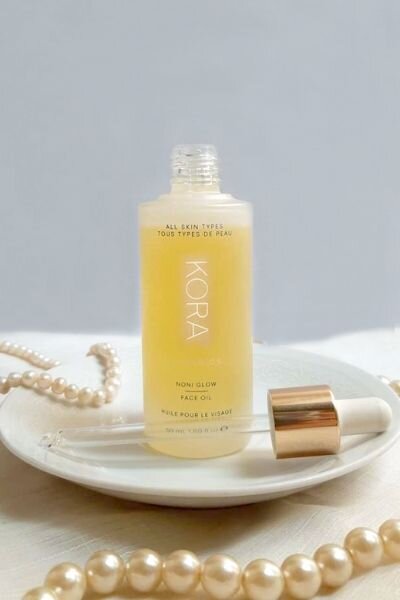 "Luxury in a bottle" seems cliche, but that was the first thought that came to mind when I held the Noni Glow Face Oil in my hands. From its packaging alone, it already has a luxurious feel. The frosted glass bottle and gold accents were also very easy on the eyes.
Content-wise, the ingredients used in its formula — namely rosehip oil, pomegranate oil and sea buckthorn oil — are all familiar. But it's the hero ingredient of Noni Fruit Extract that made me stop and look it up. Apparently, this rejuvenating antioxidant superfood is one of Miranda Kerr's favourite fruits to juice because it contains more than a hundred vitamins and minerals, including high amounts of Vitamins A and C. This is the reason why it's used in a lot of KORA Organics products.
For SGD87/~USD63.66 per 30ml of product, purchasing this facial oil takes some convincing. Its claims of being vegan and fragrance-free as well as improving the skin's appearance, elasticity, and clarity aren't anything new, so how will it differ from the other glow-adding treatment facial oils that are already out there?
Application and usage
Because of the rich blend of floral and fruit extracts and oils in this face oil, it's expected that it will have a very noticeable botanical scent. Luckily, the scent disappears once applied. Texture-wise, the Noni Glow Face Oil has a heavier formula that leaves a slight tackiness. It takes a while to dry down, so I tend to wait a few minutes before applying my moisturiser. I did have some initial breakouts on my temples and chin, but that's normal whenever I start using a new antioxidant product.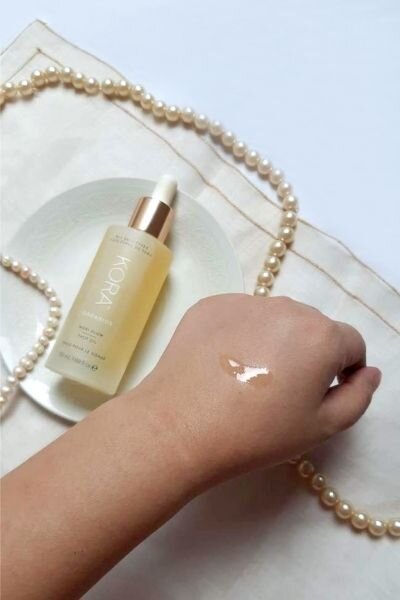 As a gal with combination skin, I have a love-hate relationship with facial oils. My dry patches tend to take excellently with most formulas I've tried, but my T-zone tends to oil up more as well. With the Noni Glow Face Oil, I started out by applying two drops all over my face and found that my forehead and nose develop a very greasy shine after four hours or so. This was certainly not the kind of "glow" that I was looking for. But as expected, the outer perimeters of my face soaked the oil up and started smoothing out after a few weeks. I also like to apply some of the residual product on my eyebrows, as these tend to be dry as well. I was left satisfied with the product in that regard.
Final thoughts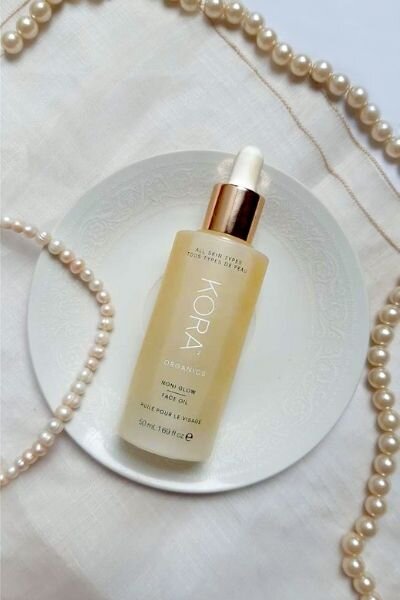 After using this facial treatment oil twice a day for three weeks, my thoughts haven't changed at all. While I didn't get that glowing skin that it promised, the Noni Glow Face Oil did retexturise my dry patches and made them more supple. My chin and jawline feel smoother than before. With that in mind, someone with even drier skin would appreciate its nourishing benefits. I could also see the benefits of bringing this during long flights, once we can travel again, to add moisture to my skin.
However, these reasons are still not enough for me to buy the full-sized bottle once I finish it up. It will definitely take some time since I use it only in certain areas of my face now. Perhaps it's a good thing that there's a 10ml version, at a third of the price, that's available on the Sephora website.
*The product was sent as a press gift. The views and opinion of the reviewer are independent and purely editorial.
See if the Za Primer Masks really can prep your skin for your everyday makeup look.
Comments, questions or feedback? Email us at [email protected].