You can say I've been going overboard, but I've been wearing a face mask indoors as an extra precaution against the pandemic. Needless to say, my skin started showing signs that it was not having it. It started becoming sore and sensitive, despite the fact that I've been very consistent with my skincare. So when I heard that the new Kiehl's Vital Skin-Strengthening Super Serum can supposedly help my skin recover faster, I had to give this serum a try.
First impressions, claims, packaging
"Is there such a thing as a super serum?" This was the question that immediately came to mind upon reading about the Vital Skin-Strengthening Super Serum. Sleek and compact, Kiehl's newest serum promises to combat the signs of ageing skin. It targets environmental stressors — UV rays, pollution, and lack of sleep are some examples — that weaken the skin barrier to return it to its original plump and supple glory. And if the claims are to be believed, it delivers on its promises two times stronger than before.
It does this with its unique combination of 11kDa Hyaluronic Acid and Adaptogenic Herbal Complex. To put it simply, the smaller molecular size of the hyaluronic acid is supposed to make it easier and faster to penetrate the skin and deliver results. It's smaller than the typical hyaluronic acid molecules used in skincare, which is already very hydrating on its own. It also has an herbal complex that consists of holy basil (neutralises free radicals), red ginseng root (stimulates skin cells), and schischandra berry (improves skin resiliency and elasticity).
When it comes to packaging, I appreciate the sturdy pump that comes with this serum. I prefer it to the pipette of other Kiehl's serums simply because it will be useful for getting the last dredges at the bottom of the bottle. It also has a mild yet pleasant scent, which I suppose comes from the blend of herbs in the formula. It disperses after application, so no worries on that front.
Usage and application
From the very first pump, I already knew my skin would absorb the serum quickly. Its lightweight formula has a runny, watery consistency. A quick and gentle rub is enough for it to fully absorb and sink into the skin. Even with just one pump, there's enough product to cover my entire face and leave a visibly hydrated sheen.
I use it twice a day, morning and night, along with my regular skincare routine. So far, it hasn't produced any negative reactions. My skin feels noticeably softer and bouncier. Since I began using the Kiehl's Vital Skin-Strengthening Super Serum two weeks ago, my skin hasn't experienced any dryness or soreness from wearing a face mask for most of the day.
However, I did try using it with another facial serum — the Kiehl's Clearly Corrective™ Dark Spot Solution — as recommended and found that the two together make my T-zone a bit too shiny for my taste. Do note that when using it with other serums, it's better to wait for a minute or so before layering to avoid cancelling out these serums' active ingredients.
Final thoughts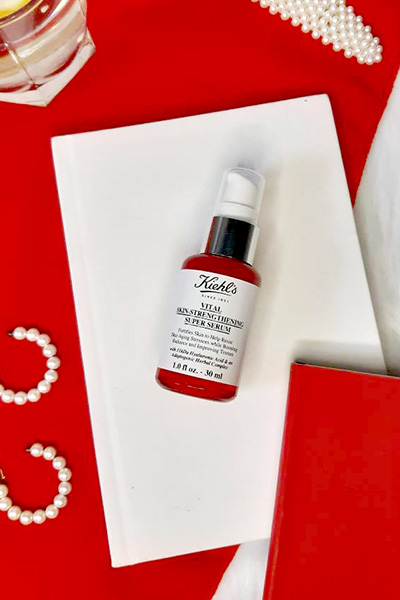 The Kiehl's Vital Skin-Strengthening Super Serum really helped my skin recover in the mere two weeks I've been using it. While I can't vouch for its effectiveness on wrinkles and fine lines just yet, I'd say those suffering from stressed-out skin would love this product. The quick-absorbing hydrating serum was a pleasant addition to my minimal skincare routine. It helped my tired and sore skin recover surprisingly fast, which anyone in the same boat could appreciate.
At SGD79/PHP3,200/~USD57.53 per 30ml, it can be quite a splurge for a facial serum. However, a small pump goes a long way. I'd recommend it to those whose skin needs that extra dose of hydration. On its own, it's a powerful addition to your skincare wardrobe.
You can purchase it on the Kiehl's websites in Singapore and the Philippines as well as the Kiehl's Philippines Facebook shop.
*The product was sent as a press gift. The views and opinion of the reviewer are independent and purely editorial.

Learn which skincare products are worth adding to your rotation here.
Comments, questions or feedback? Email us at [email protected].