These days when mask-wearing has become mandatory when heading out, we all need an effective moisturiser that'll keep dryness and acne caused by these everyday protective gear at bay. Looking for a solution to that specific skin issue, we turn to Kiehl's Ultra Facial Oil-free Gel Cream, a long-time favourite of skincare enthusiasts. Having consistently garnered praises and positive reviews online, the best-selling non-greasy formula of this moisturiser gives our skin hope for survival in a humid tropical environment exacerbated by stifling face masks. But will this hydrating gel cream deliver on our expectations? Let's see how it fared for two weeks.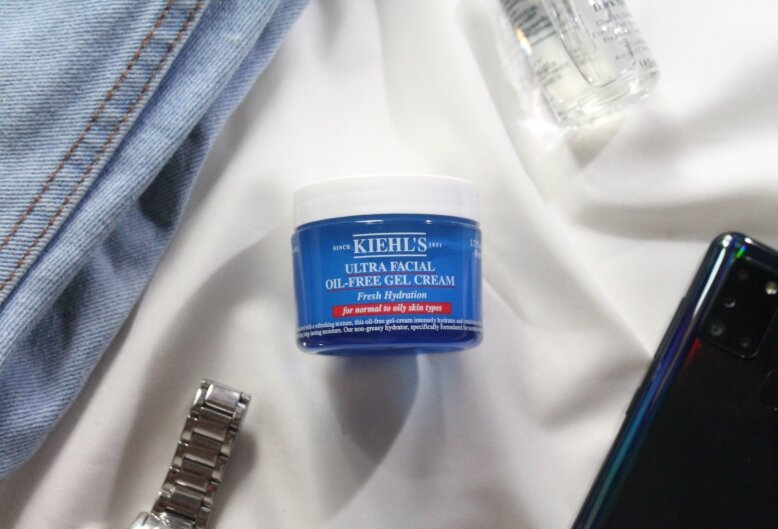 First impressions and packaging
The Kiehl's signature aesthetic that's reminiscent of their old apothecary roots is always a welcome addition to my vanity. It's classically straightforward and simple. In line with their commitment to reducing waste, this Kiehl's moisturiser comes in a glass jar with a plastic cover that's small enough to fit my palm. Though it's certainly a more environmentally friendly skincare option than those bottled up and contained in packaging completely made of plastic, it's still quite a bit weighty and certainly fragile — making it quite difficult to bring along in trips. Thankfully, that portability isn't something I'd need right now in this pandemic, but it's something to consider for those who like to stick to the same products when they travel in the future.
The real concern for me, on the other hand, is that its jar type makes it a bit unhygienic. I don't feel comfortable dipping my fingers once or twice, especially after handling other skincare products beforehand. I'd appreciate it more if it came with a pump I can push to dispense the product or a spatula to scoop the product up.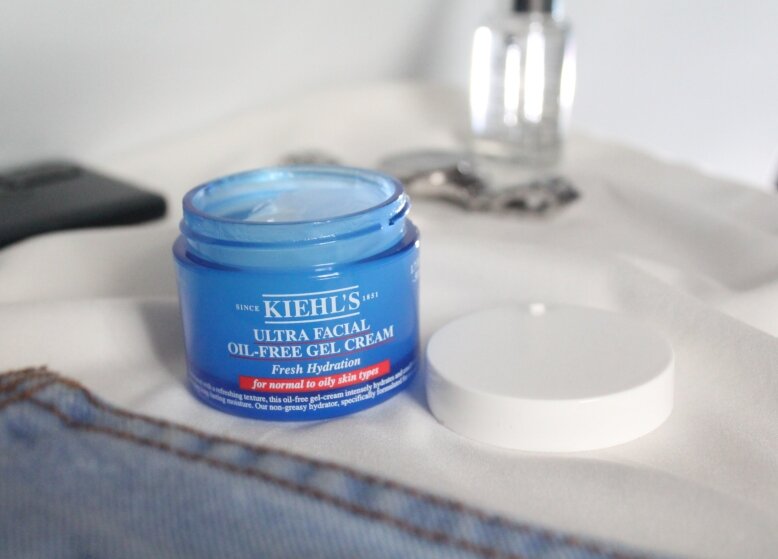 Usage and application
I apply Kiehl's Ultra Facial Oil-Free Gel Cream when I start and end my day. It's the fifth step in my skincare routine. Surprisingly, though it's layered on top of my toner, essence, and serum, it didn't feel heavy on my skin at all. In fact, it absorbed quickly and cancelled out the weighty stickiness that comes with all my prior products combined. Another definite plus point for me was that it had no scent at all and never irritated my skin in my transition.
The gel-cream texture, albeit looking thick, is actually refreshingly light and fluid — it always felt like I'm massaging water onto my visage. Immediately after, my skin would feel firm and soft to the touch, thanks to its collagen-boosting antarcticine. Packed with Imperata cylindrica or cogon grass root extract, a potent and natural moisturising ingredient, its hydrating effects lasted all day long. Who knew all that could be achieved with one pea-sized amount of this moisturiser? Contrary to its promise to control shine, however, it left my T-zone a bit greasy the morning after but it wasn't bad enough to cause breakouts.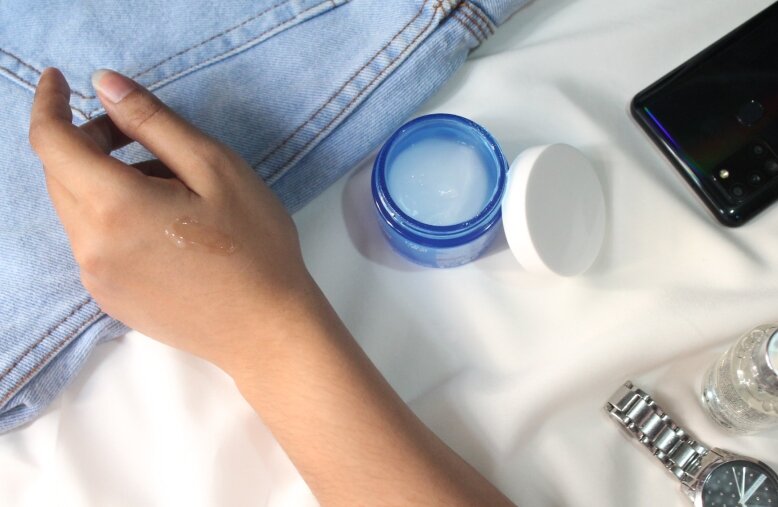 Final thoughts
Using the Kiehl's moisturiser for two weeks has left my skin plump and bouncy. And because it effectively nourished my skin, it prevented my skin from going into an oil-production overdrive that may cause pimples to pop up. In fact, in my days of using it, I didn't suffer from the dryness and random acne that constant mask use would usually leave me.
Its packaging might be a downside for me but seeing how well it did on my skin is more than enough reason for me to overlook that. Since its small 50ml tub comes at PHP1,850/~USD38.18, it's pricier than some moisturisers. Still, given its enduring effects, I'm definitely willing to purchase once this one empties. But given how little you do need to apply to get results, I reckon it'd still be months before restocking is even needed.
*The product was sent as a press gift. The views and opinion of the reviewer are independent and purely editorial.

Searching for the key for a healthy complexion? See if adding this essence to your routine would help.
Comments, questions or feedback? Email us at [email protected].