Growing up, I barely paid any attention to my skin. In fact, the most fundamental skincare steps such as cleansing, moisturising and sun protection (gasp!) didn't exist in my dictionary until I began my first job. Fast forward to today, now that I'm in my mid-20s, I've become more serious about ensuring my skin receives all the TLC it needs.
Apart from fine-tuning a solid beauty routine that would work for my sensitive skin, I've also been on the hunt for products that could help to improve — or at least preserve — my skin's luminosity and elasticity so that it looks as supple and radiant as it can be. Enter Illumia Skin by Kim Lim's Baby Drops Mask, the latest offering from the brand's new anti-ageing skincare product line. I tried it recently to test if it will be able to effectively deliver soothing and moisturising benefits to my skin. Read on for my honest thoughts.
First impressions, claims and packaging
For starters, there's no denying that the Baby Drops Mask's beautiful iridescent packaging looks incredibly Instagram-worthy. I like how it's synonymous with that glowing, luminous complexion many of us wish to have. The masks claim to provide excellent soothing and anti-ageing benefits and are suitable for all skin types, including sensitive, dry and problematic skin. They are designed to help improve your skin's elasticity, strengthen skin cells and leave your skin feeling moisturised and baby soft with each use.
Use and application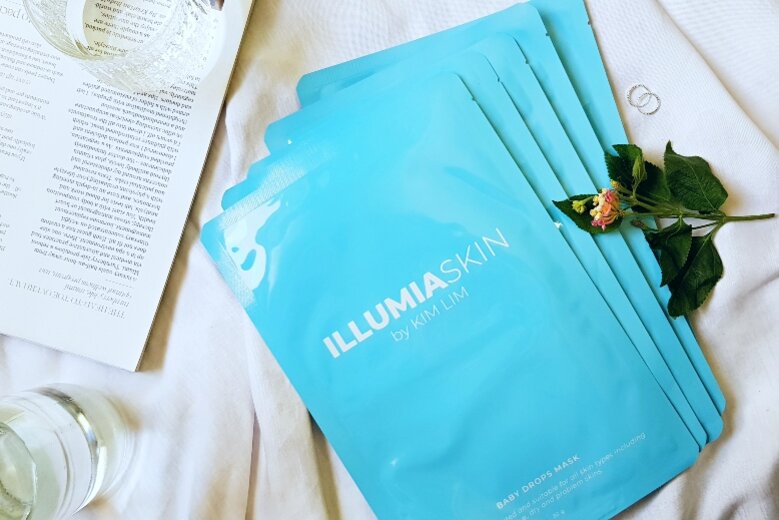 Being the careful sensitive skin user that I was, I took time to review the product's ingredient list and was pleasantly surprised to learn that it was packed with many wonderful ingredients, such as cocos nucifera (coconut) fruit extract (skin-softening), portulaca oleracea extract (skin-soothing) and beta-glucan, which is known for improving the look of redness and other signs of sensitive skin.
I was also amazed by how the masks are made of bio-cellulose material, which is known for being great for sensitive skin types due to their excellent absorption properties in helping deliver key ingredients into the skin. The downside to this product, though, is that it also contains fragrance and witch hazel extract, which could potentially irritate my skin. Even then, after learning about the many promising ingredients that it contained, I decided to give it a whirl.
Following the step-by-step instructions illustrated at the back of the packaging, I carefully opened the mask and applied the sheet onto my face. I loved the cooling, jelly-like texture of the bio-cellulose mask that felt incredibly comfortable against my skin. I also made sure to apply some of the excess product onto my neck and hands. Was this going to be the start of my supple skin journey? I sure hoped so!
Much to my disappointment, I began to feel burning sensations all over my face after around 10 minutes or so. My face felt hot and my neck started to itch. I swiftly removed the mask from my face, and found small red blotches above my lip, around my nose and on my forehead. Sigh. Back to the drawing board, we go.
Final thoughts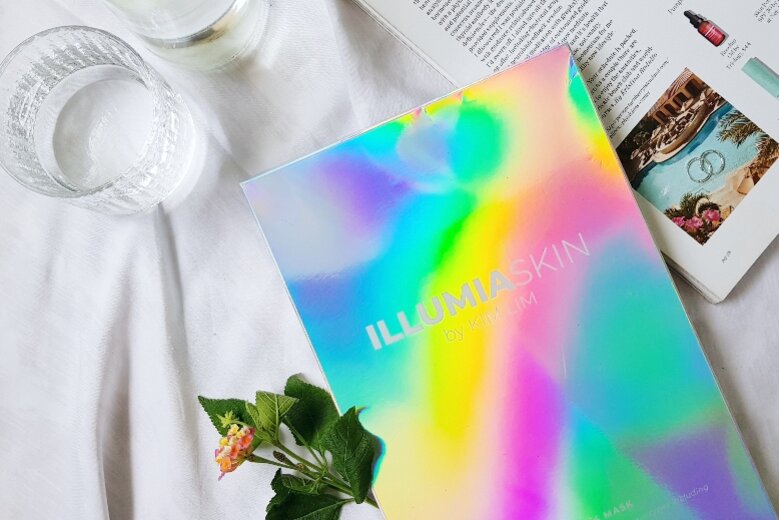 I wanted to love the Illumia Skin Baby Drops Mask so badly because I believe that the brand has taken extra steps to ensure that their product was formulated with the best ingredients that would suit users with dry, problematic or sensitive skin. I was impressed by how the brand's founder, Kim Lim, had also personally tried a whopping 169 different face masks before she eventually decided on this formula. I cannot stress enough how the product's bio-cellulose material felt like a game-changer for me too.
Unfortunately, given my personal less-than-ideal experience with this product, I won't be purchasing the Illumia Skin Baby Drops Masks anytime soon and will focus my efforts on looking for gentle yet effective skincare saviours that will work well with my hyper-sensitive skin.
That said, for fellow skincare enthusiasts in our Community, I believe these masks are still worth a shot (SGD139/~USD102 for five pieces), especially if you wish to look extra glowy in time for year-end festivities (remember: your mileage may vary!). After all, who doesn't wish to have supple, baby-soft skin? I know I do!
The Illumia Baby Drops Mask is now available at Illumia Therapeutics Wheelock Place and online via Illumia's e-store.
*The product was sent as a press gift. The views and opinion of the reviewer are independent and purely editorial.
Next, discover our honest thoughts on Kiehl's Ultra Facial Oil-Free Gel Cream.

Comments, questions or feedback? Email us at [email protected].