It has to be said: sunscreen is necessary. The only problem is that many of us have probably encountered that sticky, goopy mess that promises sun protection, leaving our faces and bodies with a ghastly white cast. No more. Acclaimed sunscreen brand
Supergoop
! released the
Superscreen Daily Moisturizer SPF 40 PA +++
, with a remarkable formula that promises to protect the face from more than just the sun. How does it hold up against other facial sunscreen products on the market? Let's find out.
Packaging and Texture
While pots aren't the most hygienic option when it comes to storing moisturiser, Supergoop's version is undoubtedly cute. The translucent acrylic on the screw-on cap subtly references the product's shield-like capabilities, completed with little sun rays. The body feels sturdy though the cap seems a bit on the breakable side; I'd be wary about that. I would also recommend clean fingers or a spatula when scooping the product out of the jar to minimise bacterial contamination.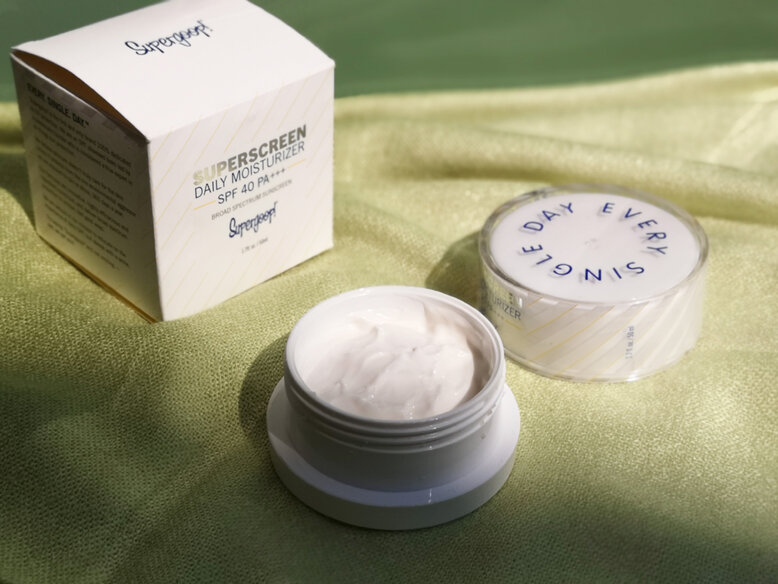 In terms of texture, the formula claims to be "lightweight, bouncy, and wears beautifully under makeup". The texture is similar to a hydrating cream; it's a little heavier than gel moisturiser but it absorbs quickly on to the skin. There's a light fragrance, one that's common among sunscreens, but nothing too overpowering.


Application and Wearability
Having oily/combination skin, I was a bit sceptical about how well the product would fare but I found that a dime-sized amount is enough to cover the entire face. I usually pass on creamy consistency formulas as I've found them too greasy but the Superscreen Daily Moisturizer primed my skin beautifully. It left my skin with a bit of tackiness, which I find is good for makeup application as products layered on afterwards tend to adhere to it better, but it also gave it a nice sheen — one that's glowy, not greasy. I've found that my makeup went on like a dream and it somehow made it easier to blend products on to my skin.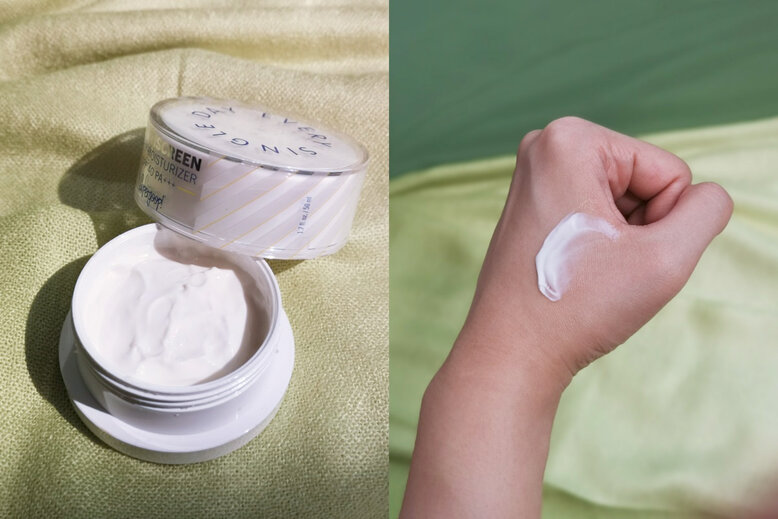 One of the real standouts in Supergoop's formula is that it not only protects against UVA/UVB rays but defends the skin against blue light, infrared radiation, and environmental pollution as well. I find these incredibly important living in a tropical country whose cities are known for being highly congested. It also contains the key ingredient of blue green algae, which is one of 2019's superstar skincare ingredients because of its multi-pronged ability to deliver essential nutrients to the skin while being rich in antioxidants, vitamins and minerals. I've also noticed my skin condition improve with regular use of the product, with fewer dry patches and a clearer, more even look.

Overall Thoughts
I wasn't expecting to love it but I do think the Supergoop! Superscreen Daily Moisturizer might be one of the best moisturisers in the market at present. It combines the hydrating qualities of a moisturiser with the sun protection factor of sunscreen but doesn't stop there as it also adds protection against other environmental aggressors to the mix. It's a seriously hardworking product. At SGD55/~USD40 it's not exactly cheap, but a little goes a long way and it does deliver on its claims. It's a good investment.
Read our other makeup and skincare reviews here.
Comments, questions or feedback? Email us at [email protected].